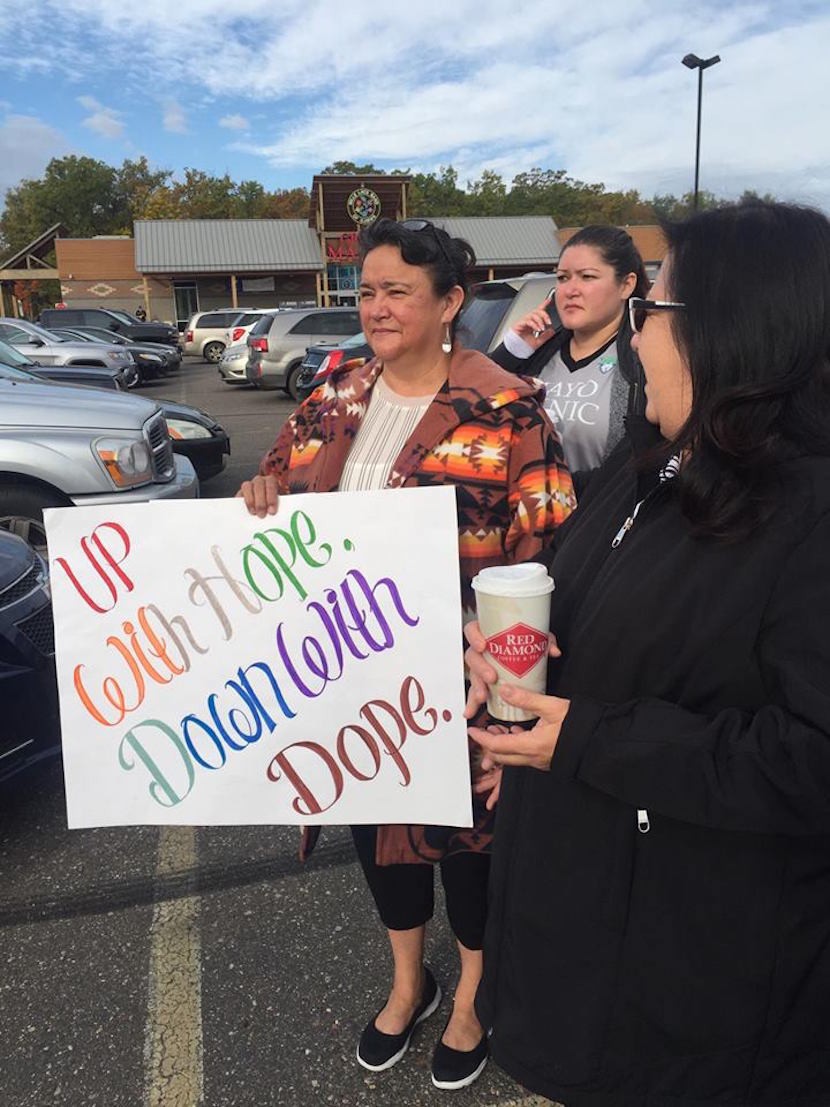 Photos by Mikayla Schaaf
An anti-drug gathering at Grand Market on Thursday, Oct. 5, turned into a series of demonstrations at suspected "drug houses," where Band members sang, drummed and offered tobacco to persuade dealers to either quit selling drugs or leave the reservation.
The event began on Facebook as a "percap patrol" designed to discourage drug sales in the parking lot of Grand Market because drug sales are common in the area on the day per capita payments are distributed.
It was reported that several people overdosed on the morning of the gathering, including one in the Grand Market parking lot.
Chief Executive Melanie Benjamin and District I Rep. Sandi Blake both showed up at the beginning of the event and offered their support and encouragement. Also in attendance, along with about 40 Band members, were members of the group Natives Against Heroin from the Twin Cities.
Early in the day, two women in the group interrupted what they believed was a drug sale, prompting organizers to call the event a success, since averting a single sale could save a life.
After a pipe ceremony in the parking lot, some of those present decided to drive to the home of a suspected drug dealer on Virgo Road, and from there the caravan visited other suspected dealers' residences on Ojibwe Drive, Bugg Hill and Atooban Drive.
Outside the first home, the group brought out a drum, sang a healing song and offered tobacco.
James Cross of Natives Against Heroin spoke through a megaphone asking any dealers in the homes to give up selling drugs, leading the crowd in chanting "Shut it down! Shut it down!"
"We care about you," James said. "We know it's an addiction that is causing you to do this. We love you, but we don't like what you're doing."
At some homes, Band members addressed the residents directly by name, accusing them of pushing drugs on children, resulting in addiction and death.
One woman spoke to her sister through the megaphone: "Please look around you. Look at the kids! Enough is enough. We're here to help you. … Look out your window and see how many people are out here tryin to help you. We love you. That's why we're here."
District I residents are considering creating a local chapter of Natives Against Heroin. An organizational meeting is scheduled for Tuesday, Oct. 10, at 5:30 p.m. at the District I Community Center.
For more on this story, see the November issue of Ojibwe Inaajimowin.