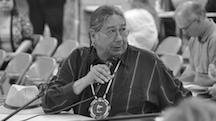 By Brett Larson, June 9, 2015
McGREGOR, Minn. — The Mille Lacs Band of Ojibwe on Friday railed against the proposed Sandpiper crude oil pipeline they claim threatens the wild rice fields essential to the band's identity.
During a hearing organized by the tribe, officials and elders expressed outrage with the state of Minnesota and with Enbridge Energy for allegedly failing to properly consult them during the planning and permitting process for the pipeline.
Organizers estimated more than 100 people attended the hearing, held at a tribal community center about an hour east of Brainerd. Staffers from the office of U.S. Rep. Rick Nolan, D-Crosby., as well as the Army Corps of Engineers were present at the hearing.
Following a traditional pipe ceremony and invocation in the Anishinaabe language, Mille Lacs Chief Executive Melanie Benjamin vowed to do everything in the band's power to keep the pipeline from interfering with their way of life.