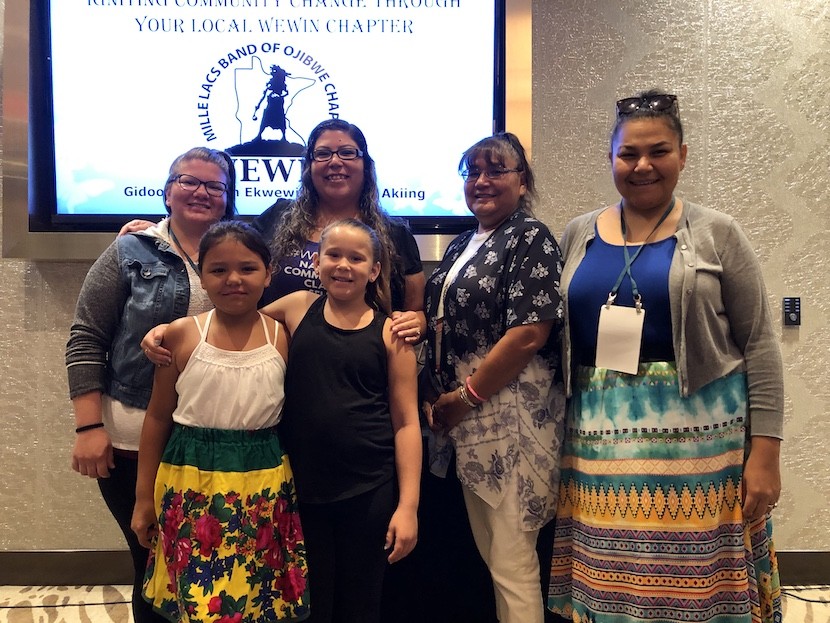 Women Empowering Women for Indigenous Nations (WEWIN) prepares hundreds, if not thousands, of Native American women for leadership roles for communities across the country, and the Mille Lacs Band is proud to have had many Band members attend the conference over the years to learn, become inspired, and grow. This year's conference was held July 28-31 at the Viejas Casino and Resort.
Attending the conference can be a life-changing experience for young women. Valerie Harrington attended her first conference in 2011. At the time, she was shy and uncertain. After attending the conference, she had a renewed spirit. "There's just an energy around these women," she said recently during an interview with Minnesota Public Radio. "It's just so welcoming. They give you the strength that you had all the time and you didn't know that you had it."
Chief Executive Melanie Benjamin is proud of the women of the Mille Lacs Band. She feels humbled and encouraged at the same time for her own opportunity to mentor many Band members — men and women alike. For Melanie, WEWIN is an opportunity for women to feed off the energy of other women.
Melanie said she was proud to introduce Minnesota's Lt. Governor Peggy Flanagan at this year's convention. Melanie was inspired as the Lt. Governor spoke about attending her first conference many years ago and how being surrounded by Indian women who are committed to making a difference in their own communities gave her added energy to make a difference for Indian women then and now.
Melanie says women have always been strong in Indian communities, and that has a ripple effect on other women. She emphasized that one does not need to be elected to a position to be a leader. Valerie agreed. "It doesn't take a title to make you a leader," said Valerie in June during the MPR interview.
"Anything that you're doing for your family, the tribe, your community, it makes you a leader, and you don't even realize because it's just something that you have a passion for."
Above: Brandi Smith, Val Harrington, Tammy Smith, and Shannon Porter were among the Mille Lacs Band women who attended the WEWIN conference in California this summer. Below: Val and Lieutenant Governor Peggy Flanagan.