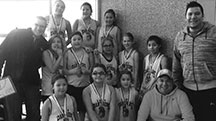 By Andy McPartland, May 12, 2015
The fifth grade Onamia Lady Panthers learned a valuable lesson this season on the basketball court: working together as a team pays off.
The team's coaches — Joe Nayquonabe, Jr., Johnathan "Johnny B" Benjamin, and Pete Braith — volunteered their time on Tuesday evenings and Saturday mornings to help the girls home in on their basketball and teamwork skills. It paid off. Their improvement over last year was impressive.
The tournaments for 2014/2015 were held in Verndale, Pillager, Pierz, Holdingford and Ogilvie. With each tournament, the girls improved their defense and offense, as well as their conditioning. In 2013/2014, the Lady Panthers only won two games the entire season; they were still learning the basics.
This season, they won ten games and took home four third place medals. In their final tournament of the year, they left with a second place medal, nearly overcoming the tough Pequot Lakes team.
"We were so close to beating Pequot Lakes and taking first place! It's amazing how our defense and offense have improved. The shots are better, plays are fast, and the girls are working to make the right decisions," said Coach Johnny B. "I'm very, very proud of our girls."
The girls came together as a team and worked hard on learning their plays. Each practice included new drills, workouts and coachable moments that they took in stride. Coach Pete added, "The girls bought into the philosophy of team play in an attempt to turn around the Onamia basketball program."
At the end of the season Coach Joe told the girls, "Each one of you was a critical part of this team. Your basketball skills got better, but what really mattered were the life and leadership skills you built. You learned about teamwork, leadership and sportsmanship which will help you in more aspects of your life."
The players, coaches and parents would like to acknowledge Sandi Blake, District I Representative, and Suzanne Wise, Commissioner of Education. Sandi donated the costs for the Lady Panthers' jerseys, shorts and warm-up suits.
"Because of Sandi's generous donation, the Lady Panthers looked sharp out there," said Michelle Benjamin, team manager.
Suzanne Wise, Commissioner of Education, donated the entrance fees needed to play in the tournaments.
"Suzanne attended every game and was one of our biggest fans, along with Sandi," explained Michelle. "Next season — for sixth grade — we hope to keep the same coaching staff and play in more tournaments."
Coaches, players, and fans are patiently waiting for next year to start. Some girls are attending camps this summer to sharpen their basketball skills and five girls are currently on a 3-on-3 basketball league out of Zimmerman, MN.
Way to go, Lady Panthers!