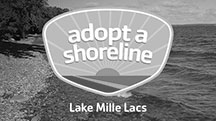 By Sarah Barten, May 5, 2015
In an effort to reduce trash around the shoreline of Lake Mille Lacs, interested individuals, organizations, resorts and groups are invited to participate in the third annual "Adopt-a-Shoreline" (AAS) program on Sunday, May 17. Last year, more than 2,160 pounds of trash were collected along the shoreline, This year, our goal is to grow those efforts and continue that success.
This is why we need your help! Whether you donate 10 minutes or two hours of your own time, any little bit goes a long way. All volunteers this year will receive a commemorative AAS gift and efforts will once again count towards a Company Choice with Medica.
If interested, here is what you need to do:
Contact Dayna Pearson at ext. 8175 or dpearson2@grcasinos.com to commit to volunteering. Be sure to include your name, department, badge number and contact number.
We'll arrange a time to fill out a participation form and give you supplies. At that time, you will receive information about recommended shoreline clean-up areas as well as trash drop-off sites.
Clean one of the recommended shoreline clean-up areas on May 17 anytime from 9 a.m. to 3 p.m.
Dispose of the trash by 3 p.m. on May 17 at the designated trash drop-off sites. Grand Casino Mille Lacs will properly dispose of it.
Thank you in advance for your participation! More information will be included in upcoming issues of the Associate newsletter.
Learn more atadoptmillelacslake.com.