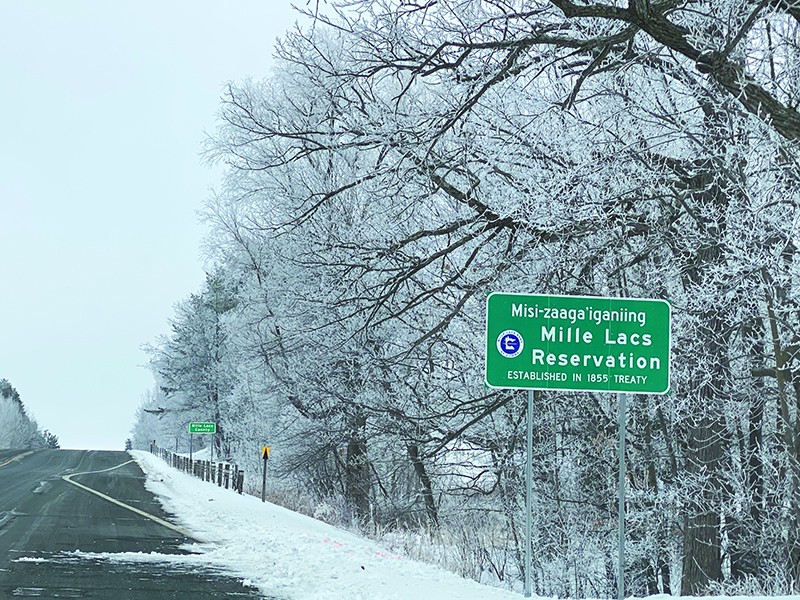 For many years, the "Mille Lacs Indian Reservation" sign on Highway 169 didn't mark the border of the reservation; it marked the border of the Band's District I trust lands.
The reservation boundary is actually several miles to the south, where Highway 169 crosses into South Harbor Township in the City of Onamia.
On January 7, the Minnesota Department of Transportation erected several signs where state highways cross the boundary: on 169 in Onamia; on 169 at the border between Crow Wing and Mille Lacs counties; on Hwy. 27 at the western and eastern borders of the county and reservation; and on Hwy. 47 at the north boundary of Isle Harbor Township. The signs read "Misi-zaaga'iganiing / Mille Lacs Reservation / Established in 1855 Treaty."
The Band released the following statement on the signs: "These signs will not affect our pending lawsuit, but are an important reminder of the establishment of our Reservation. Our ancestors withstood a decades-long campaign by powerful timber companies, non-Indian settlers, and federal, state, and county officials to force them from the Reservation, which included acts of violence and the burning of the Band's homes and villages. They remained here against all odds. Given our history, and the modern-day efforts of Mille Lacs County to erase all memory of our Reservation, we greatly appreciate the State's public recognition of its establishment in 1855."
The original 61,000-acre reservation, as established in the Treaty of 1855, includes the townships of Kathio, South Harbor, and Isle Harbor — the whole south end of Mille Lacs Lake, including the cities of Isle and Wahkon and part of Onamia.
The federal government continued to recognize the reservation, but in recent decades, state and county politicians have claimed that it was disestablished. As a result, the highway sign marked the trust lands, not the original reservation.
On February 20, 2020, Attorney General Keith Ellison and Governor Tim Walz reversed the position of their predecessors by recognizing that the 1855 Reservation still exists.
In a written statement released on Friday, February 21, 2020, Ellison acknowledged that former state officials have expressed different positions. "But those positions did not take into account recent legal developments," Ellison said. "The State's current position is consistent with the federal government's interpretation."