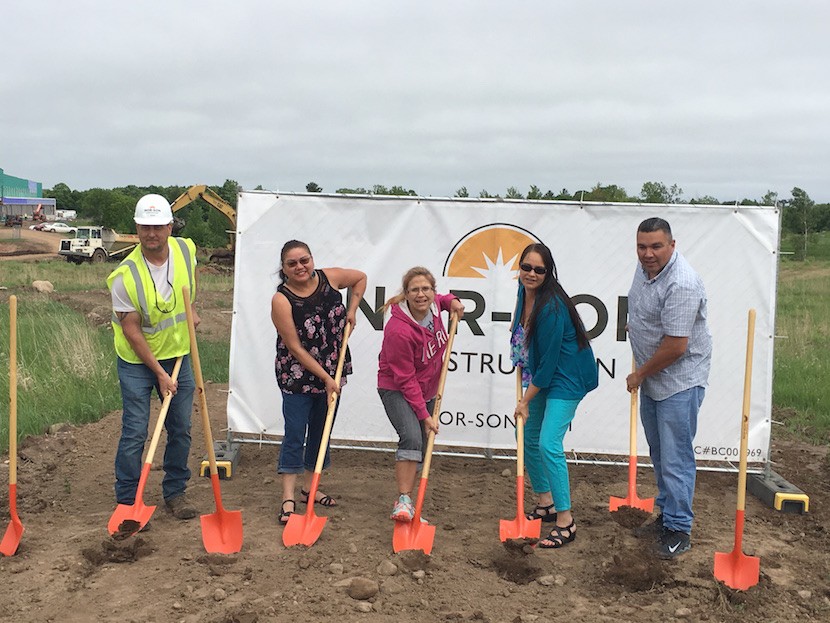 As three of the four Band Assembly members complete their final days in office, they are celebrating accomplishments and the groundwork they've laid for the new members who will be sworn into office in July. Miigwech to Secretary-Treasurer Carolyn Beaulieu, District II Representative David "Niib" Au- bid, and District III Representative Harry Davis for your years of service.
The past year has been a busy one, and following are just some of the priorities and projects the Band Assembly has led the way on. Band Assembly members emphasized that making sure their doors are always open to Band members has been their most important job, because that approach ensures that "Band members' priorities are our priorities."
– Band Assembly appropriated extensive funds for land acquisition, development, and property improvements. Many of these investments will directly improve services to Band members. For instance, a new District I clinic is in the middle of construction on the Sher property in District I, the Band broke ground on June 1 for the new District I Community Center, the new Meshakwad Community Center in Hinckley is about to open, and the Band purchased a dialysis facility in Isle earlier this year.
Additionally, the construction of Lady Luck Estates in Hinckley will provide affordable housing units for the casino work- force. For a portion of the project, Mille Lacs Corporate Ventures secured financing through the Low Income Housing Tax Credit (LIHTC) program. The LIHTC program provides millions of dollars every year for the development of affordable housing. In the interim, Band Assembly provided a temporary loan to get the project off the ground.
Other Band investments are helping improve amenities for Guests at Grand Casinos and other Band-owned businesses, which are critical to our business success. Floor-to-ceiling improvements have been made to both casinos, from lighting to carpeting to the swimming pool at Grand Casino Hinckley. Some restaurants (like Grand Buffet) have been updated, and other new ones have debuted — like 1991 at Grand Casino Mille Lacs and The Grille House at Grand Casino Hinckley.
– In June, Band Assembly passed and the Chief Executive signed the Child and Family Protection Statute into law. As with any new law, the Solicitor General and elected officials have noted several amendments and revisions that this law will require. However, the Band's focus on child protection is timely and much needed.
– Band Assembly revised the Tribal Employment Rights Ordinance (TERO), and the new TERO Commissioners were ratified earlier this year, replacing the Administrative Policy Board as the TERO enforcement entity. The commission is working with the TERO Director to develop the policies and procedures for the TERO program, which is aimed at ensuring Band member and Native employment, a productive Band workforce, and a good workplace for all employees.
– In 2017, Band Assembly held Revenue Allocation Plan (RAP) meetings in all districts and the urban area to explain the current RAP, discuss the challenges in meeting budget needs, and receive Band members' questions and input. Forthcoming changes will need approval by Band elected leadership and will be shared with community members before going to the Department of the Interior for final approval.
– Also in the last year, the Office of Management and Bud- get undertook the major task of converting the Band's accounting software system — an improvement in technology and functionality that took over 15 months to complete.
– Starting in 2015, the Legislative Office hosted three annual legislative women's gatherings. The success of those gatherings led to monthly women's gatherings. Band Member Kim Sam has talked with the group about her Mothers of Traditions approach to wellbriety and life. Participants also play Ojibwe bingo to continue practicing the Ojibwe language. "Spending time with fellow women of the Band talking about issues in our lives and how to cope with those issues has led to bonding in our community and empowerment," said Secretary-Treasurer Carolyn Beaulieu.
– The General Welfare Exclusion (GWE) Act allows American Indian tribes to establish tax-exempt benefit programs to care for their tribal members. Tribes are able to create non-tax- able programs that address the unique needs of members from a social, cultural, economic, and community standpoint. In April 2018, Band Assembly approved a Joint Resolution adopting the GWE Act for implementation of general welfare programs for Mille Lacs Band members. The Joint Resolution is pending the Chief Executive's signature.
– The Mille Lacs Band redesigned its motor vehicle license plates last year and held a contest to find the new design. Band Assembly examined the submissions, voted, and selected the plate designed by talented young lady and Band member Sim- one Boyd-Evans.
– The Band uses the Minnesota Community Foundation to invest and manage its foundation dollars and to use a portion of such funds for charitable purposes as determined by the Band. Band Assembly approved the following strategic donations from the Band's foundation in 2017 and 2018:
• Honor The Earth, $15,000 (to oppose new fossil fuel pipelines, protect our water, and promote renewable energy)
• Pine County, $25,000 (to pay for half of a community coach position)
• Ain Dah Yung Our Home Shelter, $40,000 (to fund a youth shelter in the Twin Cities)
• Indian Legal Assistance Program, $15,000 (to support pro bono legal services provided to Indian people)

• White Earth Land Recovery Project, $5,000 (to support Indian Country radio broadcasting)
Band Assembly leaders want to say Miigwech to Band members for all of their ideas and support over the past four years.
Photos:
Above: The Band broke ground on the new District I Community Center June 1. Pictured with a representative of Nor-Son are Band members Caryn Day and Carla Dunkley, Secretary-Treasurer Carolyn Beaulieu, and Commissioner of Community Development Percy Benjamin.
Below: Annual women's gatherings started by the Legislative Office in 2015 have developed into monthly opportunities for women to learn, share, and socialize.