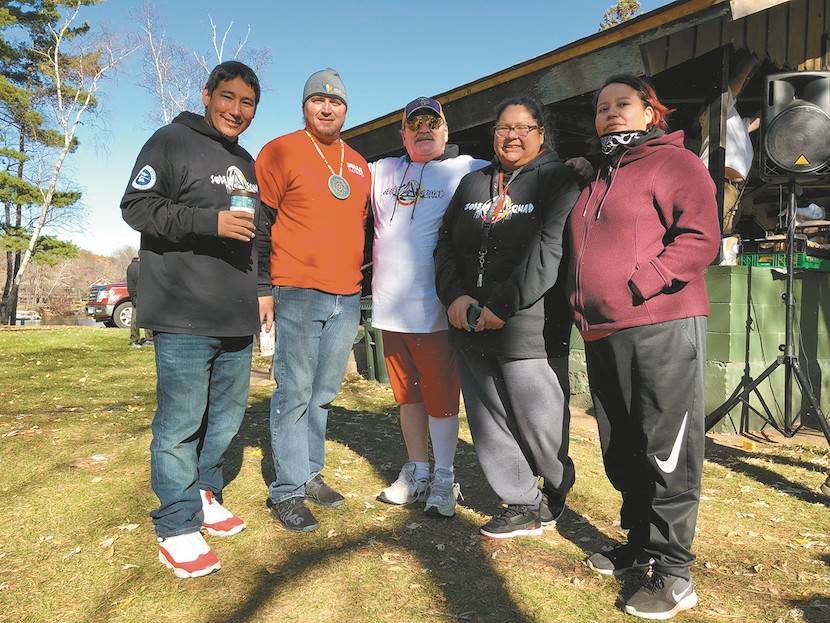 The Sober Squad movement that started in Mille Lacs is sending ripples throughout Minnesota, and not just on reservations. The city of Brainerd was the latest to catch the wave with a gathering at Lum Park and a march through the east side of town on October 21.
The enthusiasm was infectious from the start of the festivities at the picnic shelter, where Sober Squad members and supporters donned free t-shirts, listened to music, made new friends, and heard a rousing motivational speech from found- ing member Colin Cash.
A crowd of about 200 set off at noon for a long stroll, accompanied by regular shouts of "Squad!" and drum songs from a troupe of musicians in the back of a pickup.
The event was organized by Squad member Brittany Egan and supported by the Mille Lacs Band and Mille Lacs Corporate Ventures.
Brittany is admittedly new to sobriety, but she was inspired to plan the event by her participation in the Walk for the Recovery in Minneapolis on September 15 — where the Sober Squad was the top fundraiser and brought a record number of walkers — and a smudge walk the following day on the Mille Lacs Reservation, where friends and family of those affected by addiction and violence walked to remember their loved ones and call for justice.
"People want to feel like they're a part of something, and that there's hope," said Brittany, who said she took part in the drug scene on the Mille Lacs Reservation before making the decision to turn her life around — with help from Sober Squad.
According to Squad members Curtis Sam and Darryl Smith, Sober Squad has given people in recovery a support network and community to help their recovery take hold.
During a rest stop at a local school, Randell Sam led participants in a recitation of the Serenity Prayer and a chant of "There is hope! Ask us how!" while children swarmed the playground equipment.
Founding members Billie Jo Boyd, Lynelle Northbird, Gary Benjamin, and Bradley Harrington also took part in the Brainerd walk, spreading their healing message to a new community.