Last year, Aanjibimaadizing successfully administered the COVID-19 Housing Assistance Program (CHAP) grants, helping to access funds for hundreds of clients who were behind on mortgage and utility payments due to the pandemic. Staff in the Aanjibimaadizing program were able to help Mille Lacs Band families with over $800,000 in support.
Now, a similar program, COVID-19 Emergency Rental Assistance (CERA), will help renters who have fallen behind due to issues related to COVID-19 — and the Aanjibimaadizing staff are once again ready and willing to help Band members apply.
Click here for a slideshow about the program.
You can apply online at https://mlbo-laserfiche.millelacsband.com/Forms/CERA.
You can also contact an Aanjibimaadizing case manager or facilitator or visit the office for help with the application.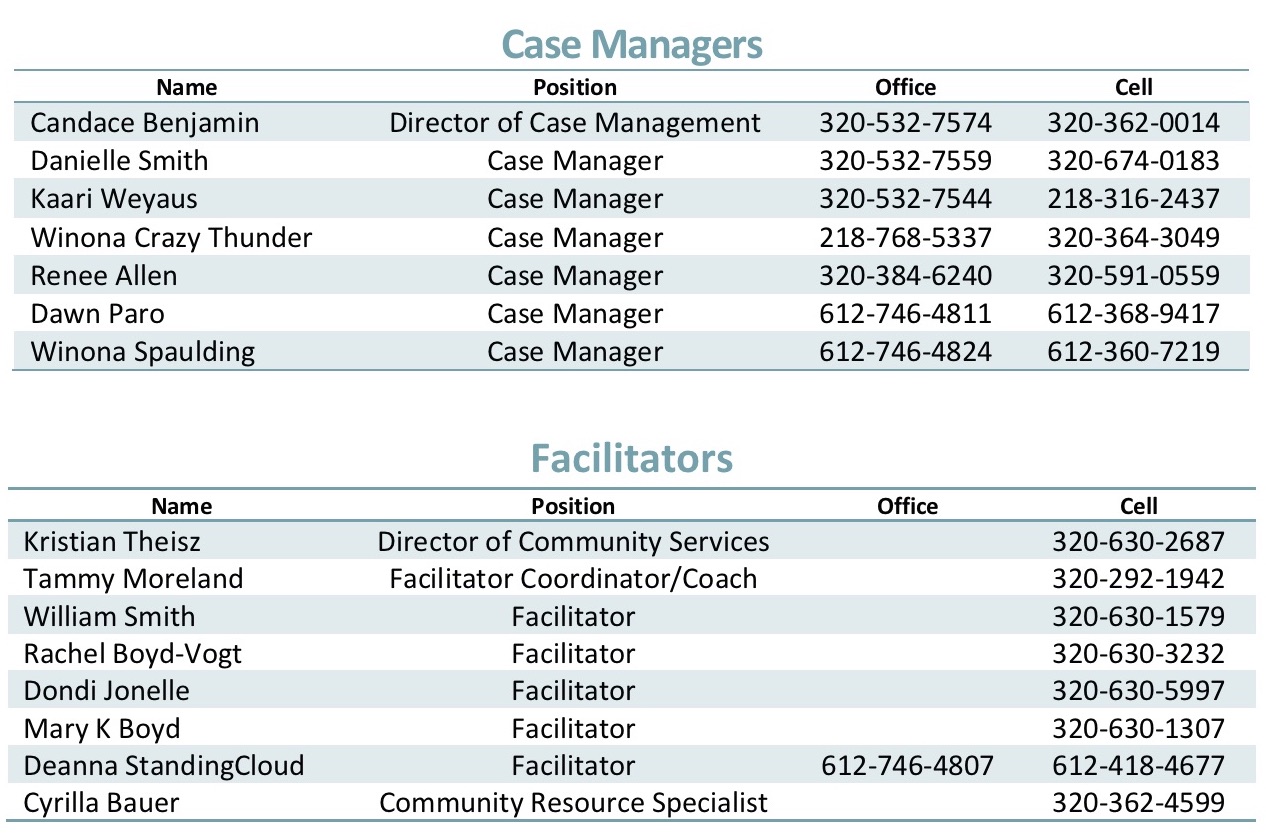 "We understand that many of our Band members have experienced challenges due to COVID-19 — whether they were sick themselves, or furloughed, or someone in their household had unexpected needs," said Aanjibimaadizing Executive Director Tammy Wickstrom. "We encourage you to apply online or give us a call even if you are unsure if you are eligible, and we'll help you through the process."
The program is open to Minnesota residents who owe or are behind in rent or rental utility payments incurred after March 13, 2020, if the outstanding expenses are due to unemployment, illness, or another issue resulting from the COVID-19 pandemic.
Eligibility
An "eligible household" is defined as a tribal member, descendant, or any federally recognized tribal renter household in which at least one or more individuals meet the following criteria:
— Qualifies for unemployment or has experienced a reduction in household income, incurred significant costs, or experienced a financial hardship due to the COVID-19 pandemic;
— Demonstrates a risk of experiencing homelessness or housing instability; and
— Has a household income at or below 80 percent of the federal median income. Household income is determined as either the household's total income for calendar year 2020 or the household's two months of proof of income at the time of application. For household incomes determined using the latter method, income eligibility must be redetermined every three (3) months.
Applicants must provide the following:
—Personal identification number from a state-issued ID, driver's license, passport, ITIN, Tribal ID, or other form of ID.
—Current rental lease — includes address of rental unit, or have a completed landlord verification form.
—Name, address, SSN number, tax ID number, or DUNS for landlord or rental agency.
—Total amount of each type of assistance (rent, rental arrears, utilities, home energy costs, utility arrears) needed.
—Number of months of rental payments and number of months of utility cost with documentation of amounts owed.
—Gross household income of all adults and number of individuals in the household for the past two months, or a tax return for 2020.
—Gender, race, and ethnicity for the primary applicant requesting assistance.
Funds will be paid directly to the vendor or company.
Applications will be accepted until December 13, 2021, at 5 p.m. The maximum eligibility period is 12 months.
If you have questions, contact Tammy Moreland at 320-292-1942 or tammy.moreland@millelacsband.com.
Due to the number of calls this program could receive, you may need to leave a message. Calls will be returned within 48 hours.
Mortgage payments and homeowner utility payments are NOT eligible. As the name suggests, the COVID-19 Emergency Rental Assistance program is only open to renters and landlords. We understand that many homeowners are also struggling with housing costs. We anticipate that federal financial assistance may be announced for homeowners in spring 2021.