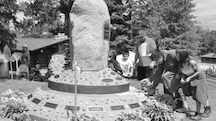 By Mille Lacs Band of Ojibwe, July 30, 2015
Nearly 300 Anishinaabeg from around the Great Lakes region came to Sandy Lake July 29 to remember the 400 men, women and children who passed away in the Sandy Lake Tragedy of 1850.
The Great Lakes Indian Fish and Wildlife Commission (GLIFWC) hosted the annual memorial ceremony.
The event began with a pipe ceremony and talking circle at the boat landing on the northeast shore of the lake. GLIFWC Chair and Lac Courte Oreilles Tribal Chairman Mic Isham welcomed participants and thanked the Sandy Lake Ojibwe, represented by Sandy Skinaway, for welcoming them to their home.
Each year canoeists paddle from the landing to the Mikwendaagoziwag ('They Are Remembered') monument at the northwest corner of the lake — but this year "nature had other plans," in the words of one young canoeist who was pulled from the water by a GLIFWC conservation officer.
Of the dozen canoes and kayaks that set out, only one made it across the lake. The rest either tipped, sank or turned back in the teeth of a 25-mph wind and 40-mph gusts that whipped up whitecaps and dangerous waves. GLIFWC officers in three boats pulled paddlers from the water and towed canoes back to the landing.
The intrepid canoeists who completed the journey were Neil Kmiecek, GLIFWC's Biological Services Director, and Booj LaBarge from Lac Du Flambeau. They crept along the north shore, staying out of the biggest waves, and pulled in at the landing two hours later at 12:30.
Prior to the feast, elder Fred Kelly of Kabapikotawangag (Lake of the Woods) sang an ancestral song. Following the feast, the large crowd gathered in the shade of the pines by the Sandy Lake dam for a pipe ceremony, a water ceremony, and brief speeches by tribal leaders, including Isham, Chris McGeshick of Sokaogan, Mike Wiggins of Bad River, Jim Williams of Lac Vieux Desert and Eric Chapman of Lac Du Flambeau.
Fred Kelly and Carmen Butler shared stories, and Winona LaDuke urged all the Anishinaabe bands to work together to oppose a proposed oil pipeline that would cross the Sandy Lake watershed and bring oil to shore of Lake Superior.
Many Mille Lacs Band members attended the event, including Secretary/Treasurer Carolyn Beaulieu and District II Rep. David 'Niib' Aubid, who gave the invocation.
For information on the Sandy Lake Tragedy, follow this link.