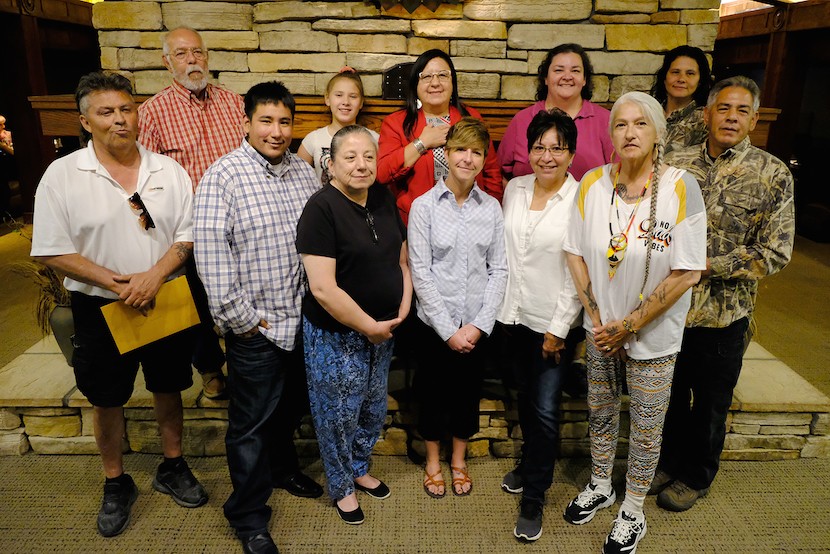 In her 2019 State of the Band Address, Chief Executive Melanie Benjamin promised to provide "New Warriorism" grants to Band members who came up with plans to help their communities. On May 30 at the Winds Steakhouse at Grand Casino Hinckley, Melanie presented seven individuals and groups with their grants and thanked them for making the effort to improve Band members' lives.
The grants were awarded after a competitive grant process with a lengthy application including a proposed budget, a timeline, matching grants, collaborations, communities or groups served, and a method of determining the success of the project.
Other great ideas were proposed but did not meet the requirements and therefore could not be funded.
The recipients were Colin Cash, Catherine Colsrud, Brad Harrington, Al Hemming/Bernadine Roberts/Christine Costello, Julie Hernandez-Corado, Curt Kalk, and Amber Lenz. Each was invited by Melanie to say a few words about their project.
Colin said his grant will pay for Sober Squad t-shirts to be distributed at events hosted by the recovery group. "Simply put, it is not just about the shirts," said Colin in his grant application. "It is actually about the message we are sending the community with the shirts. Being proud of our recovery and sending a positive message to the community is our goal. It's about the unity we have in spreading the same message of hope. It's also about not being ashamed of the stigma associated with Substance Use Disorder."
Catherine applied for funds to host a family painting event as a healthy, wholesome, fun, and sober alternative for those struggling to maintain sobriety or looking for ways to build family recovery. "I want people to look at what they were able to create with just a little instruction and see that they can do that with the rest of their life," said Catherine. "I chose painting because I enjoy it and think others will too." She plans to host sessions at the Hinckley Lodge and Meshakwad and Aazhoomog Community Centers.
Brad's grant was to cover expenses for a series of Sober Night Memoriam music events to honor survivors of the opioid epidemic and to remember those who passed. The first event was held May 16, and Brad is planning the next event to be held at Chiminising Community Center in District IIa. Brad also intends to host community jam sessions for those interested in playing in a band.
Al, Bernadine, and Christine applied for their grant on behalf of a grassroots group they formed in District III: The Alliance of Concerned Tribal Members, or ACT. The group received a sustainable farming grant to help bring access to healthier food to District III and to promote healthy eating and sustainability. Initial funds will be used to research the best ways to reach those goals, and they hope their research will be useful to the Band DNR's Agriculture Program.
Julie applied for a grant to organize a smudge walk in Aazhoomog and Hinckley communities in District III on June 1. "As a Mille Lacs Band Community, we cannot give up on each other, and if the event of a smudge walk changes one person's life, one family's life, one child's life, that is success," said Julie. Grant funds covered t-shirts, smudge bowls, and a lunch from Subway. (For more on the smudge walk, see page 4)
Curt's grant, titled "Tribal Hunting and Gathering Services," has the goal of providing cultural harvesting services to Band members receiving outpatient treatment as well as Elders, members with disabilities, and children. Curt and his wife Carmen said they want to help those lacking equipment or experience to learn traditional harvesting, which will open their eyes to new possibilities while promoting health and wellness. They also intend to teach safety, environmental awareness, conservation, and language.
Amber said she applied for a grant on behalf of the students of Pine Grove Learning Center, where she is a teacher. The grant provides funds for students to build, tend to, and grow fruit and vegetable gardens. "The fruits and vegetables brought home will empower them with skills and confidence to make fresh, healthy dishes for a lifetime of healthy living," said Amber. (For photos of the gardens, see page 7.)
After dinner, grant recipient Curt Kalk thanked Melanie on behalf of the other grant recipients for going above and beyond the responsibilities of her position to find new ways to help Band members help each other.
Melanie concluded the event by saying, "Ultimately, it's about the spiritual health of people, and once again I say, 'Chi-miigwech' for your efforts!"