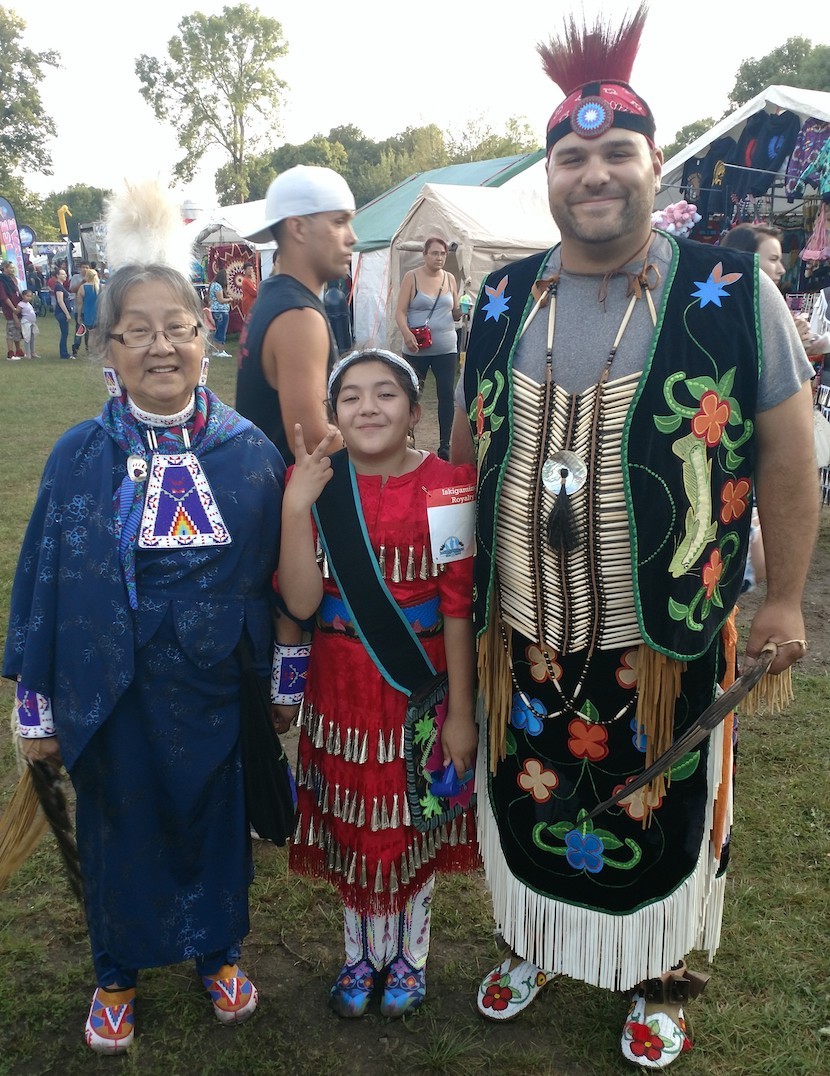 By Toya Stewart Downey Mille Lacs Band Member
Photos by Rhonda Mitchell and Bradley Roache Jr. Mille Lacs Band Members
Each year, there are hundreds of stories that could be told about the Mille Lacs Band of Ojibwe Traditional Powwow, and this year is no different.
There are stories of dancers, drummers, and the beautiful regalia worn during the three-day event.
This year, Band member Ben Sam has such a story. He grew up as a grass dancer and hasn't danced in a powwow in nearly 10 years, so when he was gifted with regalia that belonged to his Uncle, Herb Sam, who passed away last year, Ben decided he would dance.
"Herb helped guide me on my own path in teaching me how to find guidance and help in a traditional way. It's fitting that guidance from the path of a medicine man led me into medicine," said Ben. "Wearing the regalia made for my uncle, with our Awaazisii clan marker and my colors, felt like home. I have never danced traditional style."
When Ben entered the arena behind the royalty, along with the rest of the dancers, he felt like he had never left.
"The drum has a sobering, healing power, and each drumbeat through Grand Entry felt like my own heartbeat," he added. "I began to tear up partway through the first song and again during our honor song as we honored our veterans and flags. It was humbling to be in the center of our grounds, dancing in threads gifted but felt like they were made for me. I was just happy to be home."
Band member David Sam and his wife, Mary Sam, who are Ben's parents, said Herb played an instrumental role in providing Ben with a spiritual foundation when he left for college seven years ago, up until he graduated as a Doctor of Physical Therapy in May.
"Ben, wearing Herb's regalia with our Awaazisii clan symbol represented throughout the regalia, would have made his Uncle Herb proud," said Dave and Mary. "We are all proud of the healing work Ben is embarking on."
They added that they were "honored by Patty's gesture to bestow Herb's beautiful regalia, along with the responsibility it carries, to Ben."
"He will wear it with humility, honor, and much gratitude," the couple said.
Special 'homecoming'
This year's powwow also was a homecoming of sorts for some Band members who grew up in Texas and had never experienced the beauty and majesty of the annual event.
For siblings Tamika Johnson, Raya Smith, Mark Swist, Ariel Swist, Alan Swist, and his twin brother Adam Swist, it was important to be at the powwow as a tribute to their mom, Sharon "Penny" Sutton — a Band member who passed away five years ago.
Since their mom's passing, the remaining family members — including Jamie Edwards, who works for the Band's Government Affairs department, and two other brothers, Reggie Smith and Troy Zoschke — have made it a point to spend time together in Minnesota where their mom grew up.
They've also made an effort to connect as often as possible since they grew up in different households and states.
Raya, who lives in San Francisco, said it was "great to be home." She lived on the reservation until she was three years old and then moved away. She went back once to see her mom and Dorothy (Smith) Passehl about 25 years ago.
She plans to come back to next year's powwow.
Her sister, Tamika, said she is also planning to return and bring her children, Anyah and Jaden, back to their grandmother's place of birth.
"I loved the powwow and it felt like home," said Tamika. "I could see so much of my mom, but the best thing was seeing the beauty in it — something she never had an opportunity to share because of all of the pain that she associated with Minnesota."
"For me, the powwow was grounding. I felt like I belonged," she added.
Ariel, who brought her daughters Kelis and Karree, called it an amazing experience.
"I'm looking forward to coming more often and for my children to dance the next time we come," said Ariel, adding that being in Mille Lacs felt like home to her, too.
Plans are already underway for next summer to have a "coming home ceremony" for Sharon's children.
Dave Sam, who is their uncle, will set a dish and lead a ceremony to welcome the family back home in a good way.
It's an experience that Mark is looking forward to. For him, meeting Dave and hearing about the history of the makizinataagewin (moccasin game) was a highlight of the powwow weekend. It's a story he said he will never forget.
Other powwow news
Thousands of people attended the powwow this weekend and according to Master of Ceremonies Bradley Harrington there were 494 dancers registered for the 1 p.m. Grand Entry on Saturday.
One highlight for Band member Carmen Weous was the special that happened during the afternoon event in honor of the missing and murdered Indigenous women.
"The women wore red ribbon skirts or red regalia and formed the inner circle," she said. "Men were invited in the outer circle. To me it was powerful, meaningful, and beautiful. I was very happy to participate."
New Royalty
As always, new royalty were chosen who will represent the Band at powwows and other events throughout the year.
Congratulations to the winners of the 2019 Royalty Contest:
Senior Princess: Damita Great Shield
Senior Brave: Adrian Wade Jr.
Junior Princess: Ziizibaakwad Sam
Junior Brave: Cayson Graves
Gichi-miigwech to our Powwow Committees
The sights, sounds, tastes, and smells of a powwow are well known and loved by all, from the colorful regalia to the flag songs, and from frybread burgers to sweetgrass and sage. But none of that would be possible if it weren't for those who work behind the scenes year-round to make their local powwows happen.
This year's 53rd Annual Mille Lacs Band Powwow was made possible by co-chairs Tony Pike and Tammy Smith — but they are quick to share credit with others: Christine Pewaush, who was in charge of the royalty contest; Barb Martin, who has coordinated the first aid tent and been powwow committee secretary for 10 years; Sober Squad members, who coordinated the Saturday morning parade; Lance Dorr, who organized the makizinataagewin (moccasin game) contest; and Joe Nayquonabe Sr., the Elder advisor who comes to meetings to offer advice and support for new features — like this year's decision to encourage people to wear red in honor of missing and murdered Indigenous women.
Powwow committee meetings occur monthly throughout the year and weekly beginning in July.
For Tammy, who has been on the committee for six years, the reward of a job well done makes all the work worthwhile. "I enjoy doing something for my culture, and I love watching my kids and grandkids dance," said Tammy.
Tony is employed in Public Works, and it's crucial to have someone from his department closely involved in powwow preparations. "Each year we try to add something different," said Tony. "This year we upgraded the waterline, added lighting, and cleaned out some trees."