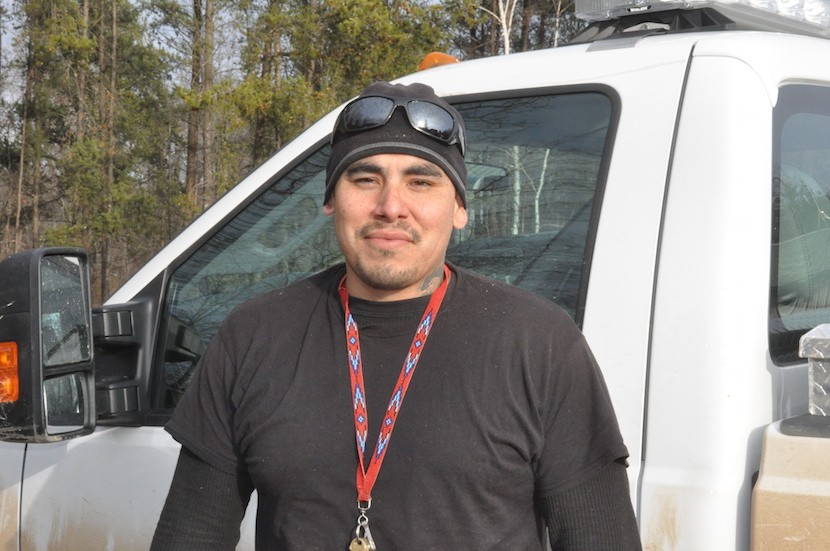 A donation from the Mille Lacs Band Department of Natural Resources to the Minnesota Correctional Facility in Faribault had special significance for Band member Cortney Nadeau.
Cortney spent four years at the prison beginning when he was 17 years old. On November 1, Cortney and Wildland Director Dean Staples brought 35 ironwood poles, 150 precut nylon ties, and colored cloths for flags to Faribault so the facility could rebuild its sweat lodge.
"It makes me feel good to be on the other side of the fence and helping them out," said Cortney.

Cortney and Dean stayed overnight in a Faribault hotel so they could deliver the items to the facility the following morning. Chaplain Tony Mustazza said, "In my 25 years here, I have never had anyone stay overnight in a hotel to make a donation. I am extremely impressed with the generosity and diligent effort of the Mille Lacs Band of Ojibwe." Ten American Indian offenders rebuilt the sweat lodge on Friday, November 3.
When Cortney was incarcerated at Faribault, he took part in sweat lodge ceremonies, and he says it helped him grow up and learn about himself.
"When I was younger, I went to ceremonies because I thought I was obligated as an Ojibwe," he said. "As I got older, I was around people who were doing life, and they didn't like to see us young guys going in and out. That really helped me inside. They put it to me straight. I knew if I had a chance, I wouldn't mess it up. I took that to heart and then started taking those ceremonies seriously."
During a second prison term at Stillwater, Cortney experienced a kind of revelation. "When I was growing up, I was taught that I wasn't in control, that everyone else was to blame for my actions," he said. "Being in ceremonies helped me learn that I was in control of my thoughts and feelings and actions. That was a breakthrough. It was a moment I remember. I was 26. That was when I realized I was in control of myself."
When he left prison, he went to work with the Department of Labor until his friend Bradley Harrington recommended him for a job with the DNR. The two have maintained a close bond. "Brad is not only my brother, but also my mentor," said Cortney. "We talk every day. He helps me, and he's told me in the past that I helped him."
Cortney does not regret the time he spent locked up. "I wouldn't change anything because it made me who I am today," he said. "I can definitely say I'm proud of myself. I have a good support sys- tem. That is what a lot of people don't have coming out of DOC."
Cortney and Brad are talking about putting together a support group for those returning to the community from prison.
Bradley also encouraged Cortney to pursue firefighter training, a decision he's happy he made. "Once I discovered the fire program, that was it," he said. "Everything about it I enjoy. Getting a job helped me — to wake up in the morning and have something to do that's productive. My boss, Dean Staples, I respect him, so I look forward to coming to work."
Cortney has fought wildfires in the western U.S., and he's willing to go back — even after an accident with a hose shattered his cheek and gave him a serious head injury. "It was important to me to do my physical therapy and come back to work, not only for myself but for my sons," he said. "I want to be someone they can look up to."
He credits his kids with keeping him focused. "I tell them all the time, 'You'll never know how much you helped me.' That's why I do what I do. I want my kids to look up to someone. It brings me joy, to see them every day. I always want to keep them smiling."