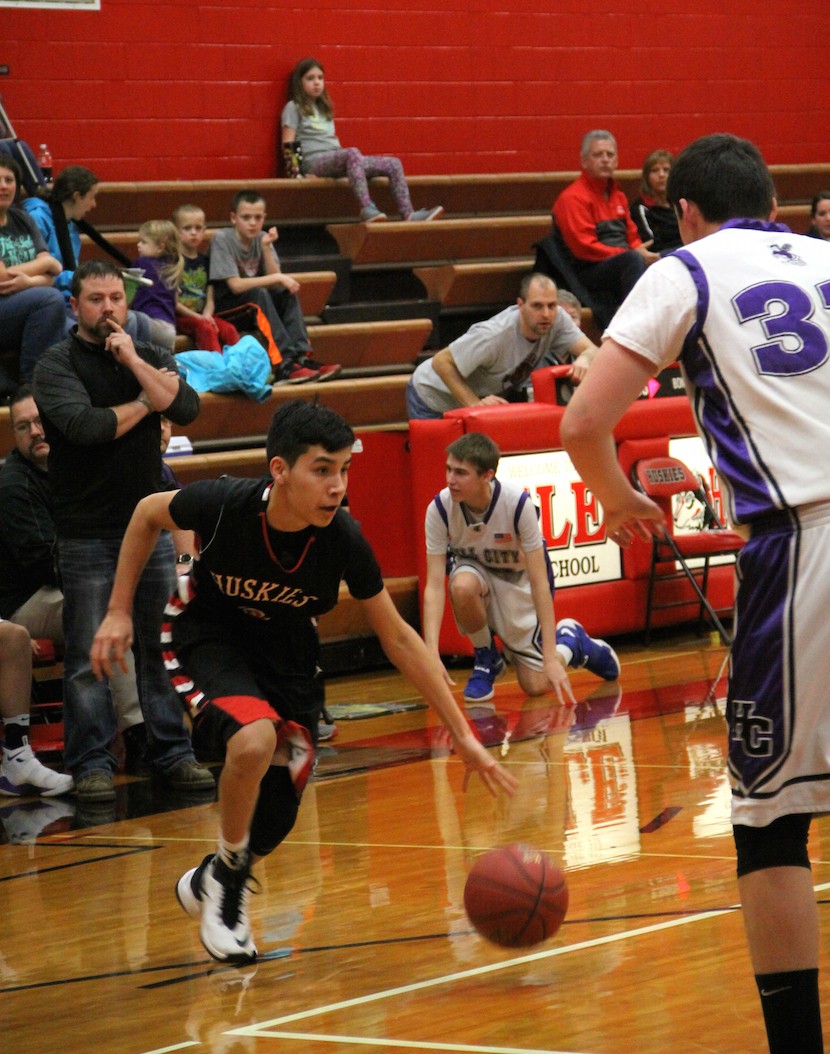 Amikogaabawiikwe Adrienne Benjamin Guest Writer
Darcie BigBear Guest Photographer
Recently I was contacted by a community member who said that their son, Eldayshun Big Bear (DayDayz) wanted help to tell his story about losing his dad. This is his story. I am grateful to have been asked to help him tell it. It is his mother's hope and Eldayshun's hope that this story can help others who are dealing with loss to find the sunshine after the rain. Eldayshun is a 15-year-old sophomore at Isle High School and starting point guard for the Isle Huskies basketball team. He has grown up in Chiminising and is actively involved in the MLB WiiDu program.
On September 25, Eldayshun Big Bear had just gotten home from school and was playing video games when his mom called and told him to stay off Facebook. "I didn't think anything at the time, but when she came home, she sat me down and told me that my dad had unexpectedly passed away," Eldayshun said. "I don't know how to explain how I felt. It's not every day you hear something like that at 15." His dad was only 37.
There was captain's practice that night, and he told his mom that all he wanted to do was play basketball, so he went to captain's practice, like he would have any other day. "All of my team knew, but they waited until the end to console me, and they were all very comforting," Eldayshun said. "My coach reached out and told me that if I needed someone to talk to, I could go to him. My teammates and coaches checked on me constantly and asked me how I was doing, and that meant a lot."
The day after his father passed away, his family and friends put on an open gym at the Chiminising Community Center. "We just played basketball. I got to do what I love the most with my friends and the people that I care about the most," Eldayshun recalled.
Trevor Oswald, an Isle High School alumni, and the first person that Eldayshun ever looked up to in basketball, texted him and told him that he was proud of him and the basketball player that he is becoming and that he inspires him. Eldayshun was grateful. "It's crazy getting a text message from someone like that saying that I inspired them," he said. "There's a lot of people that have your back when you need it and support you, and that's a big factor that has helped me."
A shot of positivity
Eldayshun thought a lot about continuing his basketball season and life after such a tragic event. A shot of positivity came from his friends Cedric, Quentin, and Dion a week later. "I told them that I wanted to do something great in my dad's memory, and they agreed that making a goal for my basketball season was a good and reasonable idea," Eldayshun said. His friend Cedric likes to think out of the box, and he knew that it was already Eldayshun's goal to break the assist record for the season, so he suggested that he do it for his Dad. "In that moment, they really made me think that I could do it." Eldayshun said happily about his friends.
He has now made it his goal to break the Isle High School single-season assist record. "I'm trying to break the assist record at my school for my dad. It was my goal before, but now that he's not here, it made me want to try harder and strive for it," he added. As of today, Eldayshun has played four games and has 20 assists. He needs 126 to tie the record and 127 to break it, with 23 games remaining to do it.
Eldayshun reflected on a moment that occurred before the season started. "Before my first game my mom took me to visit my dad's grave, and I talked to him out loud. I asked to have him guide me with any problems that I have on and off the court. I showed him my shoes, and I told him that every time I take a step, dribble, or take a shot, it's for him."
Every time Eldayshun scores a basket, he points upward to acknowledge his dad, and when he is announced in the starting lineup, he has a special handshake with another teammate where he also points up and acknowledges his Dad before every game. When asked about keeping his focus and drive on the court during tough times, Eldayshun said, "When I'm playing, I'm all about basketball, getting my teammates involved and finding them open shots. That's what I love about assists: it's team play."
You can come and cheer Eldayshun on during the 2017-2018 Isle Huskies basketball season. A game schedule can be found on the Isle Public Schools website: isle.k12.mn.us.
Focus on the goal
Eldayshun also had this message for any young person who may be going through tough times: "You have to put your mind to the goal, and do it for yourself and make yourself happy through your goal. Whether it's playing football or writing music, you need to do it with everything you have. Some things that have helped me get through it are basketball, my friends, my family, and listening to my favorite rapper, Montana of 300, going to school every day, and writing about my feelings."
"I wanted to share my story because I wanted people to know how my dad really was; he was really loving and caring with a huge sense of humor. You couldn't talk to him without having him joke around at least once. If you lose someone that you real- ly love, if they were proud of you for something, you should keep up with that. At the end of the day, if you're doing what you love and what they loved watching you do, they're most likely smiling down and proud of you. If you have an on-and-off relationship with one of your parents, you should hang out with them more, because you don't know how much you'll miss them or what they meant to you until they're gone."
Good luck Eldayshun! We hope you shatter that record and many more in the future!