Northland Foundation News Release
The Northland Foundation's Board of Trustees has elected three new Trustees, including Mille Lacs Band Commissioner of Administration Baabiitaw Boyd. The newly elected Trustees may serve up to three, three-year terms.
Baabiitaw spent her career working with fluent Ojibwe language speakers to become an Ojibwe language teacher and advocate. She is a Bush Fellow who studied behavior design and indigenizing systems and is a Native Nation Rebuilder with the Native Governance Center. Boyd earned an Associate of Arts Degree from Fond du Lac Tribal and Community College and Bachelor of Arts Degree from The College of St. Scholastica, as well as a Certificate in Contemporary Indigenous Multilingualism and a Certificate in Tribal Administration and Governance.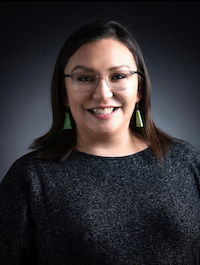 Baabiitaw is joined by two other newcomers to the Board.
Lori Rothstein, Grand Marais, is a Leadership and Civic Engagement Educator with University of Minnesota Extension. She designs, delivers, and evaluates programs for community leaders and leads workshops to spark social change around critical community issues. In addition, she is a consultant and coach for individuals and teams. Rothstein earned a Bachelor of Arts Degree from Valparaiso University and a Master of Arts Degree from the School for International Training. Rothstein spent a number of years in the Peace Corps; she has lived and worked in 11 countries but has made her home in northeastern Minnesota for the past decade. She is certified in the Intercultural Development Inventory, and Positive Psychology among others.
Roy Smith, Hibbing, is the Director of Education and Talent Development, Minnesota Department of Iron Range Resources & Rehabilitation/Minnesota State Colleges & Universities. He earned an Associate Degree from Hibbing Community College, Bachelor's Degree from Bemidji State University, Master's Degree from St. Cloud State University, and Educational Specialist Degree from Nova Southeastern University. Following 18 years in public education as a teacher and administrator, in 2005 he transitioned to education and workforce development with Iron Range Resources and Rehabilitation and Minnesota State Colleges & Universities. He is the Director of the Applied Learning Institute, serves on the NE Regional Workforce Investment Board, and is an appointee to the Governor's Workforce Development Council.
Tony Sertich, Northland Foundation President, said, "Our Board began Trustee recruitment in February. Due to COVID-19, they had to work through process and timeline challenges. I have to thank them and the slate of candidates for their perseverance. It was worth the wait — Baabiitaw, Roy, and Lori bring a terrific array of personal, professional, and community experiences to the Board that will serve the foundation and region well."
The Northland Foundation Board also chose the following Board Officers for 2020-2021: Jason Hollinday, Chair – Director of Planning, Fond du Lac Band of Lake Superior Chippewa; Shaye Moris, Vice Chair – Executive Director, Second Harvest Northern Lakes Food Bank; Peter McDermott, Treasurer – President/CEO, Minnesota Diversified Industries; and Cindy Anderson Bina, Secretary – Counselor (retired), Vermilion Community College.
Visit https://northlandfdn.org/about-us/staff-board-contact.php to see all current Trustees.
The Northland Foundation is a publicly supported foundation serving the northeastern Minnesota counties of Aitkin, Carlton, Cook, Itasca, Koochiching, Lake, and St. Louis and all or parts of five Tribal Nations in the region: the Bois Forte Band of Chippewa, Fond du Lac Band of Lake Superior Chippewa, Grand Portage Band of Lake Superior Chippewa, Leech Lake Band of Ojibwe, and Mille Lacs Band of Ojibwe. Through grantmaking, small business assistance, KIDS PLUS Program, and special initiatives, the foundation invests in people and communities for a thriving northeastern Minnesota.