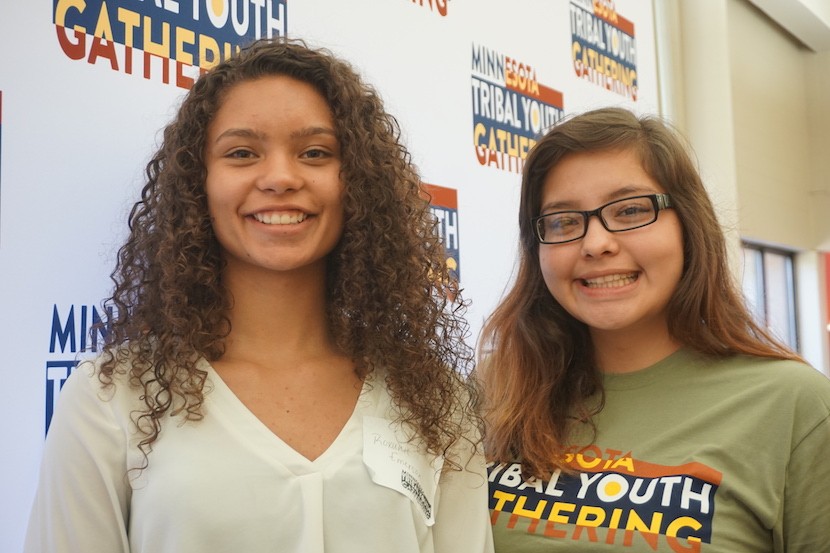 Toya Stewart Downey Mille Lacs Band Member
Mille Lacs Band members were among 100 youth who were selected to attend the July 27 Tribal Youth Gathering, which featured addresses by Minnesota Governor Mark Dayton, Mille Lacs Chief Executive Melanie Benjamin, and Olympic gold medalist Billy Mills, as well as panel discussions that included Commissioner of Natural Resources Bradley Harrington, Band member Baabiitaw Melissa Boyd, and State Representative Peggy Flanagan.
The day-long event was planned by youth representing different tribes, including students in the Indian Education pro- grams from both Saint Paul Public Schools and Minneapolis Public Schools.
Onamia High School students Roxann Emerson and Amanda Leigh Eagle were the Mille Lacs Band representatives on the committee.
During his welcome address, Governor Dayton told the audience, "You're here as future leaders of tribes, the state, and the nation. ... You're here because of your work and your story. You're young, talented, and intelligent. The windows of opportunity are open for you."
Brooklynn Smith, an 8th grader at Onamia High School, said the day was fun and she enjoyed being with her friends. But, more importantly, it showed her that "kids can make a difference."
"It was empowering and it told me that I can be whoever I want to be," she said. "I want to work on not being so shy and I want to be a role model for other kids."
The event was held on July 27 at the University of Minnesota's St. Paul campus and attracted tribes, businesses, and organizations.
Mille Lacs Band Chief Executive Melanie Benjamin suggested that the Governor's Office consider hosting the state's gathering after seeing the national model that was started by former president Barack Obama during his second term in office.
Obama's Generation Indigenous initiative was created in 2014. It was designed to improve the lives of Native American youth through new investments and increased engagement. Known as Gen-I, the initiative promoted a national dialogue. It was also designated to support programs and policies that both mobilize and cultivate the next generation of Native leaders.
The Minnesota Tribal Youth Gathering was geared toward youth ages 14 to 24, and was also designed to focus on community building and developing leadership skills for Native American youth.
When it was Melanie's time to speak, she told the crowd, "I think about what we can do as tribal leaders to work for the next seven generations." She commented that the Tribal Youth Gathering is long overdue. "I have also wondered how come it took us so long to get here, but we're here now and we can make positive change," Melanie said.
Addressing the students specifically, she told them, "You can be strong examples for your community. When I look out, I see that you're the future. You are our hopes and dreams."
At the gathering the audience heard from Olympic Gold Medalist Billy Mills, from the Oglala Lakota (Sioux). He won the gold medal in the 10K race during the 1964 Olympics. At the time, he set a world record and is still the only American to ever win a gold medal in that event.
Nevaeh Merrill said one of the highlights of the day was to hear the Olympian speak. She's a cross-country runner and has known about the legend for years. She considers him an inspiration.
"I loved it," she said. "I want to do things for our community to help make a difference on the reservation."
For example, she said she wants to raise awareness among her peers about the drug epidemic that is happening around them. And then figure out a way to help.
"I think we are the future, but we have to do more. We should help out in the community and help other people."
The participants also had an opportunity to hear about health, education, culture and language revitalization, history, self-sufficiency, sovereignty, youth engagement, and public leadership.
To participate in the event, the young people had to complete the Generation Indigenous (Gen-I) Challenge. The Gen-I Challenge is a pledge from Native American youth to make a positive difference in their communities.
"Our youth empower us, and through them I see the future for us in Indian Country," said Melanie. "I see we can empower each other, and I look forward to many more days like this."
Above: Roxann Emerson and Amanda Eagle served on the committee that planned the Tribal Youth Gathering.
Below: Dalylah Benjamin, Brooklynn Smith, Bella Nayquonabe, and Nevaeh Merrill. Right: Melanie Benjamin, Bradley Harrington, Baabiitaw Melissa Boyd, Gov. Mark Dayton, and Billy Mills were among the guests.