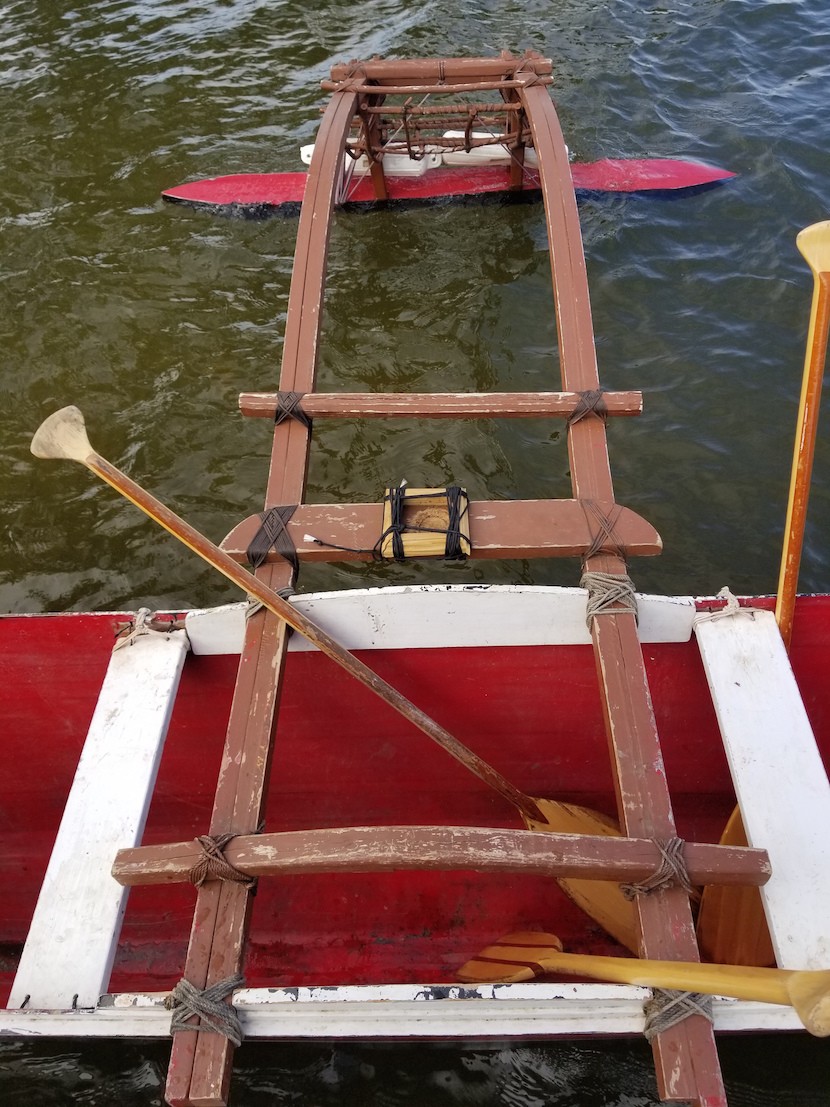 by Li Boyd Mille Lacs Band Member
Long before there were massive ships and steel hulls in our waterways, canoes were traveling the world over. Not every canoe was built exactly like our birchbark jiimaan or even made out of the same things, but the basic canoe design has been crossing vast oceans longer than galleons and tankers even existed.
At the University of Minnesota in the Department of American Indian Studies, Dr. Vicente (Vince) Diaz teaches a course called Canoe Cultures of Oceania and the Great Lakes. At the invitation of DNR Commissioner Brad Harrington, in collaboration with Mille Lacs Band member Artist Steve Premo and Professor Brenda Child of Red Lake, Dr. Diaz brought his class to Mille Lacs Lake on September 30 for a day on the beach at Eddy's Resort. Dr. Diaz also brought along his friend and colleague Mario Benito, a master navigator from Polowat Atoll in Micronesia, and a Micronesian outrigger sailing canoe called a waa herak.
For Mario, Mille Lacs was almost like coming home, as it was the closest thing he'd seen to open water since traveling to Minnesota. The shoreline on the opposite side of the lake reminded him of the other side of the lagoon from his home. In Polowat, located in a member state of the Federated States of Micronesia, Mario underwent a traditional ceremony called "pwo" (pro- nounced "poh") last summer to become a master navigator. This tradition is thousands of years old and has been kept alive and in-practice only in the Central Carolines region of Micronesia in the Pacific Islands. Fortunately, the knowledge is being revived across the entire Pacific region. Indigenous peoples are relearning how to build and sail large, open ocean vessels, and how to embark on long distance voyages using only their knowledge of the stars, waves, clouds, sea creatures, and other natural signs.
The single-hull outrigger sailing canoe that Dr. Diaz and Mario brought to Mille Lacs was built in Guam, where Dr. Diaz was born and raised. The doctor identifies as Pohnpeian (Micronesian) from Guam and was eager to share his culture with Mille Lacs Band members who wanted to take a ride. The waa herak is a deep, narrow single-hulled canoe with an outrigger supporting it from the middle on the left side. It also has a sail, so can be outfitted for sailing or a paddle about. Mario and the doctor in Mille Lacs meant to put the sail up that day, but time was too short to cover every aspect of the sophisticated Micronesian sailing vessel.
Getting on board the ship was a practice in steady footwork and meant getting used to one's feet not necessarily touching the floor. (This was mainly only a concern for the short folks who participated.) Paddlers were taught to lean one way in the canoe to keep the outrigger lifted to the optimum level. As long as the top of the outrigger stays above the waterline, the canoe is traveling well. Because of the outrigger, all of the paddling must take place off the right side of the boat. Developing a rhythm with fellow paddlers is one of the most basic and important tasks while on the water, as paddlers in a full boat will be sitting near enough together to knock their paddles against each other. There is a beautiful rhythm to working in sync with four other people to cross the water, especially with someone as experienced as Mario at the stern, safely steering the voyage.
Dr. Diaz' class at the University of Minnesota compares Micronesian canoe culture with Anishinaabe and other indigenous people's canoe culture. The doctor likes to examine how indigenous peoples and their watercraft relate to the environment through practices and traditions. It's a class based partly in academic lecture and partly in practical experience. Dr. Diaz believes the use of traditional watercraft, including our own birchbark jiimaan, fosters good community relationships and also provides an access point for indigenous peoples to reconnect to their culture. This includes local indigenous people such as the Anishinaabe, but it also extends to such dislocated indigenous groups as the Micronesian population of Milan, MN who make up to 33 percent of the town's residents.
Dr. Diaz relates that the last 500 years have been a story of containment for indigenous communities. It started with the colonial notion that islands were isolated places, and the com- munities on islands traveled little and experience limited cultural exchange. The truth, Dr. Diaz says, is that there was no such thing as an isolated island in traditional indigenous ocean cultures. It can be similarly said that Anishinaabe cultures were well-traveled due to their canoe culture as well. Behaviors that reinforce being stuck in one place and isolated are an imposition of colonialism. Dr. Diaz strongly believes in bringing this truth to indigenous, and other, communities through teaching.
The University of Minnesota Native Canoe Program focusing on community engagement and relations brought Dr. Diaz, Mario, and their waa herak to Mille Lacs this September, and they hope it will bring them to visit again, perhaps with different water- craft from their comparative indigenous studies course to share with our community. The program does not have its own jiimaan yet, and that is something Dr. Diaz hopes to rectify soon, either through purchase or donation. If you or anyone you know can help connect Dr. Diaz with a jiimaan for purchase or to be gifted, he can be reached at vmdiaz@umn.edu.
For Dr. Diaz, Mario, and his students, our big water was a gift, and our communities were blessed with the experience of sharing cultures on our shores. In knowing one another, and knowing our relatives from around the world, we draw wisdom and strength. I give thanks to all those who make these events possible.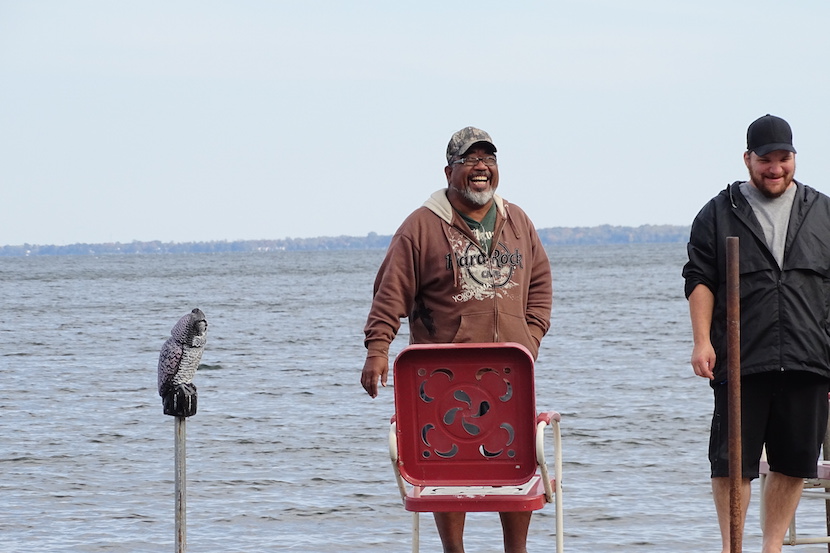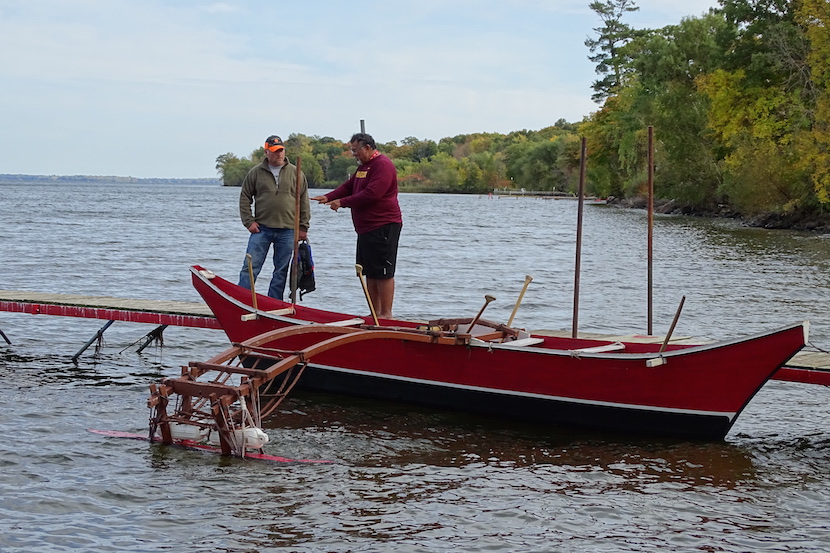 Mario Benito (top) and Vicente Diaz of the University of Minnesota (right) brought students to Mille Lacs to launch a traditional micronesian canoe.