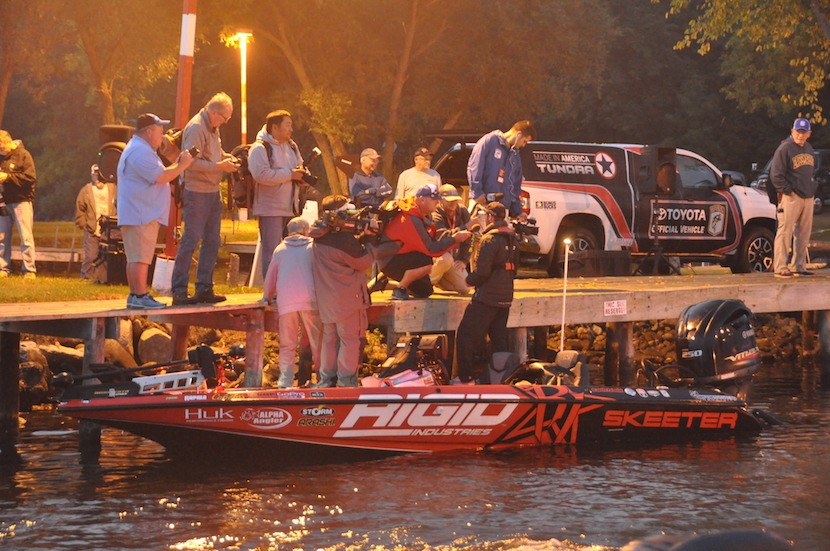 An unprecedented return trip to Mille Lacs for the Bassmas- ter Angler of the Year tournament Sept. 14–17 resulted in a second straight year of great fishing, big crowds and positive publicity for the Mille Lacs region.
Bassmaster had never scheduled its Angler of the Year tournament at the same location two years in a row, but rave reviews of the 2016 tournament — made possible by a hefty investment from Grand Casino — motivated the organization to return.
The end result was the crowning of 2017 Angler of the Year Brandon Palaniuk and the weekend tourney winner Keith Combs — who caught over 72 pounds of bass in three days, an average of nearly five pounds per fish.
But more important to locals was the attention 50 professional anglers and their entourages brought to Mille Lacs. After last year's tourney, the Bassmaster organization named Mille Lacs the top bass lake in the country.
That recognition has done a lot for a local economy suffering from a decline in walleye numbers and the ensuing controversy, as resorters have attacked the DNR's walleye assessments.
At the weigh-ins on Thursday, Friday and Sunday, anglers raved about the fishing, many saying they have never fished a better smallmouth lake in their lives.
Grand Casino Mille Lacs General Manager Tracy Sam said this year's tournament went well, and she thanked her staff for their hard work and welcoming attitude. "It was a whirlwind of a week. From start to finish, all of our Associates were incredible — and because of their dedication and hard work, the 2017 Bassmaster Angler of the Year Tournament was a great success," said Tracy.
Sarah Barten of Mille Lacs Corporate Ventures was busy all week (and months in advance) making sure the Bassmaster organization was well served and the tournament came off without a hitch.
Corporate Commissioner Joe Nayquonabe said, "We were incredibly proud to be hosting this tournament for the second consecutive year. We have seen just how important this tournament has been to bringing new visitors to the region."