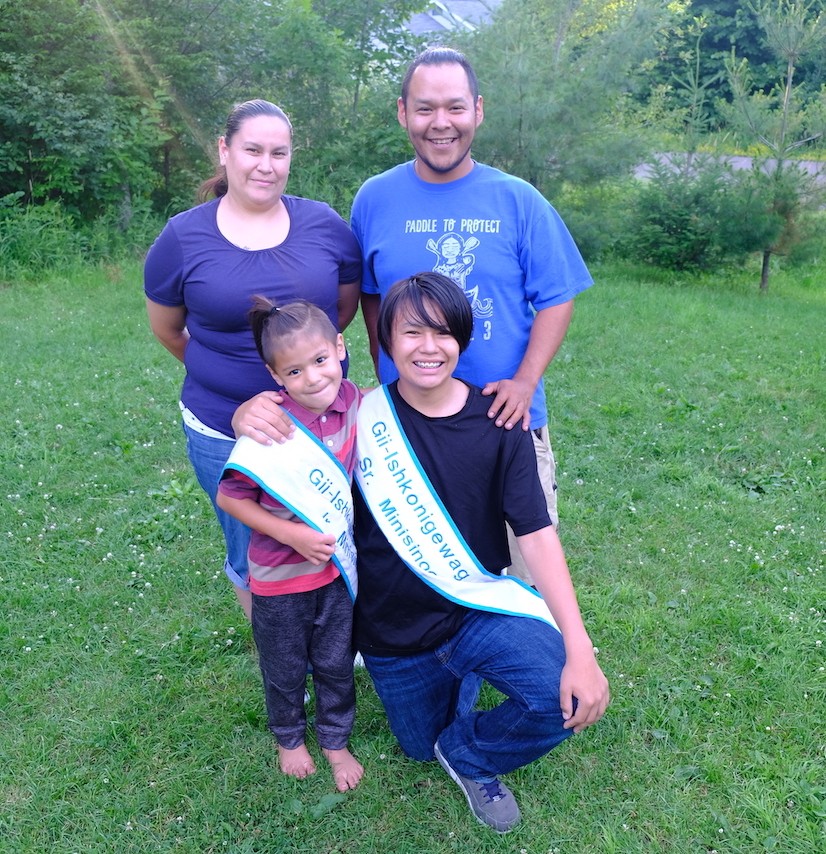 A rite of passage — and more — for District II Braves
Dancing at powwows and running for royalty is a tradition for the family of Harvey and Morningstar Goodsky of Minisinaakwaang. Morningstar started dancing at age 2 and served as Princess at Mille Lacs and Fond du Lac. Harvey started at 3 and was a Brave for 15 years at Bois Forte, Fond du Lac, and Mille Lacs.
"For us, it's a family legacy, a rite of passage," said Harvey. "My dad always wanted me to be in the Brave circle."
Harvey and Morningstar's sons Chinoodin, 14, and Destan, 6, have followed in their parents' footsteps, and in 2018 became Senior and Junior Brave at the Gii-Ishkonigewag Powwow in District II. (This year's powwow took place July 26-28, after this issue of Ojibwe Inaajimowin went to press. See the September issue for coverage.)
Over the course of the year, they have represented their community with respect for their culture and a healthy sense of fun. It's also a valuable learning experience for the boys.
Harvey remembers how important serving as royalty was to him. "When I was Brave, I traveled to Connecticut, Louisiana, Canada, and all over Minnesota and Wisconsin. We want our kids to know that there's more to life than Mille Lacs. There's a whole wide world out there."
Chinoodin has been dancing since he was seven, and he served as Junior Brave at Mille Lacs. He has grown into and worn out his regalia in seven years as a dancer. His moccasins are held together with duct tape, and his beadwork has been repaired and re-repaired.
He wears his regalia proudly — and not just at powwows. McGregor Schools have opened up to Anishinaabe culture in recent years, thanks to involvement from parents like the Goodskys. At least once a year, tribal members are asked to do presentations of powwow dancing and to share about their culture.
"I wore my regalia in my sixth-grade yearbook picture," said Chinoodin.
On the road
In June, the four Goodskys, along with four-year-old Harvey the Third, traveled to the 1855 Treaty Rights Powwow and Rodeo on the Yakama Reservation in White Swan, Washington.
The lessons learned and memories made will last a lifetime:
In the Dakotas, the boys saw the Badlands and dust devils.
In Montana, they swam in a crystal-clear mountain stream. The water was so pure they brought some home to drink later. They also stopped to harvest sage on the side of the highway — "But first we put out our asemaa," said Chinoodin.
In Idaho, they visited the Coeur d'Alene Reservation, the setting for the film "Smoke Signals." (Chinoodin ordered the Grand Slam at Denny's.)
The powwow itself taught the boys about the culture and language of other tribes. Dancers went counter-clockwise around the circle, parents carried children as they danced, and women sang with men at the drum.
Destan learned to sing some songs in the Yakama language. He's become a gregarious young Brave, sitting in with drum groups and talking with other children as well as adults. He even got to sing with the Black Lodge Singers.
The meaning of powwows
Destan has been working on an essay stating why he is running for royalty. "I want to be Brave so I can travel to new places," wrote Destan.
"I like making friends, too," Chinoodin added. "We talk when we're waiting behind the veterans and the head dancers. Sometimes somebody will say, 'Hey, weren't you at that other powwow?'"
Most importantly, traditional powwows are all about giving, according to Harvey. "Powwows were part of our system of commerce," he said. "Someone from another tribe might come and take home some wild rice, and leave behind something from his land."
That spirit of giving led Chinoodin and Destan to give away their regalia after last summer's powwow.
"I like seeing the smiles on the Elders' faces when we bring them food," said Chinoodin. Destan said he likes carrying the heavy plates — two at a time!
"We want them to be role models of a traditional lifestyle," said Morningstar.
Chinoodin has seen some of his friends go down a dangerous path of drinking, drugs, and inflicting harm on others. To him, those aren't traditional ways. "As Anishinaabe, we take only what we need, and we have respect for all people, all Nations," said Chinoodin. "I want to show that to others. That's another reason why I want to be Brave."