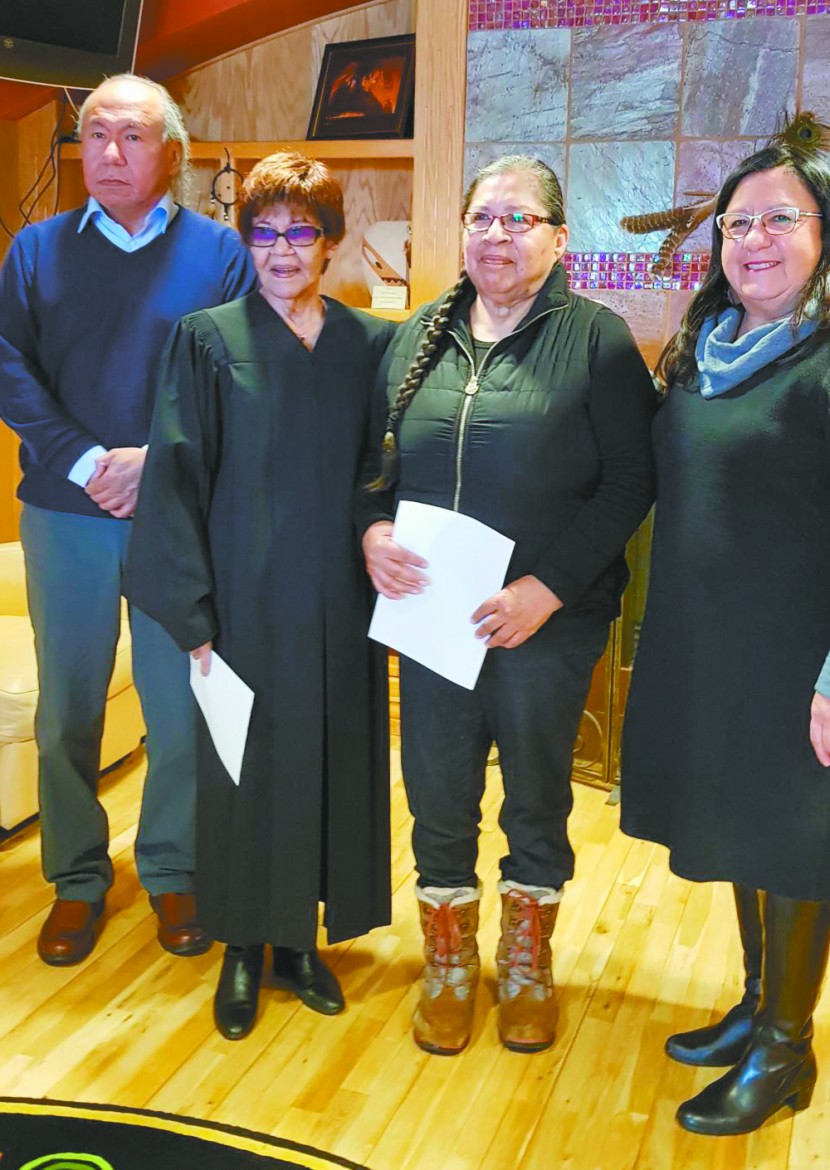 Joycelyn Shingobe — mother, Drumkeeper, lifelong learner
Commissioner of Education Joycelyn Shingobe passed away on January 25, 2021, at the Saint Cloud Hospital.
In addition to being a Commissioner, Joycelyn was a Drumkeeper, an accomplished traditional artist, and a mother of four.
Her contributions to the community over the decades were significant. After high school, she worked for the Band's Head Start program while working toward an accounting degree from Brainerd Community College (now Central Lakes), which led to a job with the Band's bingo program.
Later, she earned a bachelor's degree in American Indian Studies from Metropolitan State University in St. Paul.
Always hard-working, she had jobs at Band-owned resorts and the electronics plant that employed dozens of Band members in District I prior to the casino era.
In the 1980s and '90s, she worked at the Mille Lacs Indian Museum, taught history at Nay Ah Shing, and was instrumental in producing a history book about the Band: Against the Tide of American History: The story of the Mille Lacs Anishinabe.
Joyce was first appointed Commissioner of Education in December of 2002. In that role, she was involved in the creation of two charter schools: Minisinaakwaang Leadership Academy in District II and Pine Grove Leadership Academy in District III.
In 2000, she served on a committee that developed the cultural immersion grounds in Rutledge.
In 2003, Joyce was featured in a Mille Lacs Band calendar making a statement that would come to define her remaining years: "The message I would want Band members to hear is that you can accomplish anything you set your mind to if you have the initiative and determination to make it happen. Good things happen to those who pursue their education. Personally, I take pride in meeting my educational goal. Now, I am at a point in my life where I can truly help tribal members realize their own dreams."
Later, Joyce served as Executive Director of the Department of Education, once again taking a lead role in restructuring Pine Grove as a satellite of Nay Ah Shing Schools.
In 2019, Joyce once again heard the call of her tribe to serve as Commissioner of Education. During the last year, Joyce showed her dedication to maintaining educational excellence in the face of the COVID-19 pandemic, overseeing the transition to online learning and the complex safety requirements needed to bring students back to campus.
Chief Executive Melanie Benjamin, who twice nominated Joyce to serve as commissioner, remembered meeting Joyce in 1989, when Melanie was confirmed as Commissioner of Administration under the late Chief Executive Art Gahbow. "Joyce was one of the first to come up and introduce herself, and when I think of her I remember that courtesy and respect she showed to someone new to the community."
Melanie pointed out her quiet eloquence as a spokesperson, her strong family orientation, her unforgettable laugh, and her deep commitment to education for Band members — "from the little bitty ones, all the way up to adults."
"She was my mentor and supporter, my advisor, and most importantly she was my friend," said Melanie. "If you had cultural concerns or questions, you could always go to Joyce for help."
A model of life-long learning, Joyce received a Master's Degree in Tribal Administration and Governance in 2016. In an interview with the Ojibwe Inaajimowin, Joyce once again expressed her commitment to the Band and to education: "We need Band members to continue their education so they can lead. It will benefit them, the Band, and our government."