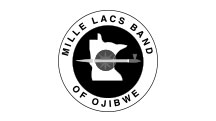 By Brett Larson, June 15, 2015
The 2015 Niigaan Basketball Camps run from Tuesday, June 16, through Thursday, June 18, and are free of charge to all area youth in grades 6 through 12.
Note that the location of Tuesday's camp has changed from District II Community Center in East Lake to the District IIA Chiminising Community Center in Isle. The camp will be run by Jim Russell, head basketball coach for Central Lakes College.
Wednesday's camp, featuring Minneapolis North coach Larry McKenzie, will be held at the District I Community Center, and Thursday's will be back in Isle, featuring UMD basketball coach Matt Bowen.
Middle-school aged kids will play from 10 a.m. to 12:30 p.m. each day and high schoolers from 1 to 3 p.m.
For pre-registration, contact Byron Ninham at 320-362-1023 or byron.ninham@millelacsband.com. Registrations will also be accepted each day of the camp.
Participants should come ready to work, with proper athletic attire. All campers will receive a basketball camp t-shirt.