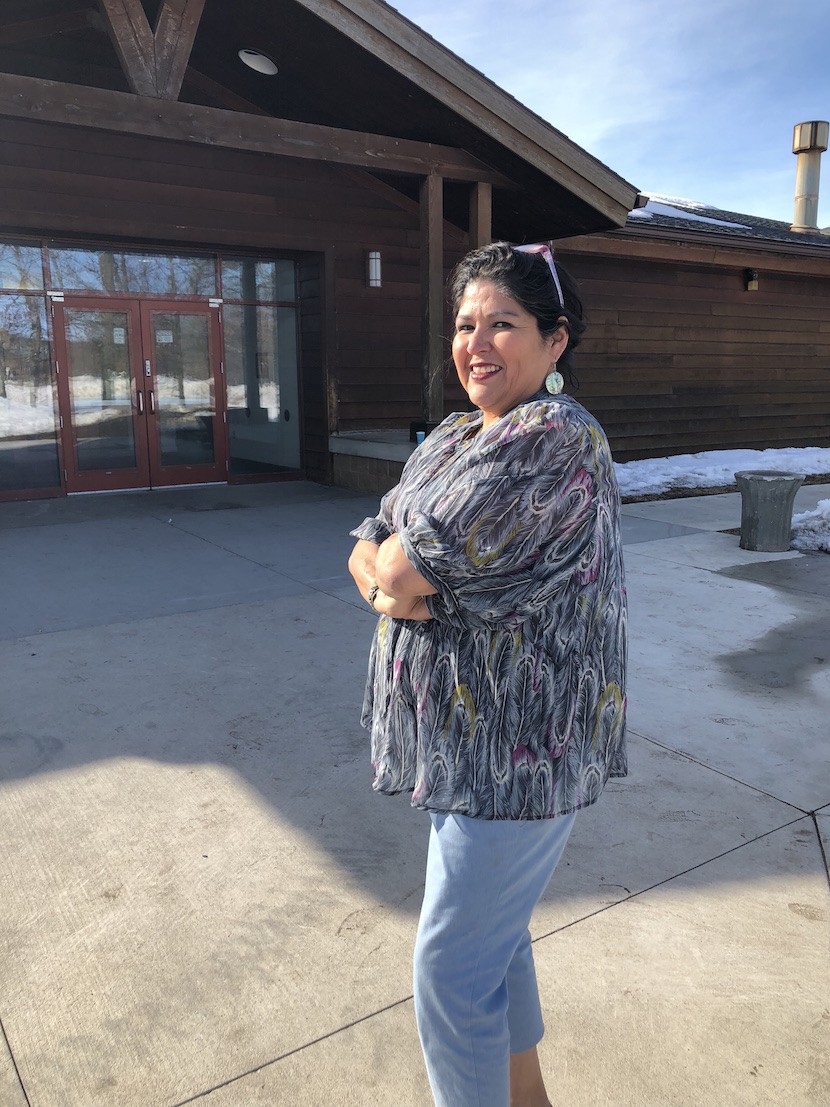 By Melissa "Baabiitaw" Boyd Mille Lacs Band Member
Rachel Dorion or Waawaashkeshii-manidookwe, is a jack-of- all-trades. The daughter of the late Fred Jones (Mille Lacs Band) and Linda Mitchell (Leech Lake) has a great love of nature and promoting self-sustainability through harvesting. She is a mother of three boys who also hunt, fish, and gather, and she spends every free moment with her grandkids.
Rachel returned home here to Misizaaga'iganing in 2007, after growing up in many places including, Nebraska, Colorado, and Washington. She moved back to Minnesota and settled down to begin her family. She worked jobs here and there in the community to pay the bills but always listened to her intuition and finds that she is happiest in the woods harvesting or creating things with her hands. She credits her husband, Steve, as her support.
Rachel loves trying new recipes and reading cookbooks while she's using harvested foods from the lakes and woods. Deer meat and fish are regular menu items in their household, as well as garden vegetables, maple sap in the coffee pot, and wild berries of all kinds. As she tells about her harvesting, she shares fond memories. "When I was a girl, I remember finding the biggest berry and saving it for my grandma."
Rachel's curiosity for making different foods peaked in February of this year, when she volunteered to teach the community how to make tamales one Saturday. The class was a huge success! Students felt empowered by peeling and de-seeding dried chili peppers to prepare a chili paste that was used to flavor the chicken, pork, and deer meat. Eating the finished product was a bonus!
When the class was over, the community members who were present left the Mille Lacs Indian Museum informed and confident in their ability to make the new dish (and they had leftovers). There were more than 20 participants, some coming all the way from Leech Lake!
When she's not harvesting, Rachel practices making traditional bulrush mats and birchbark baskets and collects medicines like red willow for making traditional tobacco, or Chaga tea, and nettle for making rope fibers. Rachel talks about time in the woods as an incredibly spiritual experience — the sounds, the smells, the energy; everything in the woods and lakes is for us as Anishinaabe. About her family, she shares, "We are just so grateful because we were gifted that."
We as a traditional Anishinaabe community welcome and congratulate Rachel in all of her endeavors and are very lucky to have her home teaching us what she knows about reaping the harvest of our natural Anishinaabe gifts. Her contributions are priceless.