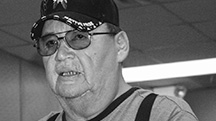 By Mille Lacs Band of Ojibwe, June 23, 2015
By: Zach Kayser, 06/20/15
Mille Lacs Band of Ojibwe elder Herb Sam gave a talk on Anishinaabe culture, racism and his own personal experience with reclaiming his heritage Friday as part of Brainerd History Week.
During his talk inside a lecture hall at Central Lakes College, Sam said he was shipped off to boarding school at an early age and indoctrinated against his own culture. Starting from the moment he first got off the bus in 1946, people at the boarding school, including other Ojibwe, told him speaking the language would end badly for him.
"'That is the devil language, don't speak that again,'" Sam recalled a man telling him when he arrived at the boarding school in Pipestone.