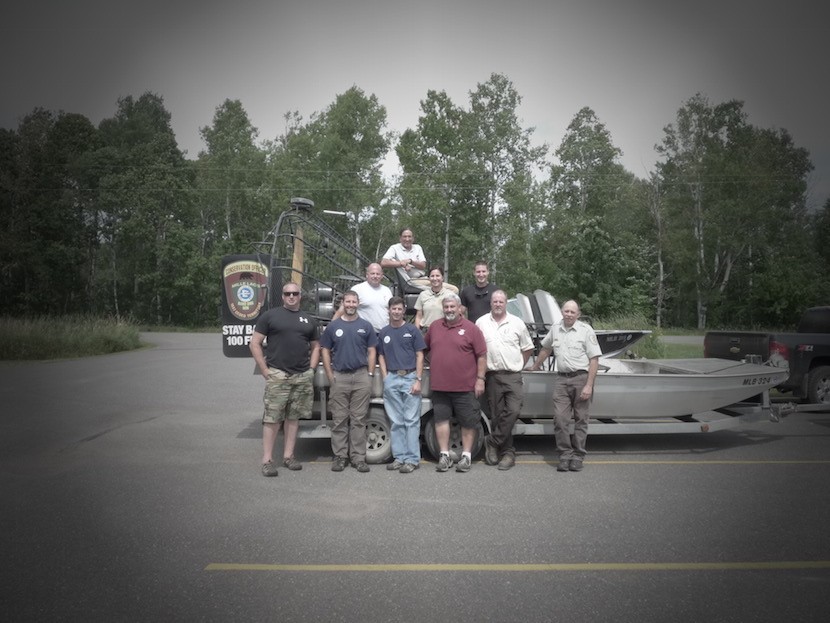 When we see law enforcement officers in uniform, we don't always realize the hours of training they undergo in order to serve and protect their communities. One such training happened in mid-August, when DNR Conservation Officers and Tribal Police took part in airboat training with instructors from the U.S. Fish and Wildlife Service.
The training was organized by Conservation Officer Jason Rice and attended by Conservation Officers Leah Kampa and Taylor Hochstein, Tribal Police Officer Jeff Schaefer and Emergency Management Coordinator Monte Fronk.
The USFWS brought trainers from far and wide for the course: Dave Wedan of La Crosse, Wisc., Regional Watercraft and Emer- gency Response Coordinator for the Midwest Region, which is composed of eight states; Jim Graham of Agassiz National Wildlife Refuge; Tyler Paulson of Sherburne National Wildlife Refuge and Walt Ford of Rice Lake National Wildlife Refuge.
The lead instructor was Duane King, also of Rice Lake, which hosted the classroom component of the
training. The practical training in watercraft operation was held at Portage Lake west of the refuge, where trainees learned what to do before, during and after an emergency — everything from pre-launch checklists to safe operation to storage, maintenance and decontamination.
On the water, they learned to operate at high and low speed and to avoid obstacles. The key is to give each student enough time to feel comfortable at the helm — especially those who have never operated an airboat. "Everyone's a little timid at first in the morning," said Duane, "but by afternoon they're ready to go."
The Band owns two airboats that are housed in District I and available for use in emergency.
Dave Wedan said, "Motorboat operation takes training, but airboats are even more difficult and dangerous. It's similar to flying a plane with that big propeller."
Dave also stressed the importance of the partnership between the USFWS and Indian tribes. "We take our tribal trust responsibility seriously," he said. "We're glad to be partnering on programs like this."
Conservation Officer Jason Rice said another training is being planned for December, which will prepare officers to use airboats in rescues year-round.