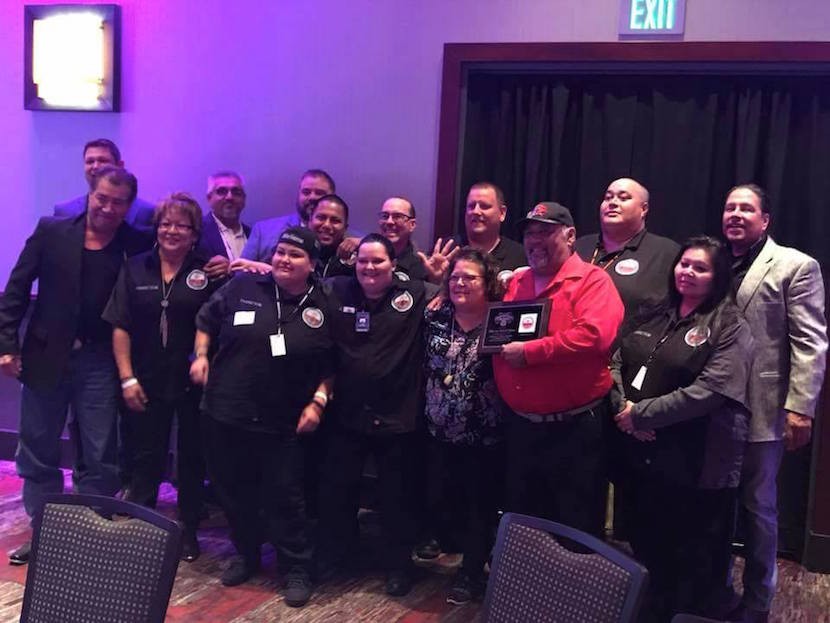 The Mille Lacs Band Department of Athletic Regulation was inducted into the Minnesota Boxing Hall of Fame in its class for 2017. New members were inducted at the Hall of Fame's annual banquet Oct. 13 at Mystic Lake Casino.
The Department was recognized for its support of boxing in the state and for its promotion of numerous professional cards over the last decade.
The DAR was also named Promoter of the Year.
The event was attended by DAR commissioners, Executive Director Matt Roberson, and many of the Band's inspectors. Matt and DAR Commissioner Wallace St. John spoke at the event.
The program at the Hall of Fame ceremony stated, "Already staging amateur shows including the Upper Midwest Golden Gloves tournaments, the Band elected to add the professional element, keeping the sport alive at a time fight shows in the Twin Cities and throughout the rest of the state had diminished considerably."
Former Executive Director Jim Erickson was quoted about the history of the DAR: "(District III Representative) Harry Davis was one of our elected officials and had gone to the (tribal) legislative attorney to get direction on setting up our own boxing commission. They did some research and also visited the Mohican Sun (Casino) and others to find out how they did it. Then the Mille Lacs Band passed the legislation to put it in place."
Harry had already started Upper Midwest and other Golden Gloves tournaments, including a World tournament that involved the Band and Puerto Rico.
Erickson also gave credit to Wally St. John and other boxing commissioners for helping establish professional boxing at Grand Casino.
The Mille Lacs Band Department of Athletic Regulation licenses combatants, trainers, managers, matchmakers, ringside physicians, and officials, and also regulates combative sports on the Mille Lacs Reservation according to the rules and regulations of the Department. It is a member of the National Association of Boxing Commissions and International Association of Combative Sports Commissions.
In addition, the DAR has helped other tribes learn how to stage boxing competition at their casinos.
Executive Director Matt Roberson and Ezra Sam celebrated the Band's award, along
with an enthusiastic group of Mille Lacs Band boxing inspectors.