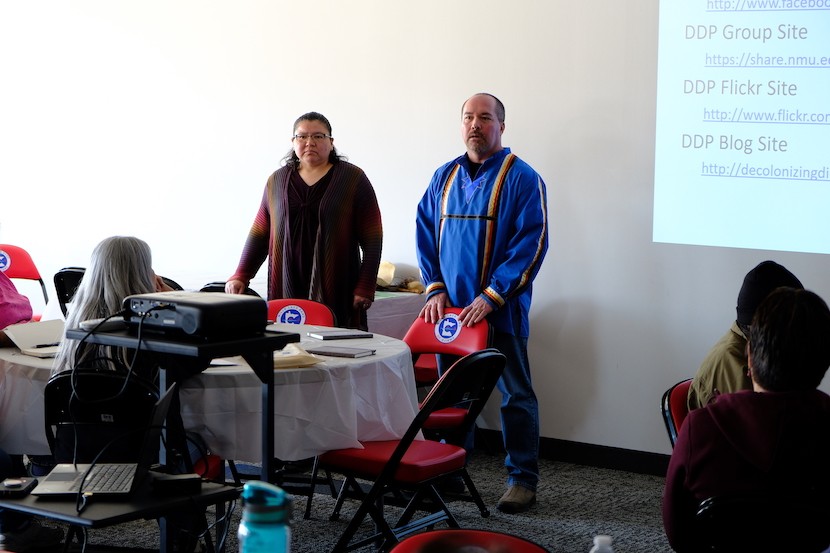 The Indigenous foods movement has taken off in recent years, and Native Americans from Minnesota have been at the forefront.
It turns out that the best foods for everyone — and Native people in particular — are those that our ancestors ate long before multinational corporations started force-feeding us processed, packaged, and pesticide-soaked junk foods.
The Mille Lacs Band has launched its own food sovereignty initiative and is planning small- and large-scale agricultural projects while encouraging foraging and traditional harvesting and hunting.
On Friday, March 29, Dr. Martin Reinhardt and Tina Moses came to Meshakwad Community Center in Hinckley to give a presentation titled "Decolonizing Your Diet with Indigenous Foods."
The presentation was made possible through the Mille Lacs Band Public Health Department's SHIP grant.
Martin is an Anishinaabe citizen of the Sault Ste. Marie Tribe of Chippewa Indians from Michigan and an assistant professor of Native American Studies at Northern Michigan University. He and Tina are the co-owners of Reinhardt & Associates.
Martin presented a summary of the results of his Decolonizing Diet Project (DDP), an exploratory multi-dimensional study of the relationships between people and Indigenous foods of the Great Lakes Region.
The study was intended to connect or reconnect people with foods that are Indigenous to the Great Lakes Region and were part of Indigenous diets prior to colonization.
Indigenous people are at higher-than-average risk of diabetes, heart disease, and addiction, and it is believed that unhealthy diets forced on them by colonization contribute to those health problems.
Study subjects adopted an Indigenous diet and exercise plan for one year and used journals, photos, and audio to record their experiences.
Common foods included wild rice, corn, maple, sunflower, pumpkin, squash, berries, wild leeks, beans, sweet potatoes, pecans, sunchokes, turkey, venison, bison, and fish.
Participants also received regularly scheduled health checks, and the results were impressive, showing significant reductions in weight, girth, and body mass index (BMI), as well as noteworthy reductions in blood pressure, cholesterol, and blood glucose levels.
Participants also learned a lot about foraging, hunting, shopping for, and preparing indigenous foods.
Martin is currently on sabbatical working on a follow up to the DDP study.
For lunch, participants feasted on a buffet of Indigenous foods, a menu developed by SHIP grant coordinator Colleen McKinney with help from Daggett's Foods in Hinckley.
If you're interested in learning more about Dr. Reinhardt's work or in purchasing the DDP cookbook, visit http://reinhardtassociates.net/5494.html.