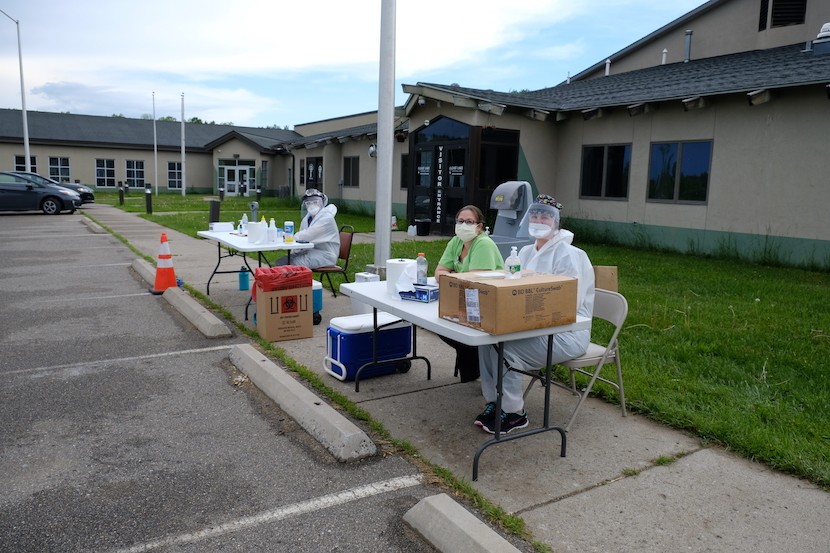 Testing continues in DI Wednesday, DIII Thursday, Minneapolis June 9
Health and Human Services Executive Director Jan Manary shared information about free Band-wide testing for COVID-19, which started on Tuesday, June 2, in District II.
Jan informs Band members that the testing centers are following strict safety protocols to keep everyone safe, and that the test only takes a few seconds.
If you can't make the test in your home district, you are welcome to get tested in other districts or the urban area as well.
o District I and IIA – Wednesday, June 3 from 8 a.m. to 5 p.m. in the NEW HHS Building parking lot on Timber Trails Drive.
o District III – Thursday, June 4 from 10 a.m. to noon in the Aazhoomog clinic parking lot. The HHS team will travel to Hinckley. Testing will be done at Meshakwad parking lot from 1 to 5 p.m.
o URBAN AREA — Tuesday, June 9. Details to come.
About COVID-19
COVID-19 is an infection from a tiny virus called the coronavirus. This virus is spread by tiny droplets. Symptoms that are related to COVID-19 could be but are not limited to: cough, shortness of breath, sore throat, muscle aches, loss of smell or taste, chills, and high temperatures. Diarrhea and vomiting are less common but possible. Most people get better in 1 to 2 weeks without treatment. Those that are older and have other illnesses can become more ill.
If you have symptoms, call 320-532-4163, option 2.
If it is a medical emergency, call 911.
Process of Collection
The collection is done with a swab into the nose. The collection takes about 15 seconds and may be slightly uncomfortable. Once collected, the sample is prepared to be sent to the Mayo laboratory.
What to do after collection
Please continue to wear a mask and practice social distancing (stay 6 feet apart from others), wash your hands, avoid touching your face. Only those with a positive test will be notified by phone.
Results
Test results will be done in 5-7 business days. If the results are negative, you will not be contacted. If the results are positive, you will receive a call from Public Health Nursing; they provide education on signs and symptoms to watch for, and identifying people you have been in contact with. All results are protected by patient privacy laws; access to the results is limited, so please do not call the clinic as the staff will not have access to the Mayo lab community testing results.
Remember: The best way to prevent getting COVID-19 is to practice social distancing, stay out of populated areas, stay 6 feet apart from others, wash your hands, wear a mask, cover your cough, stay hydrated, get exercise, get plenty of rest, and be outside in fresh air.