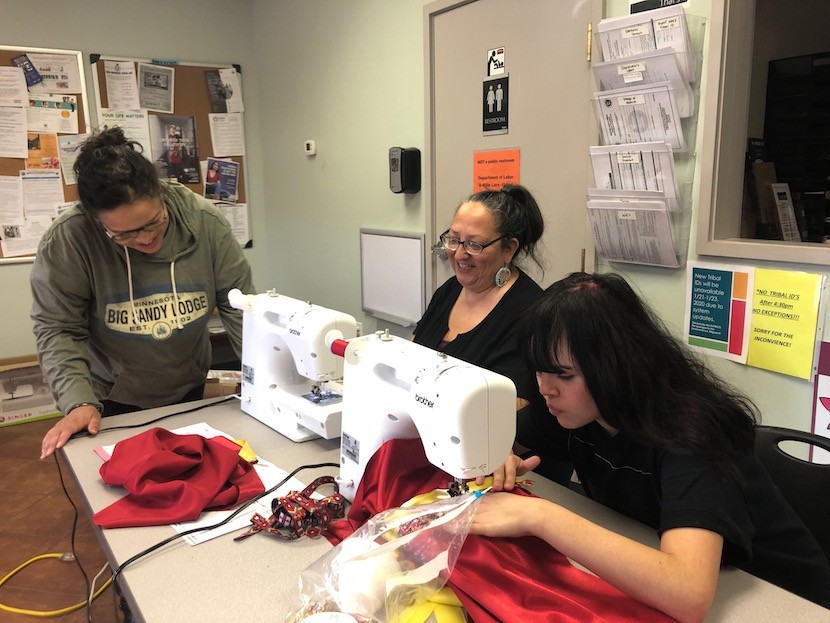 Band members in the Twin Cities are finding more ways to connect to their culture though the programming offered by the Urban Office. First up in January was a ribbon skirt class that attracted a small but determined group.
Tricia Moose taught the five-hour class to the six novices, who ranged from teens to older adults.
"I wanted to make a skirt to have it for ceremonies," said Tehya, 15, who was working on a blue ribbon skirt. "I've never sewn before, but I thought it would be great to learn."
So did the others who attended the Saturday class, including Urban Site Manager Wahbon Spears, who set up the class and wants to try to offer classes on different cultural topics each month.
Wahbon, like many other Band members in the Twin Cities, didn't grow up on the reservation and is eager to learn more about creating traditional clothing, crafts, and other works of art. Eventually, she'd like to offer another quilting class as well as moccasin-making, jewelry-making, and other crafts.
As the students came to the class, they were able to look through several bins to find their fabric of choice, the perfect pattern, and the colors they desired most. They had ribbons galore to choose from and then their imaginations took off as they began measuring, cutting, and sewing.
Tricia, who has taught ribbon skirt classes before, advised the class that beginners "should always start with cotton fabric and should try a simple design (like a skirt with no pockets) for their first time making a ribbon skirt."
During this class, she taught the attendees to make a basic skirt with ribbons straight across. Ribbon skirts have their own individual identity based on a woman's choice. They come in many colors and designs that reflect both a personal style and cultural identity.
Tricia, who has been sewing all of her life, made her first shirt by hand and then learned how to use a sewing machine. She began teaching sewing about a decade ago to people outside of her family.
"The length of a skirt is a personal preference," said Tricia, who also does beadwork.
When she's teaching beginners, she often takes a blank sheet of paper and draws lines, curves and "S" shapes to teach people how to sew. They will sew over those shapes repeatedly until they master the task and before using fabric. In this class, the students went straight to the machines.
Kaya, 13, slowly and painstakingly used the sewing machine to make a red skirt with yellow and patterned ribbons. She has sewn a quilt before, and said she "was excited about learning to make a ribbon skirt."
Another attendee, Brittany Stewart, took the class so she could learn how to make a skirt for herself and now has plans to make skirts for her sister and aunties. She changed her mind a few times about the color pattern and fabric she wanted, but finally landed on a black fabric with feather-like pattern that she adorned with red and black ribbons.
Brittany said she is excited about taking more classes in the urban area in coming months.
That's welcome news for Wahbon, who agrees that "It's important that these classes are offered in the Urban area."