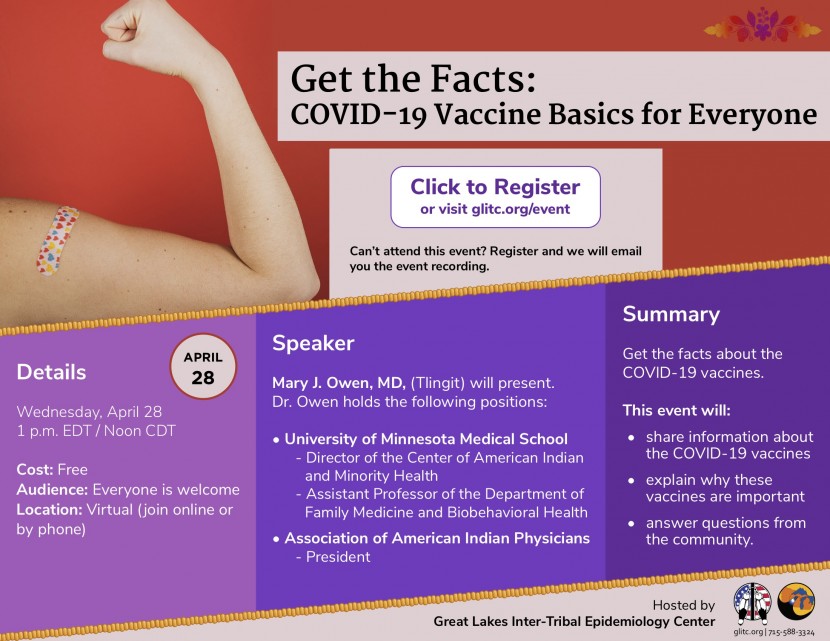 You are invited to the April 28 virtual event called "Get the Facts: COVID-19 Vaccine Basics for Everyone." This free, one-hour event will start at 1 p.m. EDT/noon CDT.
American Indian/Alaska Natives have died or been hospitalized due to COVID-19 at a higher rate than Hispanic, Black, Asian, and white populations, according to CDC data. The COVID-19 vaccines are one tool to help protect yourself and your community.
Many people still have questions or concerns about the vaccines. That's why the Great Lakes Inter-Tribal Epidemiology Center (GLITEC) is hosting this event to help you get your questions answered and empower you to make an informed decision.
This event will:
• share information about the COVID-19 vaccines
• explain why these vaccines are important
• answer questions from the community.
"We talk with Tribes throughout the Bemidji Area (Michigan, Minnesota, Wisconsin, and Chicago)," said Dr. German Gonzalez, GLITEC director and medical epidemiologist. "Tribes have told us that some members of their communities have questions and concerns about the COVID-19 vaccines. This is very understandable because these are new vaccines. We want to help community members learn the facts from a medical expert."
This event's speaker is Mary J. Owen, MD, (Tlingit). Dr. Owen provides clinical care at the Center of American Indian Resources in Duluth, Minnesota. She works at the University of Minnesota Medical School as the director of the Center of American Indian and Minority Health, and she is the assistant professor of the Department of Family Medicine and Biobehavioral Health. Dr. Owen is also president of the Association of American Indian Physicians.
"All are welcome at this event," Gonzalez said. "The more everyone knows about the vaccines and other ways to reduce the risk of COVID-19, the better we can all work together to stay safe from COVID-19 and put an end to the pandemic."
Go to glitc.org/event to register for this event.
Unable to attend? Register and GLITEC will email you the event recording. You can watch this recording at any time.
If you have questions about the event, contact Julie Nystrom, GLITEC communication and design specialist, at jnystrom@glitc.org or 715-588-1015.
The Great Lakes Inter-Tribal Epidemiology Center (GLITEC) is a program of the Great Lakes Inter-Tribal Council, Inc. (GLITC). The mission of GLITEC is to support Tribal communities in their efforts to improve health by assisting with data needs through partnership development, community-based research, education, and technical assistance. GLITEC serves the Bemidji Area (Michigan, Minnesota, Wisconsin, and Chicago).
Helpful Links:
o Registration page: glitec.tiny.us/wtm5nkfd
o Source for in-text CDC data: https://www.cdc.gov/coronavirus/2019-ncov/covid-data/investigations-discovery/hospitalization-death-by-race-ethnicity.html
o Great Lakes Inter-Tribal Epidemiology Center: glitc.org/programs/epi-home
o Event flyer: glitec.tiny.us/4yzwhk2s