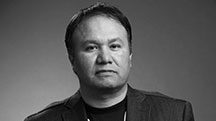 By Brett Larson, February 6, 2015
Sam Moose, Mille Lacs Band Commissioner of Health and Human Services, has been named to the Board of Directors of the National Indian Health Board. He had been serving as the alternate board member from the Bemidji Area: Midwest Alliance of Sovereign Tribes, which includes Mille Lacs. When the permanent member stepped down, the board asked Moose asked to become the permanent replacement.
The NIHB represents tribal governments in Washington and advocates on behalf of tribes in development of national Indian Health Policy. Additional services provided to tribes include policy formation, legislative tracking, research on Indian health issues, program development, technical assistance, and project management.
Sam said that in his capacity as a board member he tries to be a good listener and to choose his words carefully.
"I'm excited and honored about the opportunity the Midwest board has given me to represent our issues on the National Indian health Board," Sam said. "It's also humbling to be able to help Indian nations across the country."