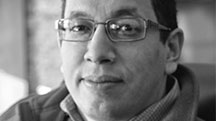 By Brett Larson, April 17, 2015
When many Band members hear the term "self-governance," they think of tribal sovereignty or self-determination. However, "self-governance" has a more specific meaning, referring to federal dollars given to tribes to operate their own programs.
John Mojica, the Mille Lacs Band self-governance coordinator, puts it this way: "'Self-governance' describes the relationship we have with the federal government. Instead of them providing the services to us, we provide the services ourselves."
Prior to self-governance the Bureau of Indian Affairs, which is part of the Department of the Interior, delivered programs and services to Indian tribes.
Self-governance grew out of a Presidential directive by Richard Nixon supporting tribal sovereignty; this was the driving force behind legislation that became the Indian Self-Determination and Education Assistance Act (ISDEAA).
Tribes had been lobbying for more power to manage their own affairs, in part because they were frustrated with Bureau of Indian Affairs and Indian Health Service bureaucracy. Inefficiency, mismanagement, and fraud were common.
Demonstration projects began in 1975, and tribes began entering self-governance agreements in 1988. The Mille Lacs Band was one of seven tribes that engaged in negotiations and implementation of the cooperative self-governance agreements.
Self-governance recognizes a tribe's inherent sovereignty, but the main benefit of self-governance is that those who know Band members' needs best can address those needs most efficiently. There are no federal "middlemen" determining how those federal dollars are spent; instead, the Band itself makes the decisions.
John describes the alternative model, which existed before self-governance and still exists on some reservations. Without self-governance, if a tree needed to be cut down, a call would need to be made to the Bureau of Indian Affairs forestry division, permission granted to cut the tree, and a BIA forester sent out to do the work — when they could find the time.
Under self-governance, the Band makes that decision, sends its own people to cut the tree, and pays for it out of the federal dollars already in the bank.
"Self-governance is more responsive," John says. "That's the whole idea: locally we know what we need and what our priorities are, and self-governance supplements our funding so we can carry out those priorities."
In 1992, Congress amended the Act to allow tribes more autonomy in managing health care programs. In 2000, Congress permanently authorized the Indian Health Service Tribal Self-Governance Program.
Today, of the 566 federally recognized tribes, there are 351 tribes in Indian Health Service and 262 in the Department of Interior participating in self-governance.
At Mille Lacs, John negotiates cooperative agreements based on input from elected officials. Department heads determine what the funds will be used for in accordance with their budgets.
About half of the self-governance funds that flow through the reservation are IHS funds and the rest are for other purposes, including education, natural resources, and social services.
In the early days, prior to the opening of the casinos, self-governance funds paid salaries for workers in various departments. Now the funds are used to supplement programs and services supported by the Band's revenue.
John, a Mille Lacs Band member, was raised in Deer River by his mother, Carol (Boyd) Mojica. He came to Mille Lacs after attending college at Concordia in Moorhead.
He has been in charge of self-governance since 2002. Prior to that he worked in the casino, the DNR, and the Housing Department. John also serves as chair of the Mille Lacs Band Housing Board.