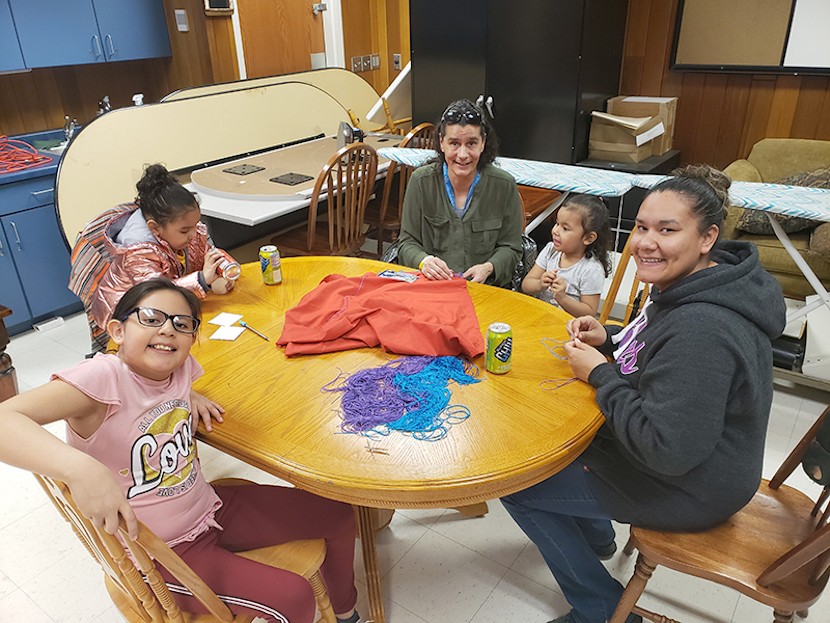 By Vivian LaMoore Director of Public Relations
She is somebody's daughter, somebody's sister, somebody's mother — and she is one of the nearly 6,000 cases of missing and murdered Indigenous women in the United States. Of these cases only 116 were logged into the national database. The remaining women and girls are symbolically invisible.
"That invisibility is something that we have to change," said Minnesota Sen. Tina Smith when she met with a coalition working to address the problem at the state and federal level. The Senator added that the re-authorization of the federal Violence Against Women Act should include better protections for Native Americans giving a voice for Native American women in the VAWA.
Also playing influential roles at the coalition were Lt. Governor Peggy Flanagan and Mille Lacs Band Family Violence Prevention Program Administrator Kate Kalk, among other Minnesota tribal leaders. Kate discussed with officials the strides the Mille Lacs Band is taking to bring awareness and help Band members address violence to women and children. Kate also included discussion of elder abuse.
These issues are not limited to Minnesota. A study from the Urban Indian Health Institute identifies victims as young as a year and as old as 83. The report included a case study in 2016 about a 25-year-old woman from Bad River, Tess White, who was 10-weeks pregnant when she was kidnapped, tortured, and killed. Her body was burned in an attempt to hide the evidence.
The numbers are staggering. The report from UIHI included numbers from the National Crime Center in 2016 indicating 5,712 reports of missing and murdered indigenous women and girls, with only 116 entered into the Department of Justice NamUs database. And according to the National Crime Institute, murder is the third leading cause of death for women in Minnesota.
Rep. Mary Kunesh-Podein, DFL-New Brighton, sponsored HF-0070 in the Minnesota state legislature this spring to create a task force to address missing and murdered indigenous women. Kunesh-Podein is of Standing Rock Lakota descent. The bill passed the House in a 128-0 vote.
The task force will provide data and analysis of the systemic causes behind the number of missing Native American women in the state. The goal of the task force will be to better understand the causes of violence against Indigenous women and to reduce and prevent violence where it is happening. The task force will include members of the Indigenous community, law enforcement, policymakers, and the public.
"Today we mourn the women we've lost, but we have renewed hope that no one will have to wonder if their daughters, their sisters, their mothers, and loved ones will come home when they walk out the door." Kunesh-Podein said.
Mille Lacs Band making a difference
Mille Lacs Band Family Violence Prevention Program Administrator Kate Kalk said the Band received a mini grant of $500 from the Minnesota Indian Women Sexual Assault Coalition to use in an awareness campaign. Kate said the funds were used to make red shawls in collaboration with the Red Shawl Society.
"We bought the material and ribbons and hosted a community event," Kate said. "About 25 people helped to make the shawls. We then had the Band logo printed on the back of the shawls."
The red shawls are used to represent the Band at awareness events, parades, community events, powwows, and more to bring awareness to MMIW. The shawls are also used in the teen dating awareness programs.
"There is a huge push for the shawls for events — there is a waiting list! — so we are looking for more funding to be able to make more and bring them to more events," Kate said. They are also trying to bring equity to all three districts, but the grant funding at this time was not sufficient. "We are looking at ways to apply for more."
The family violence prevention team has also hosted a candlelight vigil and events on sex trafficking, and they attended the MMIW march last February. There will be a community walk for family peace this October to end domestic violence.
"This is a great event," Kate said. "We have so many people come. There will be food and speakers. And those who cannot walk are welcome to ride or drive in cars alongside to be a part of the walk. We will make sure to announce the date and time when it is closer."
Kate said she also discussed with the Lt. Gov and Senator the constant need for safe housing. "Our shelter is filled all the time," she added.
Most notably Kate said she is looking forward to positive changes. "To be where we are now with more indigenous women in Congress and state politics – well, the women in my life didn't ever think we would see the day. But now, we are actually seeing changes taking place. It is promising to see concrete changes after we talk with them."
More collaboration between Band programs and between tribal and state programs is necessary to achieve positive major changes, Kate said. "We all have grants with the same focus, and when you take a step back and look at our goals, we are all working toward the same things."
Advocates are on call 24/7, Kate said. "We are lucky to have people who really care about helping people. Community education and awareness is working."
Crisis Numbers
In an emergency call or text 911.
24/7 Crisis Number: 1-866-867-4006
Shelter (non-crisis): 320-495-3514
Kristen Allord (Shelter Manager): 320-630-2677
Kala Roberts (Direct Services Coordinator Sexual Assault Program): 320-630-2691
Petra Mauricio (Sexual Assault Advocate): 320-362-4995
Nanette DesJarlait (Community Advocate): 320-362-0642
Winnie Davis (Community Advocate): 320-674-0790
Carrie Sam (Community Advocate): 320-630-3811
Mike Davis (Elder Abuse Advocate): 320-630-7666
Cynthia Guernsey (Elder Abuse Advocate): 320-362-4941
Kate Kalk (FVPP Administrator): 320-630-2499.
Photo: The Family Violence Prevention Program has been making red shawls with community members to bring attention to the plight of missing and murdered women.