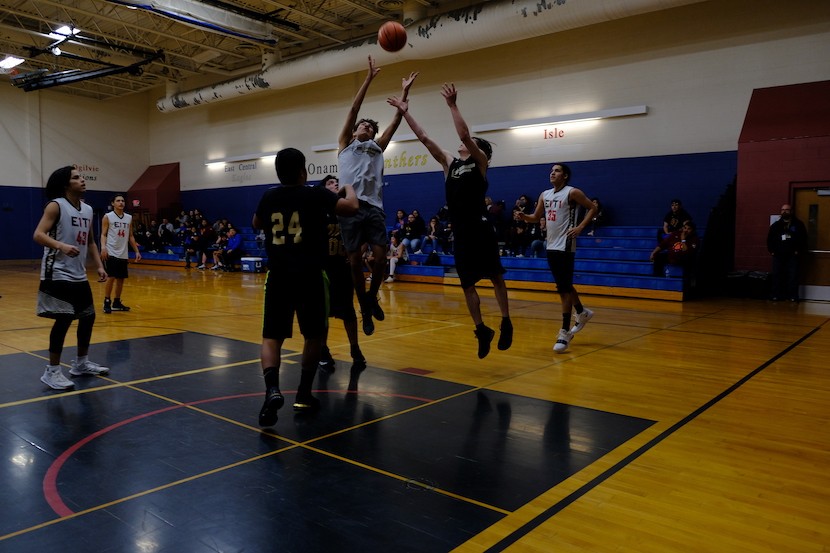 The Minnesota State High School Champions were crowned in March, but that doesn't mean the season is over for young basketball players. In fact, their game often gets better between seasons — if they take advantage of spring and summer programs.
The Misi-Zaaga'iganing basketball tournament, a joint venture between Onamia Public School's Indian Education Department and the Mille Lacs Band's Niigaan Program, was held again at Onamia Public Schools March 30-31, giving players an incentive to stay in shape and keep developing their skills.
Tournament Director Chris Nayquonabe reflected on the event. "Every year I look forward to our basketball tournament for a number of reasons, 1. Building our high school athletes' skills and confidence. 2. Bridging our Native communities as well as our non-Native communities. 3. Our love for Rez Basketball."
The High School boys' division was opened up to include all competitors. In the previous years the tournament was "All Native," but after good dialogue between Chris and Games Manager Byron Ninham, that division was opened for all.
This year's high school division featured new competitors from around the region, including Pierz boys' basketball program, Lower Sioux Community, Lake Traverse (South Dakota), students from Lac Courte Oreilles Band of Ojibwe (Wisconsin) and a team of local talent, Get Live, a combined team of student athletes representing Onamia and Isle schools.
On Saturday, Sota Boyz (Cass Lake-Bena) and Pierz stayed close throughout with hard-nosed defense and clutch shot making on both sides before Sota Boyz closed the game out to win by 7.
Championship Sunday saw the two-time defending tournament champion, Bago Boys of Winnebago, Nebraska, bested by team Get Live, who put together a 25-2 run to send the game to overtime and eventually win.
Sota Boyz and Lower Sioux met in the semifinals with Sota Boyz using timely defense and transition baskets to take a double-digit win. Team Get Live met up with Pierz for a chance to make it back to the third-place game, another game that went into overtime with some clutch shot making by Eldayshun Big Bear, who tied the game in regulation. Team Get Live met Lower Sioux for a chance to get back to the first-place game, but Lower Sioux prevailed due to hot shooting from three as well as some tired legs from Get Live.
The high school boys' championship game between Sota Boyz and Lower Sioux was a tale of two halves. Lower Sioux capitalized on cold shooting from Sota Boyz and lackadaisical defense to gain a 14-point halftime lead. The second half proved a much different story as Sota Boyz ramped up their defense, along with clutch shooting from Ethan Brown and Brady Raph. The Sota Boyz used a 20-4 run to take the lead with 15 minutes remaining and eventually won the championship.
Congratulations to all of the teams who competed as well as to parents. Without their support, none of this would be possible.
The men's division featured new teams from South Dakota, Red Lake, and Cass Lake. The men's tournament continued the All-Native Division in hopes of encouraging wellness and physical activity well beyond organized sports. Games Manager Byron Ninham explained his view of the significance of a tournament in Mille Lacs: "If you are physically fit and still love the game, it is a great opportunity to have, to travel around Indian Country competing against top-level athletes. I really appreciate seeing the game develop, and this tournament, along with camps we've been involved in, are examples of the pride we have here in Mille Lacs for people of all ages, to stay physically fit and active in a game that has given so much."
The men's division had strong competition throughout. Da Fam (Red Lake) started the tournament with a 30-point win over The Reaperz, who three weeks prior had taken third place at Ho-Chunk Nation's March Madness Tournament. Iron Boy, two-time tournament champions, shot the ball well and defended strongly against Lower Sioux to get to the tournament semi-finals. Da Fam and Rainmakers (Cass Lake) met in the quarterfinals, a close game through the first half with a lot of back and forth scoring, but when the Rainmakers needed some rain, it wasn't coming down, and Da Fam moved on.
The men's semifinal between Iron Boy and Da Fam was close for the first half with Da Fam taking a 7-point lead into halftime. The second half saw an MVP performance from Iron Boy's JR Gunville, who finished with 42 points and a comeback win. (JR also won the 3-point contest prize of $200 and a tournament backpack sponsored by Joe and Chris Nayquonabe.)
Da Fam and Rainmakers met for third place, with Da Fam moving on to the rematch with Iron Boy. Tired legs and cold shooting from Da Fam turned out to be the difference. Iron Boy used their shooting and spacing to capitalize on open shots, which ultimately led to the three-peat championship in the men's division.
The tournament weekend serves many purposes for the communities in and around Mille Lacs. All fundraising efforts support Onamia Public School's Native Youth Council, with many students volunteering their time before, during, and after the tournament to assure a well-run operation.
Mille Lacs Band departments provided many activities and resources throughout the weekend, including, but not limited to, tournament prizes for both divisions (Nike N7 and Nike Elite products), fruit and water for all participants courtesy of The State Health Improvement Plan (SHIP), and a catered breakfast from Dan's Catering for all attendees Saturday morning.
The Health and Human Services Department, Commissioner of Community Development Percy Benjamin, and Chief Executive Melanie Benjamin sponsored t-shirts for Mille Lacs Band youth, and the Band Assembly sponsored the men's tournament cash prize purse.
Next year's tournament will be held at the new community center in District I, and tournament organizers hope to add female and adult women divisions as well.