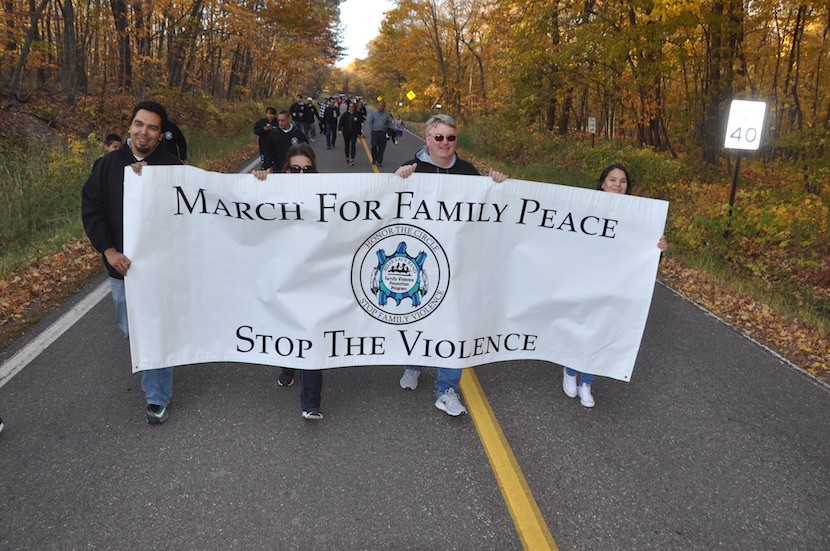 A perfect fall day was the setting Oct. 16 for the annual Walk for Family Peace organized by the Family Violence Prevention Program with help from Band members who have taken the initiative to fight drugs in the District I community.
On Monday, Oct. 16, marchers caught a shuttle bus at the community center that took them to the powwow grounds, where they smudged, offered tobacco and listened to an inspiring message from Terry Kemper.
Terry talked about how traditional Anishinaabe values related to family and nature have been threatened by the Western worldview. He asked walkers to speak with the spirits of the woods as they walked and had them repeat the names of birds and plants and the sun, ending with "minobimaadiziwin" — a good life.
Luther Sam passed out asemaa, which Bob Eagle asked those in attendance to offer to the spirits in the lake, Misi-zaaga'iganing.
Terry, Bob and three young men rode on a trailer behind Bob's truck to sing and drum while walkers made their way to the community center behind a banner that read "March for Family Peace: Stop the Violence."
At the center, Kate Kalk of the Family Violence Prevention Program welcomed walkers and introduced Bonnie Clairmont of the HoChunk nation, who spoke about the definition and solutions to domestic violence.
"October is Domestic Violence Awareness Month, but every day should be Domestic Violence Awareness Day," said Bonnie. She explained that Native women experience the highest rates of domestic violence of any group in the nation, and she defined domestic violence as "a pattern/series of behavior that may include physical, emotional, economic and sexual abuse as well as intimidation, isolation and coercion."
She dispelled myths about domestic violence, saying it is a learned behavior, not something caused by genetics, illness, drugs or alcohol abuse. "It's something we learn how to do because we see it and think it's normal or acceptable," she said.
Bonnie said that when you hear people say "Why does she stay?" you should instead ask, "Why does he batter, and why is his behavior tolerated?" to put the focus on the perpetrator, not the victim.
She also suggested the following guidelines to combat the problem of domestic abuse:
– Teach children good values
– Support nonviolent solutions to problems
– Speak out about domestic violence
– Reject myths about domestic violence
– Support traditional roles and relationships
– Be good to your relatives
She concluded by saying domestic violence was rare or non-existent in traditional communities and that native cultures have always held women in high esteem.
Following the feast and Bonnie's presentation, those in attendance released hundreds of biodegradable balloons after writing messages of remembrance for those affected by domestic violence.
If you or someone you know is experiencing domestic violence, please contact the Family Violence Prevention Program's 24-hour crisis line at 866-867-4006.