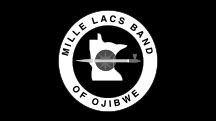 By Toya Stewart Downey, October 6, 2015
Anyone who has ever had to purchase school supplies knows how expensive it can be to fill a student's backpack.
According to multiple sources, collectively, parents across the United States who have kids in kindergarten through 12th grade will spend more than $24 billion on supplies.
The same sources say that on average, many families will spend hundreds of dollars depending on the number of children they are shopping for and what's on the shopping list.
Fortunately, many Mille Lacs Band families have help. Each year individuals and Band departments help fill backpacks with loads of much-needed supplies and in turn, take some of the financial burden off of some families.
Though the list of donors and their efforts are too long to list, those who provided supplies, time, effort or money were able to make an impact on the lives of students and their families.
Here's a sampling of some of the ways that individuals and departments helped:
District I Representative Sandra Blake gave away backpacks filled with supplies. The Tribal Employment Rights Office (TERO) provided free haircuts for students in pre-kindergarten through the 12th grade.
The Child Support Office provided backpacks filled with school supplies. Some of them were donated by Grand Casino Mille Lacs and others by Niigaan, but combined, over 150 were given out thanks to the collaboration. The Child Support office held back-to-school events in Districts I, II, IIA, III and at the Hinckley Teen Center.
"Not all kids are fortunate enough to get the school supplies they need every year," said Rachel Sablan, Director of Tribal Child Support. "As a parent I know how many school supplies are needed and sometimes it can be a lot.
"Providing school supplies helps the kids start out the school year with what they need to be focused, ready to learn and ready to succeed in the new school year," said Rachel, adding that it's important for her office to help families get what they need during back-to-school season.
This year, for the first time, the Band's Department of Natural Resources gave supplies to Band members or descendants who attend eight schools — Nay Ah Shing, Onamia, Isle, Minisinaakwaang, McGregor, Pine Grove, Hinckley and East Central.
"We purchased pencils, stickers, Woodsy Owl stickers and Smokey the Bear rulers," said DNR office manager, Rachel Shaugobay.
The DNR selected the supplies to emphasize the role of self-responsibility to the natural environment and to promote the next generation of conservation advocates, Rachel said.
"We also wanted to educate the importance of wildfire prevention to our youth," she added. " Woodsy Owl spreads the message to 'Give a Hoot, Don't Pollute' and 'Lend a Hand, Care for the Land.' Smokey's the Bear's message is 'Only You Can Prevent Wildfires.'"