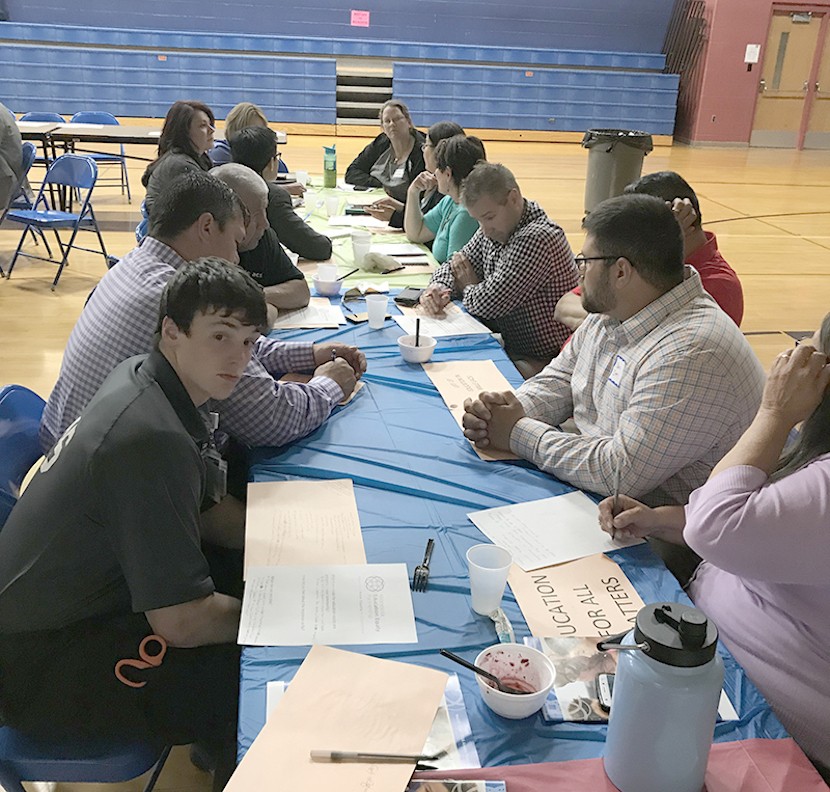 By Vivian LaMoore Director of Public Relations
Closing the education gap is an issue that has been discussed all around Minnesota for nearly a decade. Most of the discussion had centered on communities of color in urban areas. But educators as well as students and community leaders began to wonder why there was not more help and discussion to close the education gap in rural communities where there are pockets of students of color and American Indian students scattered throughout Minnesota. The Mille Lacs Area Education Equity for All brought the discussion to the public of the Mille Lacs area in a special dinner and discussion on Tuesday, May 28, with the fitting title "It's Time to Talk."
A Race Equity and Excellence in Education action plan was developed in 2014 in conjunction with the Mille Lacs Band leaders, Isle, Nay Ah Shing, and Onamia schools as well as Wewinabi Early Childhood Program and Central Lakes College with consultation from the Minnesota Minority Education Partnership. The plan, titled "A Promise To Act: Education Equity and Excellence for All of Our Children," makes a clear and simple point, according to Mary Sam, Central Lakes College Dean of Students: "If we don't get education right, other areas of our community are impacted."
Phase 1 focused on creating community profiles and gathering data about the gaps that exist along the "cradle to career" education continuum. "The data was alarming to school board members, other leaders in education, and area Foundation Presidents," Mary said. "It is easy to point fingers, but that is not productive or constructive."
Many factors affect our children's education including affordable housing, transportation, under-funded schools, socio-economics, and other larger community issues.
"Teachers do have a responsibility to provide a culturally responsive equitable classroom," Mary said. "But collaborating to provide resource tools is part of our collective responsibility."
At CLC the staff is seeing that many students coming from our local communities are unprepared, Mary said. This includes recent graduates and adults returning to college seeking higher education. "That's very discouraging — especially for the adults who realize they do not know basic skills of reading, writing, or math."
Local Graduates Speak Out
Zac Virnig is a 2013 graduate of Onamia High School. He said he had lived in Onamia all of his life and realizes now that he led a privileged life. Zac explained that his parents are both doctors at Mille Lacs Health System, and while they were both busy professionals they always took time for family. They supported Zac through years of sports and were extremely active in the 4H program. Zac has gone on to college and is now working on his master's degree.
Zac said school was relatively easy for him and he was able to earn good grades while participating in many in-school and extracurricular activities. Zac said he was quite popular and had many friends – white friends and Native friends. But what he didn't always realize was that not all of his friends had the same family and community support and access to resources that he did. Not all of his friends were able to get good grades and continue on to college, he said.
Ben Sam is a 2012 graduate of Onamia High School. Ben, too, has since gone on to complete college, obtained a master's degree and recently earned his doctorate in physical therapy.
Ben has a different perspective about going to school in Onamia. Obtaining good grades in college was a challenge for him and at times even a struggle. He stated he was clearly underprepared for the rigor of college, even though he worked hard to earn great grades in high school. Where some kids would have given up, Ben said he had to work even harder, "Mostly because my mom was an educator and made me," said Ben. "My parents supported and pushed me, where the system in this community could have done much more for me and many others."
Ben had the support of his family, but he didn't then, and still doesn't today, feel he has support from the community. "The boundary issue is not just an issue of 61,000 acres," Ben said. "As a youth growing up, I had boundaries between friends. Walking in two worlds in this community is tough."
Ben spoke of his return to the community after completing his doctorate program recently. He had gone into a local business where the owner had recognized him. Instead of welcoming him back, the business owner said, "Why would you want to come back here? There is nothing for you here."
Key Speakers
Adrienne Benjamin is the Equity Champion hired by the MNEEP Organization. She helped lead a retreat with members of the equity group that included the second visioning session with education leaders in 2018. She spoke about the need for a community connection. "We are losing economic growth. Kids leave and the leave for a long, long time. There is nothing for them to come back to."
Dr. Hara Charlier is the President of Central Lakes College and was the keynote speaker at the dinner. Dr. Charlier said she grew up in what would be middle class, went to school, earned her college degree, her master's, and a doctorate. In all of those years of education and now as President of CLC, she said, "I have learned an awful lot about what I don't know. We have to understand ourselves — our own biases."
Dr. Charlier recalled one point in her life where the light-bulb went off. "I was feeling pretty good about myself and met with some students of color. I wanted to understand more about their culture, so I asked the students to teach me to better understand their culture. And then it hit me: Teaching me to understand another culture is not their responsibility, it's mine. It's yours."
Pulling back the curtain
Members of the audience were given time to discuss key areas from the presentations and to answer a few questions while members of the Theatre of Public Policy sat in on the discussions. After a few minutes, the actors in the group provided an improv comedy routine based on the speeches given and the group discussions.
The comedy routine was eye-opening as it pulled the curtain back about racism and equity in education in our specific community. It provided another way to look at the Mille Lacs area and the education being provided for all of our children.
Fred Cheng, one of the actors, said improvisational comedy helps to get people excited about their common interests and goals. "But more importantly, it really makes people think about the stuff that is hard to think about and that they sometimes can't see."
For more information on how you can become involved in the educational equity in our community, contact: Jennifer Godinez at 651-645-7400 or Mary Sam at 218-855-8159.