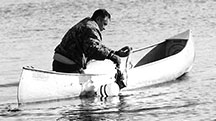 By Brett Larson, September 1, 2015
Mille Lacs Band Drumkeepers have called for a suspension of ogaa (walleye) gillnetting on Mille Lacs Lake for at least a year in response to disturbing data from the Minnesota Department of Natural Resources (DNR).
In July, Gov. Mark Dayton announced that state anglers were nearing their quota, which was smaller than it's ever been. At the end of the month, the state DNR shut down the angling harvest.
Dayton has called for a special legislative session to address the impact of the angling shutdown, and he made two visits to Isle — first to hear local views on the subject at Isle High School and then to fish for bass from a launch on the east side of Mille Lacs. The Legislature has not agreed to a special session.
Just before his first visit to Mille Lacs, Dayton heard from Chief Executive Melanie Benjamin that Drumkeepers had suggested that the Band call off netting from now through the end of the spring season.
In a letter to Band members, Melanie said the Drumkeepers had decided the Band should make a sacrifice on behalf of the ogaa. One Elder talked about how the fish told the humans that they were willing to give their lives so humans could live. "The only thing they asked in return, was that we take only what we need, that we always be respectful and put our asema down, and make sure the Manidoog always know that we respect the walleye and will make our own sacrifices to help the fish if we need to do so."
Another Drumkeeper said, "We are showing respect for the walleye. A long time ago, Way-na-boo-zhoo got into a confrontation with the walleye, he got scared and he left them alone for a long time. I think we should be willing to give up netting walleye for a while to help replenish the lake."
"Most in the media have little understanding of our ways, and some non-Indians may think this decision was done for the State," said Melanie. "I want all Band members to know, this decision was made for our ogaa, and only for our ogaa." She said studies have shown that the tribal harvest has nothing to do with the decline of walleyes, but the Band has a responsibility to help the ogaa recover.
Ceremonial netting will still be conducted, as directed by the Drumkeepers.
The Band is being cautious about public comments because of the potential backlash and its effect on the Band's children. Melanie asked Band members to remember the Seven Values of Love, Respect, Wisdom, Courage, Honesty, Humility and Truth, and she recommended that Band members heed Elders' advice "to just walk away from those who have anger toward us simply because we are Mille Lacs Band members."
Neither the state shutdown nor the Band's netting hiatus affects Band members' ability to fish for walleyes with rod and reel. However, DNR Commissioner Susan Klapel is encouraging Band members to fish some of the 72 other lakes in the ceded territory to give Mille Lacs walleyes a rest.
Susan said she and Solicitor General Todd Matha are crafting a Commissioner's Order that will declare netting closed for a year.