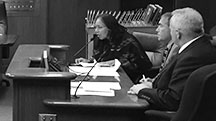 By Mille Lacs Band of Ojibwe, April 1, 2015
Shortly after Winnie LaPrairie started her testimony, the committee of state lawmakers fell silent.
Seated in front of the Minnesota House Public Safety Committee in St Paul, Winnie described the heart-breaking days following her husband's death on February 7. Mushkooub Aubid, a Rice Lake Mille Lacs Band Elder, was killed as a result of a single-vehicle car crash and underlying heart condition.
Winnie and her family expected to be able to take Mushkooub's body home to East Lake on Sunday morning for preparations for his spiritual journey in Midewiwin way. Instead, at the direction of the medical examiner, police were called to forcibly remove and transport Mushkooub's body to the morgue at the UMD campus for an immediate autopsy — against the family's wishes.
Winnie and her family mourned outside the morgue's loading ramp in 15-degree weather from Sunday morning until the body was released at 9 am Monday morning.
Only after Mille Lacs Band lawyers negotiated with county attorneys did authorities finally release Mushkooub's body. Tadd Johnson, an attorney and professor at UMD, worked on the Band's behalf.
In a bizarre coincidence, only 24 hours after Mushkooub's body was released, the same medical examiner refused to abide by a second court order for release of the body of a Fond du Lac woman whose Midewiwin family was also opposed to autopsy.
When asked by Band officials if she would consider testifying before the House committee to share her story and help get legislation passed, Winnie didn't hesitate — even for a second.
"When Tadd told me that he had a court order, signed by a judge, ordering the immediate release of my husband's body, but I still could not take him home, I was heartbroken," Winnie testified.
Winnie explained that she couldn't understand how the medical examiner could ignore a court order — and still doesn't understand.
"It took 10 more hours and negotiations with two county attorneys before we could take my husband home," Winnie said.
"I know people here are sorry for my family. I listened to the other hearings," she continued. "But the fact is there is still a medical examiner operating in four counties in northern Minnesota who believes court orders do not apply to him. There are still county attorneys and sheriffs who think he might be right."
"People's religious rights might be protected here in the Twin Cities," she said. "But what about the rights of my family in northern Minnesota?"
"Who is protecting us and looking out for us?" Winnie asked. "Because that night, nobody with power was."
The Mille Lacs Band is leading the charge to change that.
There is legislation moving through the state Legislature that would allow for religious objections to autopsies, which state law does not currently authorize.
In Mushkooub's case, a judge familiar with Ojibwe people granted a court order to release the body. The medical examiner claimed that court orders did not apply to him.
In hearings in the past few weeks, the Band's Government Affairs team has been working full-time to get this legislation passed.
The lobby team is led by Director of Government Affairs and Mille Lacs Band member Jamie Edwards, former MLBO Corporate Commissioner and state legislator Gail Kulick, longtime Band lobbyist Rich Ginsberg, and former state legislator Chris DeLaForest. Gail took the lead on drafting legislation in connection with Senator Tony Lourey (D-Kerrick) and Rep. Steve Green (R-Fosston).
Band lobbyists are confident that state law will be changed so that families with a religious objection to an autopsy can get their day in court. After the bill becomes law, the medical examiners will be obligated to recognize court orders releasing the bodies of loved ones to families under certain conditions.
If a family objects to an autopsy on the basis of sincerely held religious beliefs, the state can respond as to whether it believes there is a "compelling state interest" in conducting the autopsy. The list of instances when an autopsy may be required includes deaths related to: suspicion of a crime, a public health concern (such as infectious disease), electrocution, unexplained drowning, unexpected death of a child, and several other specific causes of death. You can read the bill in full on the Public Notices & Updates page.
"We're sending a message to the medical examiner community that they can't push people around and they have to respect people's beliefs," Tadd said after Winnie's powerful testimony.
"It didn't take the legislators very long to figure out that this was an outrageous situation," he said.
In a previous hearing, when Hennepin County Chief Medical Examiner Dr. Andrew Baker was asked if he would ever ignore a court order, he replied, "I can't emphasize enough that what happened up north is appalling."
"I'm embarrassed for my profession because it never should have happened," he continued. "It just shouldn't."
The push for new legislation is gaining steam.
The legislation has received bipartisan support, including backing from the Joint Religious Legislative Coalition and Governor Mark Dayton.
The legislation is heading to the House and Senate floors for votes very soon. It was unanimously approved by the committee following Winnie's testimony on March 26.
"I was told that those who were thinking about speaking against this legislation didn't dare after Winnie's testimony," Chief Executive Melanie Benjamin said. "That could not have been an easy thing to do. I'm very proud of her."
"This is a First Amendment right in the U.S. Constitution: free exercise of religion," Tadd explained. "It's a good thing to fight for, but in this instance, it's so much more. This is a family who went through hell when they were most vulnerable. It was just wrong."
"This family has demonstrated a tremendous amount of courage in standing up for what they believe," Tadd said. "Winnie has been incredibly brave."
Winnie's testimony helped humanize the Band's cause. One lawmaker said it reminded them that laws are about people.
"I ask that you pass this legislation," Winnie testified. "Because Native people and communities of color need to know our rights are just as important as yours."
"Please change the law now. Everything that my family went through could happen tomorrow to someone else. Please don't let that happen," she pleaded.
"Please prove to us that we are not second class citizens," Winnie told lawmakers.
"Please change the law."