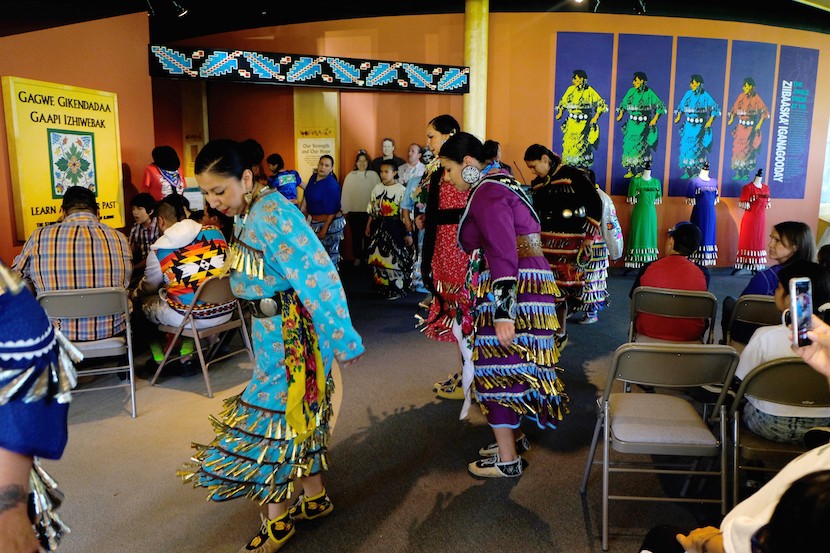 A standing-room-only crowd packed the Mille Lacs Indian Museum on Sunday, May 26, as jingle dress dancers celebrated the Ziibaaska'iganagooday Exhibit and the 100th anniversary of the jingle dress with a fitting tribute.
After opening remarks by master of ceremonies George Morrow and an invocation by Joe Nayquonabe, dancers wound through a crowd of spectators to the singing of Yellow Lightning drum group.
Brenda Child, the University of Minnesota professor and Red Lake Nation citizen who curated the exhibit, spoke about the origins of the jingle dress during the worldwide influenza epidemic of 1918-19. The flu killed more people that World War I and devastated Indian communities, which responded with a new healing tradition that has spread from Ojibwe country across the nation. The dress has come to represent not only personal healing but also community healing at demonstrations like the the Dakota Access pipeline protests at Standing Rock.
Michael Sullivan followed Brenda with a telling of Ojibwe and English versions of the origin story, which Michael learned from the late Larry Amik Smallwood. The story tells of a young girl who became sick and an old man who had a dream of the jingle dress in four colors — yellow, green, blue, and red. As women danced in their jingle dresses, the girl felt better and eventually joined in the dance.
The Ziibaaska-iganagooday exhibit and Sunday's event were made possible with help from many Mille Lacs Band and community members, including Adrienne Benjamin, who sewed several beautiful dresses for the exhibit, Mikayla Schaaf, who helped coordinate the celebration with museum staff, and Steve Premo, whose illustrations of the story are part of the exhibit.
The exhibit runs until October of 2020 and includes dresses from the Minnesota Historical Society's collection as well as new dresses created for the exhibit.