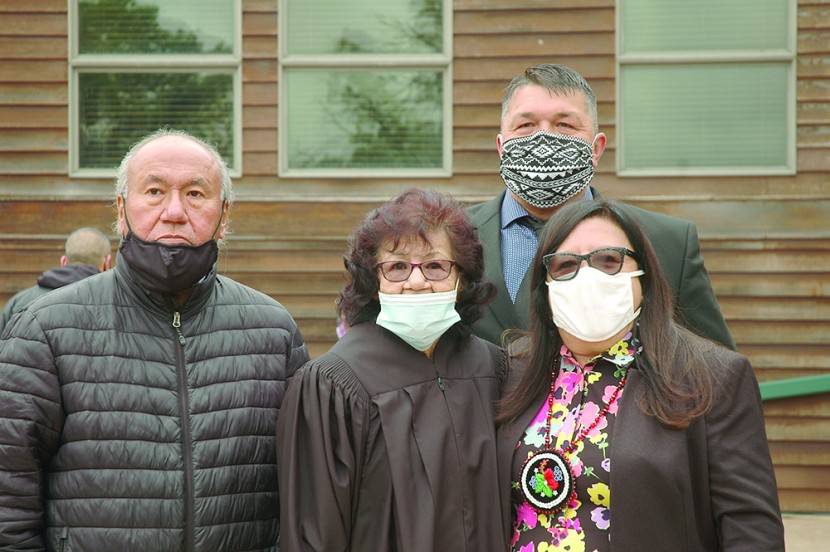 As usual in 2020, everything is unusual, including the September 8 swearing-in ceremony for Chief Executive Melanie Benjamin and District I Representative Virgil Wind.
Instead of the usual warm setting of the Band Assembly chambers, the ceremony took place on a chilly fall day in the Government Center parking lot.
The location and weather did not deter a large crowd of Band members and employees from witnessing the ceremony, as Justice Ramona Applegate administered the oath of office first to Virgil and then to Melanie.
"It's an honor and a privilege to be here today. I really am humbled by everyone's support from the beginning of this," said Virgil. "This campaign was really a lot about connection, a lot about comfort, and a lot about knowing you can come to me with whatever you need, and I'll try to meet those needs."
He said he was anticipating hard conversations ahead but looked forward to tackling the difficult task of making life better for Band members. "Together we can and will change the world, our world," he concluded.
Melanie also had a few words for those in attendance and watching via Facebook live streaming and YouTube recording provided by Band Assembly. "I appreciate each and every one of our Band members for what you bring, your talents, your commitment, and all you bring forth to make our reservation better as we move forward," said Melanie.
She also spoke of the hard work ahead as the Band faces lawsuits and issues related to housing, family services, and substance use. "We have a lot of tasks and big jobs to do, but when I look at everyone out here, I know that we're built for it. We can make it happen," Melanie added.
She said she appreciated the wisdom and advice of Band members and praised them for their response to the pandemic. "I'm really proud and honored to serve as Chief Executive for the Mille Lacs Band of Ojibwe," she concluded. "I'm really excited about the next four years and all we can accomplish for our children and all the generations going forward."