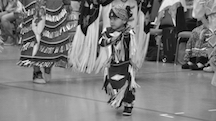 By Mille Lacs Band of Ojibwe, June 8, 2015
Contestants are wanted for the 49th Annual Mille Lacs Band Traditional Powwow Royalty Contest Aug. 21-23.
Potential candidates are invited to a potluck luncheon at the District 1 Community Center June 14 from 11 a.m. to 2 p.m. to find out more and sign up for the contest.
Candidates must be 6 to 18 years of age, and they must either be Mille Lacs Band members or direct descendants of Mille Lacs Band members.
The Junior Brave and Junior Princess contest is for contestants ages 6 to 12. The Senior Brave and Princess contest is open to those age 13 to 18.
The deadline to sign up is Aug. 1, but contestants are encouraged to sign up early so they have plenty of time to complete the required tasks for their points.
For more information and application packets please contact Chasity Gahbow at 320-532-7486 or Chasity.Gahbow@millelacsband.com