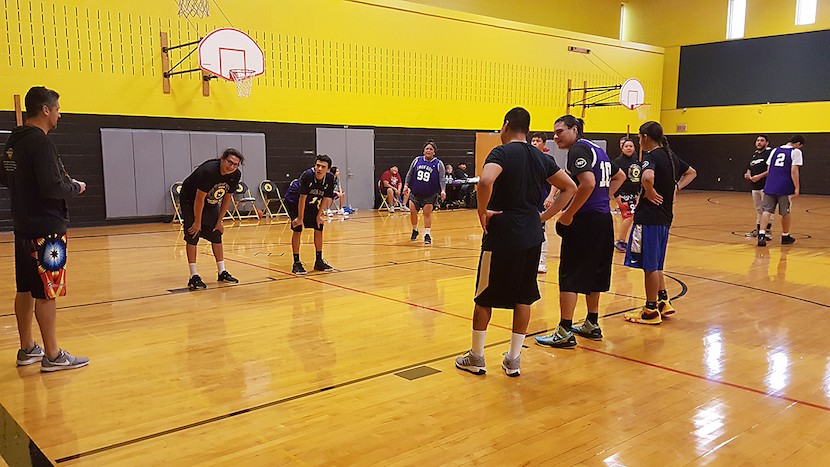 Story and photo by Amikogaabawiikwe (Adrienne Benjamin) Mille Lacs Band Member
Mikayla Schaaf has been working on different projects as the Community Health Corodinator for the Mille Lacs Band Public Health Department. Her recent efforts have included the "Native Thrive" Youth Basketball event at Onamia High School and the recent 1st Annual "Generations" Basketball Tournament held November 3-4 at Nay Ah Shing High School.
"We noticed that there is a high number of kids participating in basketball," said Mikayla. "This is the most interest that we have seen in youth basketball in a long time in this community. It's been great to have people in positions like Byron Ninham at Niigaan and Chris Nayquonabe at Onamia for collaborations on events."
These efforts stem from grant funding provided through two main grants: Statewide Health Improvement Partnership (SHIP) and Tobacco Free Communities (Minnesota Department of Health). The Minnesota Department of Health specifically supports cultural activities as landmark activities for Native American communities. They recently shifted their work to focus on culture and tradition as a means to the prevention of various health risks.
"With that freedom, I can tie in so many more activities that are meaningful to our community specifically while maintaining traditional cultural teachings," Mikayla added. "If we want change, it starts with kids and families. I hope to find innovative ways to promote healthy and active lifestyles within the community. We can show youth through our own participation, holding spaces for them to know what it feels like to compete. This is especially true as women in the sport; young girls need role models out there running alongside the men, showing them that they can play at that level too."
With the Generations Tournament, Mikayla wanted to show community youth that adults could take part in activities and be healthy and active role models. The youngest player in the tournament was 7 years old and the oldest was Mikayla's own father Bill Schaaf, who is 78. "It was so wonderful to see such a range of ages coming together and playing a game that I deeply love," Mikayla said. "Sometimes you lose, and having those older folks there to model sportsmanship was so valuable and appreciated."
There are more plans and collaborations in the works for Mikayla in the coming months and into the new year. She loves using basketball as a connector to health for youth because it was so important to her growing up. "The game teaches you respect, teamwork, sportsmanship, and how to build relationships with people. Kids that have basketball in common usually hang together and keep each other accountable to positive influeces," Mikayla explained.
Mikayla also wants to eventually expand the program to include a wider array of offerings and innovative ways for the community to look at health. The future looks bright and healthy in Mille Lacs thanks to Mikayla and the initiatives that are investing in the health and futures of Native people.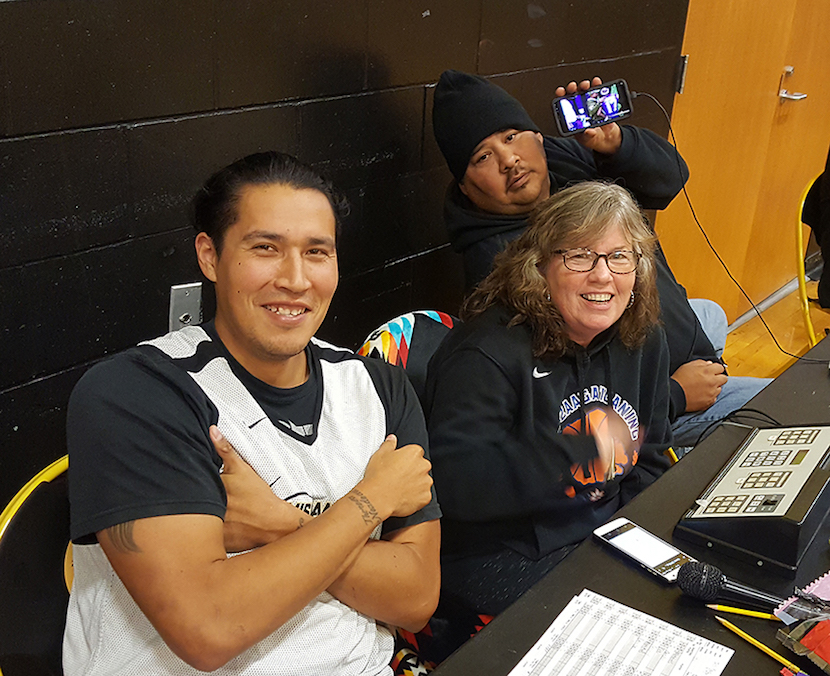 Below: Byron Ninham, Patty Wiersgalla, and Waabishkigaabaw helped out at the Generations tournament.