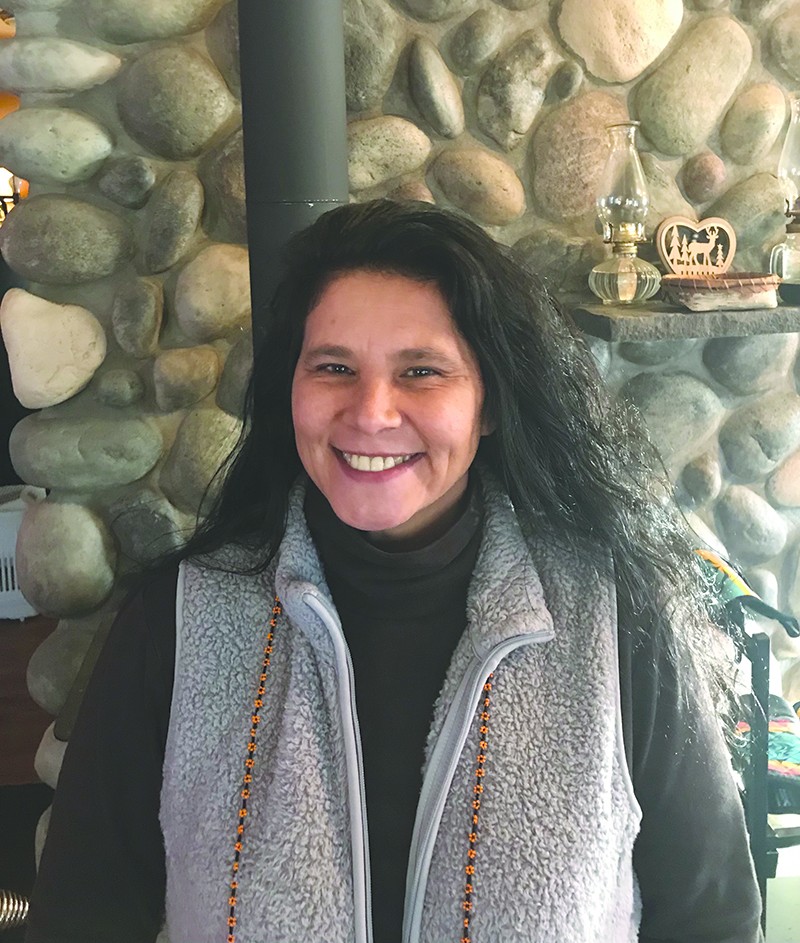 Carmen Kalk has extensive knowledge of tribal government — as well as Band members
Carmen Kalk, who has been serving as Executive Director of Human Services since February 24, is a familiar face in tribal government — and in all three Mille Lacs Band districts.
For 16 years, Carmen was the District IIa (Chiminising) Program Administrator, which gave her a deep familiarity with tribal programs and services, as well as with the District II community.
The daughter of District III Band member Eileen Johnson, Carmen also knows the Hinckley and Aazhoomog communities.
And as a former employee of Circle of Health, Education, and Housing, Carmen is also well connected to District I, and well acquainted with both the elected and appointed officials of the government. In addition to those roles, Carmen spent seven years at Grand Casino Mille Lacs.
That knowledge of business and government — and more importantly, Band members — makes Carmen the right person to oversee a department as crucial as Human Services.
In her role as Executive Director, Carmen oversees the entire Human Services Division within HHS, including Family Services, Elder/Energy Services, Emergency Services, the Food Distribution Program on Indian Reservations (FDPIR), the Food Shelf, the Family Violence Prevention Program, and the Elder Disability Program.
So far, there's no such thing as a typical day given the variety of needs that may arise in such a wide-ranging department. And there are currently additional challenges. "It's difficult to know what a typical day would be, since COVID restrictions started about two weeks after I became the Interim Executive Director of Human Services," Carmen said. "Each day is a different challenge, but I've learned that many departments work hand-in-hand with us to successfully serve our members."
Carmen was attracted to the role because she knew it would be a challenge. "I was looking forward to applying the knowledge I gained in the previous positions I have held with the Band," she said.
Knowledge is only part of the equation, though, especially in HHS — where "service" is right in the name.
"In my previous positions with the Band, I helped many community members, and although they know I am no longer in those positions, they still call me looking for direction or answers to questions about other programs," said Carmen. "If I don't have the answer to their inquiry, I will use my resources to find out and will get back to them."
Carmen spent her childhood in Wisconsin, where her father, Robert Johnson Sr., was a logger. "He and my mom taught me that hard work has its rewards," said Carmen, who grew up with three siblings: Robert Jr., Ronald, and Cheryl (now Miller). "We would work as a family in the woods, which instilled in me that it takes more than one person to get things accomplished."
She still loves the outdoors and has the perfect hunting and fishing partner in her husband, Curt Kalk. "Curt and I enjoy spending time together practicing our treaty rights," Carmen said. "My favorite is spearing, and during the quiet winter months and any extra time, I love to bead." She also likes to travel, although COVID-19 has put a temporary halt to that.
Carmen also enjoys family time with her two adult sons — Ian and Jackson Pratt — and her grandson Isaac.
Those who know Carmen are confident that she will bring a strong work ethic and concern for Band members to her Executive Director role. "I've learned that there is more than one side to any story," Carmen said.
The keys to her success are simple: "Listening, communicating, following through, and what my mom always told me: treating others as you want to be treated."