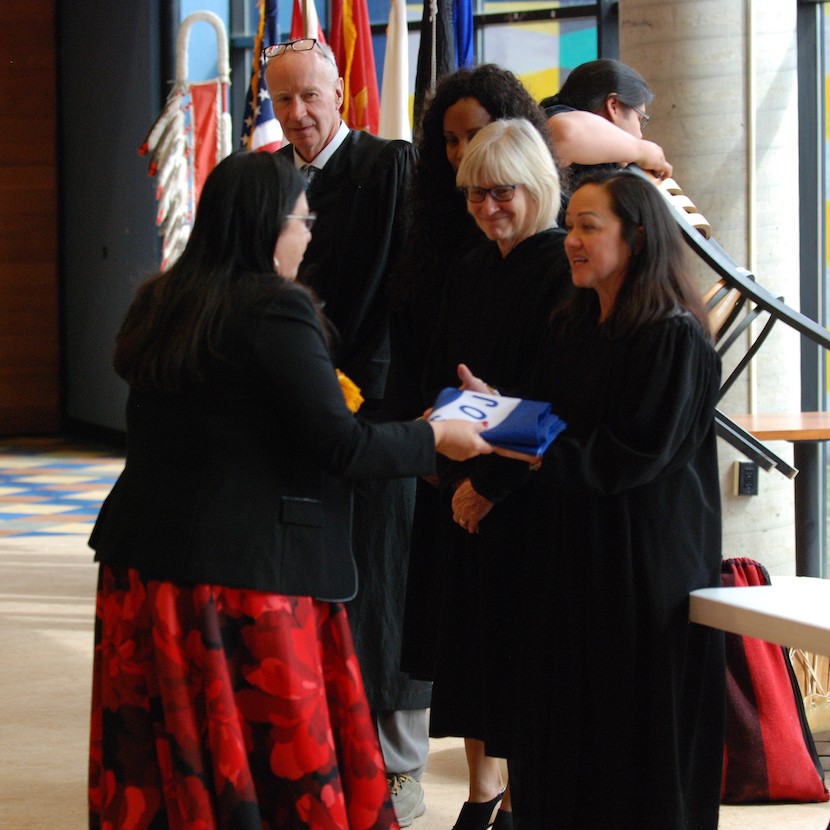 Story and Photos by Bradley Roache Jr. Mille Lacs Band Member
The Minneapolis American Indian Center played host to a flag ceremony on Thursday, March 28. Members of the Mille Lacs Band of Ojibwe and the Red Lake Nation presented their tribal flags to judges from Minnesota's first and fourth districts. The first district includes Dakota, Scott, Goodhue, Sibley, Le Sueur, and McLeod counties, while the fourth district consists solely of Hennepin County.
Drums from Mille Lacs and Red Lake were on hand to open and close the event, and Hennepin County American Indian Community Relations Specialist Terri Yellowhammer emceed. Terri stressed the need for unity: "Now more than ever, we need this partnership. We need allies. With what is going on in our country, with the racism, with the so-called nationalism, we need to come together," she said.
Sharon Day, Native American artist, musician, writer, and founding member of the Indigenous Peoples Task Force, added, "We are in a time where there's much healing that needs to take place. All across the country, we need to have healing."
Chief Executive Melanie Benjamin presented flags to Judge David Piper (Presiding Judge of Juvenile Court, Hennepin County), Judge Charlene Hatcher (Assistant Presiding Judge of Juvenile Court, Hennepin County), Judge Kathryn Messerich (Chief Judge of the First Judicial District), and Judge Jamie Cork (Dakota County District Court).
Judge David Piper read a brief statement of thanks and congratulations from Minnesota Supreme Court Justice Anne K. McKeig and added, "We are very, very honored and humbled to be able to receive these flags."
Judge Charlene Hatcher spoke about the significance and symbolism of having tribal flags in court. She said, "We want to make sure that every Native person who enters our courtroom understands that they are important. They belong. They are welcome within our doors, and their voice will be listened to and heard. We will fly these proud flags as a tangible and visible sign that our court system recognizes the government-to-government relationship between the state court system and our state's Native community."
Beyond the symbolic gesture of visual representation, many judges now understand the importance of cultural traditions like smudging and allow it in their courtrooms. The flags are meant to be seen as acknowledgment of the government-to-government relationship between the United States and tribal nations. The purpose of displaying them is for families to see that acknowledgment, and the respect that the courts have for tribal nations, their laws, and their citizens.
The Indian Child Welfare Act (ICWA) is a federal law that was enacted in 1978 to protect Indian children and to promote the stability and security of Indian tribes and families by establishing minimum federal requirements for the removal and placement of Indian children in state child protection and custody proceedings. The ICWA does not apply in Tribal Court.
The Minnesota Indian Family Preservation Act (MIFPA) is the state's equivalent to the ICWA.
The flags will be flown at the ICWA courtroom at the Juvenile Justice Center in Minneapolis, the family courtroom at the Family Justice Center in St. Paul, and at the main entrance of the Dakota County Judicial Center in Hastings.
Mille Lacs and Red Lake flags will join those of White Earth and Leech Lake, which were presented at a ceremony in November of 2018. The ultimate goal is to have all 11 of Minnesota's tribal flags flown in these courtrooms.
Photos: Red Lake and Mille Lacs Color Guards, Red Willow drum group, and Chief Executive Melanie Benjamin took part in the March 28 ceremony.