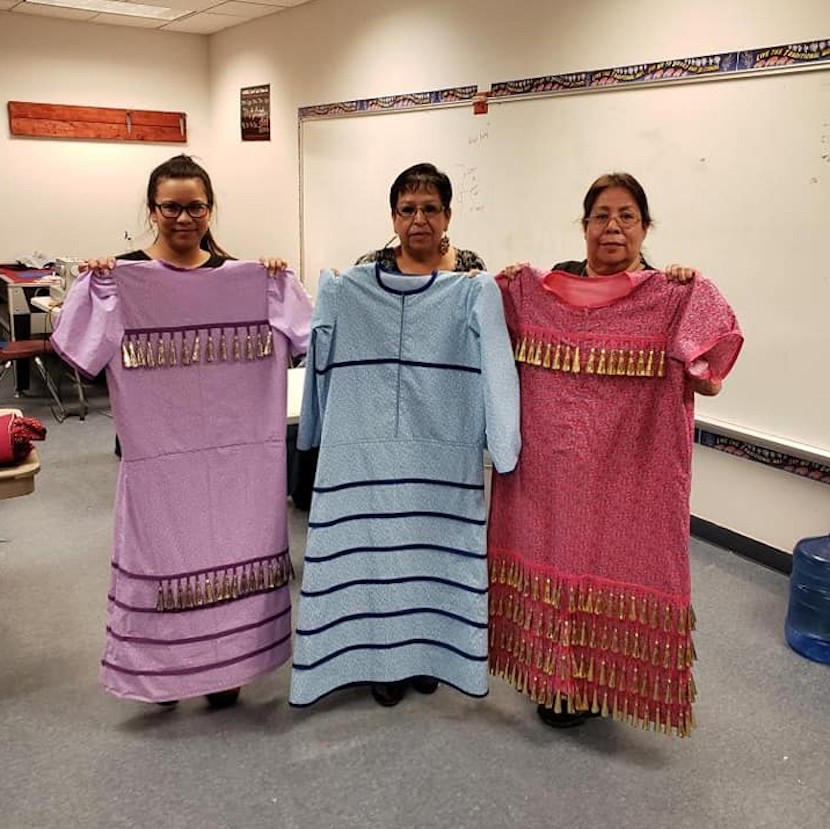 Beaders, seamstresses, chefs, and jewelers gathered at Grand Casino Mille Lacs March 29 to celebrate a successful series of "Crafting to Heal" classes offered by the Behavioral Health Department.
Those in attendance weren't all experts, but they had all participated as teachers or students in dozens of classes offered in all districts. They had made everything from earrings and ribbon skirts to wild rice hot dish and fry bread.
Kitty Johnson recruited teachers, reserved rooms, scheduled classes, and sent out flyers to promote the events, and the response was terrific. There is a clear desire among Mille Lacs Band women to learn the art of traditional crafts and foods.
After a delicious buffet lunch, they listened to inspirational talks from Band members Suzanne Wise, Melanie Benjamin, and Valerie Harrington, who were introduced by emcee Crystal Weckert, the Director of the Behavioral Health Department.
Suzanne shared some of her memories of growing up in District I and focused on the theme of community. "We cannot heal, we cannot move forward without each other, without that sense of community," said Suzanne.
She challenged the attendees to ask themselves a question: "Are we being that community person we were meant to be as Anishinaabe?"
Suzanne said her mom, Carol Nickaboine, told her there used to be a community garden where the ALU stands today.
"Nobody went hungry," said Suzanne. "A lot of our people did not know there was a Great Depression going on because we were community people. We shared what we had. And that is exactly what these classes did for me. The people in this community shared their knowledge because they care about our community, they care about each other, and they care where we're going."
Suzanne said she enjoyed a wild rice class taught by Winnie Davis, a fry bread class taught by Dawn Day, and a bracelet class taught by Dawn Chosa. "I wanted to let you know how grateful I am for the opportunities, not just to learn new crafts, but for your memories, for your laughter, for the fun that we shared. Those are the things we take away when we get involved with something. The only way we're going to move forward is together."
Melanie thanked Suzanne for her service as Commissioner of Education and District I Representative, when she initiated monthly community meetings. She congratulated her on finishing her master's degree and stressed the importance of education.
Melanie talked about the need for professional women to support each other, which inspires her involvement with Women Empowering Women for Indian Nations (WEWIN). She said she was envious of those who had taken the crafting classes. Melanie had too many other commitments and could not participate, but she admired posts on Facebook showing participants' work. She thanked the teachers and organizers for providing the opportunity.
"It was really an excellent program, from what I heard from the participants," Melanie said, and she encouraged participants to bring initiatives forward to the tribal government.
"Our Elders always tell us that we each have a gift, and it is up to us to find out what that gift is and to utilize it for the betterment of the community," she said.
Valerie introduced herself in Ojibwe and thanked the teachers and organizers of the classes and the luncheon. She said she was grateful to all the strong female role models she had growing up in District I, including her mom, grandmas, aunties, cousins, tribal leaders, and Elders.
"I learn a lot from other women, and I get a lot of support from the women in the community," Val said. "I think the most powerful women in our community are the ones who are taking initiative and learning, and also teaching and sharing."
She talked about how helpful the Healing through Writing class with Li Boyd was, and she confessed that she was still struggling with fry bread even after experience in Dawn Day's class.
"Women are the backbone of our communities and our families," said Val, "and sometimes we forget to take care of ourselves. We need to take care of ourselves because I don't think we can take care of others if we're not okay."
Val encouraged the women present to pursue their dreams, and she said she was grateful for her struggles and setbacks because they made her a stronger person. "I am happy, and I humbly say I am strong, resilient, Indigenous, educated, sober, caring, loving, hard-working, and a dedicated Native leader that loves to volunteer and help in our community, and I encourage you to keep teaching and sharing so we all can take part in our community."