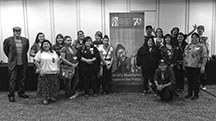 By Brett Larson, December 16, 2014
Twelve Mille Lacs Band youth flew to Atlanta in late October to attend the Youth Summit at the National Congress of American Indians conference.
Darrell Shingobe, the Niigaanidaa Coordinator for District II in East Lake, was one of the chaperones. He encouraged his group to network with other youth as well as adult leaders like Ernie Stevens, chair of the National Indian Gaming Association, and William Mendoza, Executive Director of the White House Initiative on American Indian and Alaska Native Education.
"I encouraged the kids to go up and speak to them," Darrell said, "to look for what makes a leader a leader, and to think about the perseverance they had to get where they are now."
The youth who attended the summit were George Crazy Thunder, Keenan Gonzalez, Candace Killspotted, Brandi Skinaway, Algin Goodsky, Sherraine White, Kassandra Merrill, Meghan Merrill, Noel Kegg, Samantha Mitchell, Andrea Sayers, and Amber Benjamin.
Among the themes of the five-day event were sovereignty and self-governance, treaty rights, and taking care of the earth for future generations. Attendees participated in breakout sessions to learn about a variety of topics.
Darrell was impressed with the students' willingness to participate. Two members of the District II group — Candace Killspotted and Algin Goodsky — sang in front of a crowd of 250 people. "I was really amazed with was their ability to throw themselves out there in front of all those people and not be afraid," Darrell said.
Another District II student, Keenan Gonzalez of East Lake, who is a senior at McGregor High School, made an impact when he spoke at the conference. A microphone was passed around, and when it came to Keenan, he asked the audience how many of them knew their medicine men and participated in ceremonies, and he said he was disturbed by how few people in the audience raised their hands.
Keenan took some heat for speaking out. One person accused him of forcing his spirituality on people, but Keenan said he thought is was important and didn't want to "beat around the bush." He became a helper at a Sun Dance ceremony, and he takes his culture and traditions seriously and encourages others to do the same.
Both Meghan Merrill and Samantha Mitchell of District I said Gonzalez' speech was one of the most significant moments of their week in Atlanta. Mitchell said she was impressed with his courage.
At the Youth Cabinet meeting, the students heard from tribal leaders who talked about how tribes are working together. "They talked about what we need to do to prosper and make our nations stronger," Meghan said. "All the nations are coming together to be stronger."
Meghan also enjoyed meeting Miss Indian World, Taylor Thomas of Idaho, and a player on the Atlanta Dream, a women's professional basketball team.
For Noel Kegg, the highlights were going to the local boys' and girls' club and playing basketball with the president of the NCAI, and learning how tribal leaders work together to address problems in their communities.
Another highlight for the group was the Youth Honor Dinner, which recognized members of the NCAI Youth Council. Darrell said he is hoping to create a local Youth Council based on the national model.
Samantha Mitchell is participating in the formation of the new group. She's a senior at Onamia High School with a plan to major in business management and American Indian studies at the University of Minnesota. She also plans to become fluent in Ojibwe.
She has also attended national UNITY conferences (United National Indian Tribal Youth) and another NCAI conference in Alaska, where she met three girls who saw the problems in their community and tried to address them. She hopes a Mille Lacs youth council can have a similar positive impact.
Samantha said she's appreciated the opportunity to attend the conferences. "These are great experiences for us," Samantha said. "They open our eyes to see what's going on in the world, and how we can help to make a difference."
Noel Kegg agreed. She said, "It's important for young Band members to take advantage of these opportunities because one day we'll be tribal leaders, and if we want to do well, we have to start young."
Commissioner of Education Suzanne Wise said, "As the Commissioner of Education I take the role very seriously. I see myself as a leader but that role includes being first and foremost, a helper. I help the youth to put themselves in roles of leadership and vision. They get exposed to Tribal Leadership and have the opportunity to see how tribes work together for the common good of all Indian nations. In the two years that I have been the Commissioner I have traveled with youth to several conferences such as UNITY, NCAI and MIEA. We do this for the opportunity to expose these youth to the world outside of our area. They meet and share with other Native people and learn first-hand what is working and not working in other Native communities. They are always watching and listening. I help them to engage with other Mille Lacs band youth that they may not get the chance to meet. We have all gained a strong bond with each other."
NCAI Youth Summit
Ernie Stevens and Suzanne Wise with the students who attended the youth summit.
NCAI Youth Summit
Meghan Merrill and Miss Indian World.