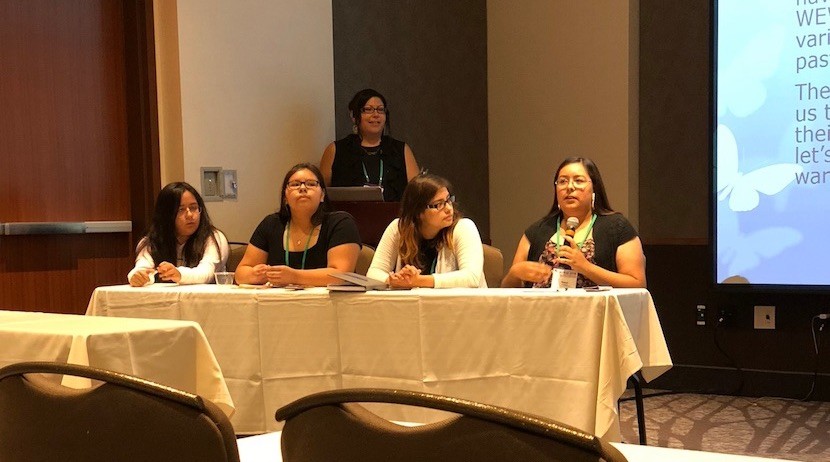 Conference held at Potawatomi Hotel & Casino in Milwaukee, July 29 – August 1
*Valerie Harrington Legislative Communications Liaison
I am very thankful for the opportunity to attend WEWIN (Women Empowering Women for Indian Nations), especially with the theme of "Warrior Women: Her Power to Ignite." What I liked best about the conference was the attendance of so many of our Band members and attending with amazing, strong women from our tribe. I also enjoyed being part of the first nationally recognized local chapter, our Mille Lacs Band WEWIN chapter. We were recognized in the opening general session.
Our honorable Chief Executive, Ms. Melanie Benjamin, was one of the engaging, inspiring, and empowering honorees recognized for courageous leadership in Indian nations and her tremendous leadership of the Mille Lacs Band of Ojibwe. Hearing her speak is always a learning opportunity. It was a blessing to be in attendance to see our Chief be honored. She showed humility and exuded class as she went up to accept the WEWIN honor. There was emotion, and I could see the pride in her, and the look of her family and friends was priceless. Her words are powerful, and one thing I liked the most is that even though the honor was for her, she spoke of others — how others have paved the way and how others teach, support, and assist her. She is great at recognizing the strength in herself and the strength in others. It takes courage and sacrifice for all she has accomplished. She is a very powerful and inspirational woman — a great leader — and I am proud to be part of this amazing event.
I enjoyed seeing our representation of the Mille Lacs Band and our desire to learn from the strong women. I enjoyed all the sessions I attended, especially the session I was a part of. Our Mille Lacs Band WEWIN chapter had a session on WEWIN chapters. We presented information on how we started our local chapter. We gave tips and solutions to barriers we had encountered and the amount of time and effort it takes for a successful chapter. We also spoke about the rewards of the local chapter and how vital it is to learn from each other and have the support of the other women in our local chapter, and the importance of the community and elected officials to support our cause.
One of the most important parts of this session was a youth panel from the Mille Lacs Band. They have been meeting for breakfast, working together to plan an upcoming youth conference. I learned so much from them, and it was an honor to get their tips and insights from their perspective. They have a vast variety of knowledge. I loved how they spoke and shared. They had confidence and answered questions. What I liked most is that they support each other and they want what's best for our tribe, just as we do.
The WEWIN general sessions and workshops were very inspiring, and we love the WEWIN National Board of Honorable Women. They are very powerful, inspirational women. They have an amazing sense of humor. They provided great tips on how to deal with personal and professional issues and examples of how to handle challenges in your community. Instead of focusing on the negative, they advised us be the positive in our communities. Be the leader your community needs, and not just for Natives; be useful to all people. Take time for little things. Most of the time I am in a hurry with life, and I forget about the little things. I plan on taking more time to focus on the positive at home, work, and my community — not just Na- tives, but my community as a whole. I intend to be thankful, to come up with a plan to help my community, and to take time for myself and others.
This conference overall was amazing. I had so many happy tears. I was impressed by the women honorees. Hearing how they overcame obstacles was amazing. I loved this conference, and I look forward to attending next year. Thank you so much for the opportunity to share about WEWIN.
Above: Mia Sam, Aubrey Benjamin, Amanda Eagle, and Ronni Jourdain participated in a youth panel.
Below: Valerie Harrington, fourth from left, attended WEWIN with Aubrey Benjamin, LeAnn Benjamin, Tammy Smith, and Shannon Porter, as well as several other Mille Lacs Band members.
Chief Executive Melanie Benjamin was honored at the 2018 Wewin Conference.