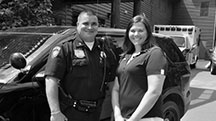 By Brett Larson, July 7, 2015
Mille Lacs Tribal Police Chief Jared Rosati and Public Safety Director Sara Rice are encouraging Band members to register and vaccinate their dogs in compliance with the tribal dog ordinance.
Due to the large number of unregistered, unvaccinated and dangerous dogs on tribal lands, the police department and other departments will be enforcing the ordinance more closely.
According to Mille Lacs Band's dog ordinance, "All dogs present on Band Lands must be registered with the Mille Lacs Band Department of Public Safety within 14 days after such dog is first present on Band Lands." Dogs also must be vaccinated against rabies every year, and they must be collared and tagged with a rabies tag.
The tribe may confiscate dogs that are running loose, not maintained in a proper enclosure, outside of the owner's property line, diseased, injured, or aggressive. Any dog wandering the streets or parking lots without a collar or rabies tag can be assumed to be abandoned.
The Tribal Court may order dangerous dogs to be destroyed, and the owner may need to reimburse the Band for the costs.
Dog owners can be fined up to $250 if their dog bites someone; they are also liable for the victim's medical costs. For a second offense involving the same dog, the fine is up to $500 and the dog will be destroyed.
"We're all animal lovers here," Sara said. "No one wants to do that."
Rosati agreed. "It's all about making the reservation a safer place," he said.
Rice added, "For the animals as well as the people."
Anyone who is concerned about an abandoned, unrestrained, illegal or potentially dangerous dog should contact tribal police or the public safety department. Anyone in immediate danger from a dog should call 911.
The Housing Department also has rules about dogs in all properties owned by the Band, including HUD rentals, regular rentals, Elder rentals, grant homes and any other units owned or managed by the Housing Department. A maximum of two pets total are allowed per household (not including fish), and an additional security deposit is required.
Band officials are hoping to bring veterinary clinics to the reservation to assist with vaccination and encourage registration. The Department of Public Safety is hoping to hire two community service officers whose duties will include working with dogs and their owners.
Check millelacsband.com and future issues of Inaajimowin for updates.