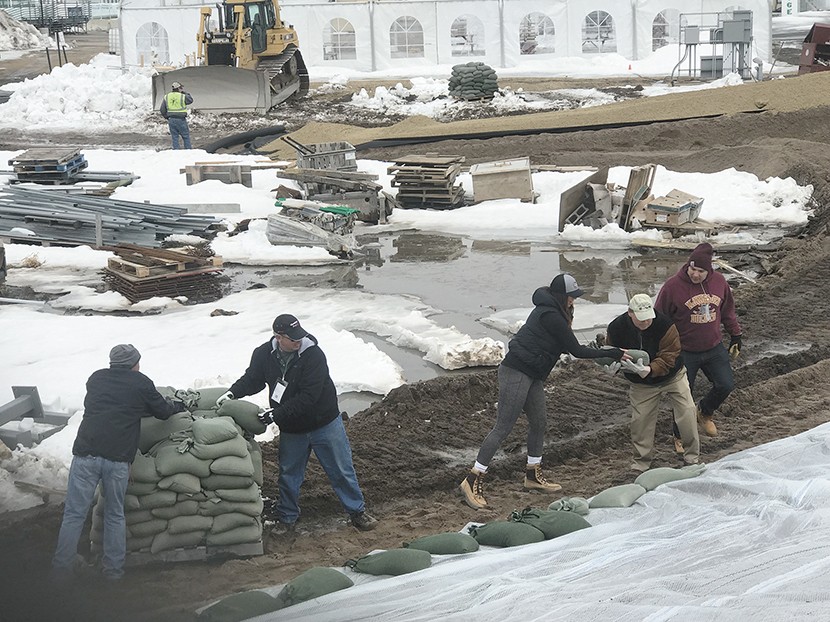 The effects of a record snowfall don't end on the first day of spring. Those massive drifts and piles are melting fast and may result in another record — record floods.
One of the hardest hit areas is expected to be Prairie Island Indian Community on the Mississippi River near Red Wing. Given the likelihood of major flooding this spring, the community started filling sandbags in mid-March, and on Wednesday, March 20, 47 Mille Lacs Band employees and community members helped out.
University of Minnesota Professor Tadd Johnson, who also works in the Band's Government Affairs Department, heard that Prairie Island was looking for volunteers, and when he passed the word on to Chief Executive Melanie Benjamin, she was certain a contingent of Band members and employees would step forward, and she tasked the Government Affairs department with publicizing the event and arranging transportation.
The bus from UMD stopped in Hinckley to pick up nine people, and the rest — government workers, Mille Lacs Corporate Ventures employees, and private citizens — took their own cars to Prairie Island.
From 8 a.m. to 4 p.m. 7,000 sand bags were filled at the site to help shore up an 11-foot high berm that protects the community from flood waters.
Commissioner of Community Development Percy Benjamin decided the effort would also help Mille Lacs prepare for potential emergencies. "We had a major flood in District II several years ago, so it's good to see what other communities are doing to prepare," he said.
Members of the Tribal Emergency Response Committee (TERC) not only volunteered but also took note of Prairie Island's preventative measures.
Monte Fronk of Tribal Emergency Management met with Prairie Island's Emergency Management Department to learn about their flood prevention efforts.
Roads and Public Works staff also gained valuable knowledge of sandbagging operations that will prove useful in the event of a similar emergency.
Beth Gruber of Mille Lacs Corporate Ventures was amazed at the challenge faced by the community. "The area where we were working is right behind the hotel and is close to the river. Sand bags are really heavy, and one sand bag doesn't take up much square footage. It's a massive undertaking!
Shelley Buck, President of the Prairie Island Indian Community Tribal Council, was quoted on KARE 11: "We are on an island, literally an island. And back in the 1930s when Lock and Dam 3 was built, it flooded over half of our land — which to this day remains in the flood plain. So every year, we're susceptible to flooding. This year, unfortunately, is a bad year. We're worried about high levels of flooding, record levels that we haven't seen since maybe 1965 or 2001. If it gets bad enough, there will be a time that we will have to evacuate, have mandatory evacuations down here. And if it gets to that point, then it's going to be tough for us."
As of March 21, there was an 88 percent chance of the river reaching major flood stage, which would trigger an evacuation of Prairie Island out of concern that roads could be flooded and the island cut off.
Staff from the state's major sports teams have also been helping out, along with volunteers from across the state. "It's absolutely amazing the help we're getting," said Buck.
Below: Semira Kimpson, Wendy Merrill, Brianna Boyd, Kiana Morrison, and Darcie Big Bear spent Wednesday, March 20, filling sandbags at Prairie Island. Wendy said they tried to make it fun, but it was hard work resulting in sore muscles.