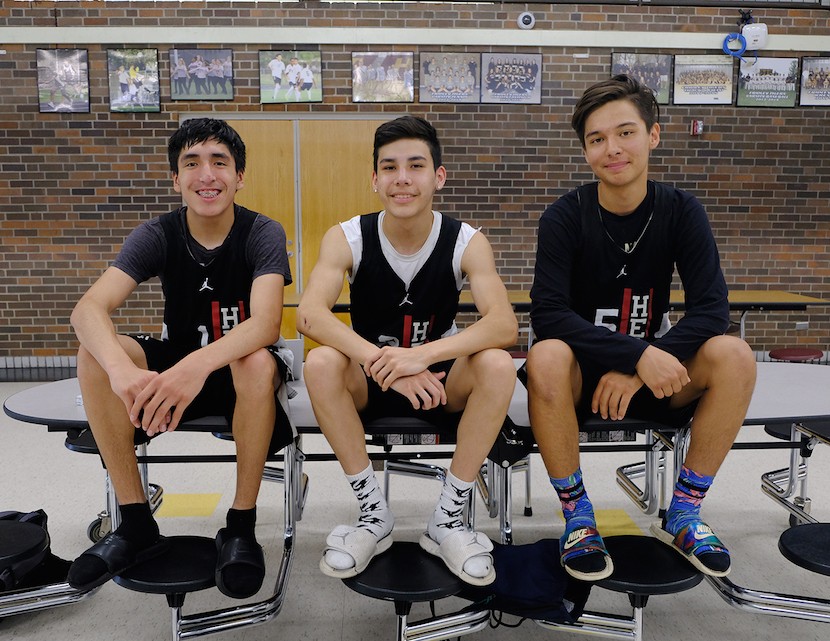 A summer weekend for most teenagers means a lot of free time — hanging out with friends, playing videos games, going to powwows, and maybe a part-time job. But for three young Mille Lacs Band members, it's all about ball — AAU basketball, that is.
AAU (Amateur Athletic Union) is the go-to organization for young kids who want to take their game to the next level by adding a spring and/or summer league to make progress between winter seasons.
Eldayshun Big Bear, who will be a senior at Isle High School this fall, and Cedric LaFave, who will be a senior at Hinckley-Finlayson, played last summer with the Minnesota Heat and decided to sign up again this year.
Eldayshun invited his teammate Derek Smith to join them, even though he's a year younger. Derek will be a junior this year and plans to play varsity for the Huskies. "I wanted him to get experience to play for varsity, so I told him to play a year up," said Eldayshun.
But summer ball isn't just about the sport for Eldayshun. "I like how it brings people together," he said. "Me and Cedric, we're like brothers now. Especially with AAU, you get to meet people and make new friends."
Cedric says basketball clears his head and helps him be the person he wants to be — "a rock" for his family.
Eldayshun focuses on basketball, but Derek also plays football and baseball, while Cedric runs cross-country and track and has also played football in the past. (For more on Cedric's track exploits, see below.)
On Saturday, June 15, the boys fell behind by 10 points but fought their way back during the second half with pesky defense and an efficient offense. Cedric and Eldayshun took turns bringing the ball up the floor and hitting buckets from long range, while Derek provided a spark off the bench while matching up equally against older opponents.
They came away with a three-point victory, and their coach congratulated them on the comeback and said he'd see them the next day.
A typical weekend involves two games on Saturday at locations like Maple Grove, Fridley, and Coon Rapids, followed by two more on Sunday.
And that doesn't count practice sessions during the week.
Along with keeping your grades up and dealing with injuries, that's one of the challenges of being in sports, according to Eldayshun. "Like this weekend, we're missing a powwow," he said. "Everybody's out having fun and we're here."
It's all worth it in the end, though. "The most rewarding part is making my family and friends proud," said Cedric.
The boys also have advice for youngsters considering sports.
Cedric says to try them all. "If you like something, get right into it. Just try it out. Not just basketball, try a variety."
"Start early," said Derek. "I started in sixth grade, but I'd be a better player now if I'd started younger."
Eldayshun said, "You gotta put your mind to everything you do. I didn't have a role model, so I want to switch that around and tell the younger kids you gotta put your time in. You can't be lackadaisical."
For Eldayshun, the time spent paid off when he broke the Isle High School single-season assist record. He made it his goal to set the record in honor of his late father and ended up breaking the record by 13. He also broke the single game record with 18.
It was the highlight of his career so far. "I can't really explain how it felt," he said. "I worked so hard to do that for my dad. I just want everyone to know that if you put your mind to it, you can do anything. There were times when I didn't think I could do it, but my brothers and teammates told me I could."
Cedric's fondest basketball memory so far occurred during Hinckley-Finlayson's run to the state tournament two years ago. "During the section championship, I made this kid fall with my dribble moves."
Eldayshun, who was in the crowd that night, laughed at the memory of Cedric's famous crossover.
As for Derek, he's looking ahead to the coming season. "I don't have any highlights yet," he said humbly. "But I'm hoping to make some soon." (He didn't mention his career best 39-point game last season.)
The unsung heroes of the boys' team, of course, are the moms and dads who drive them to practice and games and cheer from the sidelines. Shout out to the boys' proud parents: Eldayshun's mom Darcie, Cedric's parents Vanessa and George, and Derek's parents Wendy and Carlos.
Darcie said the boys practice two nights a week in the Cities and never complain. "I'm super proud of all three of them for sticking with it," she said. "I see improvement in their game every single weekend. All three are drug- and alcohol-free and are really good positive role models for the younger generation."
Wendy is equally proud and said she is grateful to the other moms for showing her and Derek the AAU ropes this year. "Derek has been working so hard," said Wendy. "Even when practice is canceled he'll go to the gym to work out and practice. We definitely lean on each other as parents as well. It's not easy taking time out of our busy schedules but we'd do anything so that our boys are successful."
Vanessa recalled that Eldayshun and Cedric met when they played Pacesetter basketball in elementary school. "There was a tournament in Cass Lake, and we reached out to Darcie to see if Eldayshun could play with the team — and the rest is history! They've been bros ever since and play on teams together whenever they get chance. It's been great to watch them grow up together and build their skill level. Basketball is one if the many sports that turns friends into family."
And an additional congrats to Cedric and Eldayshun, who have been selected for an Elite Team to continuing playing after the current season ends.